PFAS Waste Generation and Disposal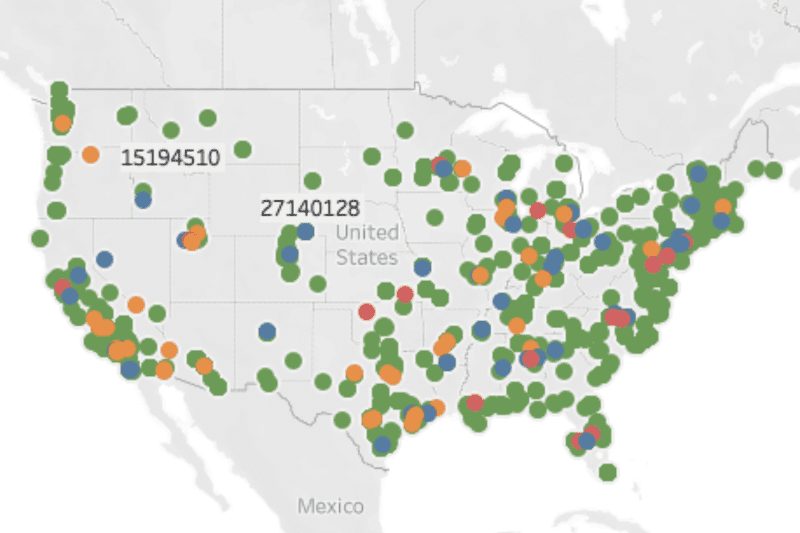 January 2022 – Through a Freedom of Information Act request, PEER received data from EPA on PFAS transfers identified in hazardous waste e-manifests and state waste code searches. This data and the map PEER produced has information on the generation, storage, and disposal of almost 14 million kilograms of waste contaminated with PFAS between July 2018 and August 2021.
Over 120,000 Facilities "May Be Handling" PFAS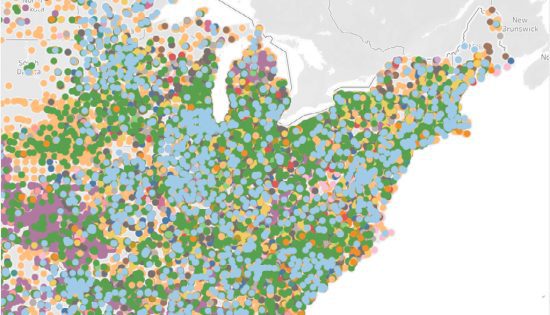 October 2021 – After several Freedom of Information Act requests and a lawsuit, PEER received an EPA data set with information on some 120,000 industrial facilities that "may be handling" PFAS – with that information, we produced our own map of these facilities.
Forever Chemicals Everywhere
PEER works to protect public health and wildlife from per- and polyfluoroalkyl substances (PFAS) contamination. Unfortunately, the absence of enforceable federal health and environmental standards for PFAS poses a significant and growing threat to our health, water, and soil. A key cause for concern is that these so-called "forever chemicals" do not break down in the environment, many of which are toxic, and some bio-accumulate in the food chain — and in us.
PFAS are used as fire retardants and repellents; in consumer products, such as furniture, take-out containers, and non-stick cookware; and have many other applications. Human exposure to PFAS is associated with cancer, birth defects, developmental damage to infants, and impaired functioning of the liver, kidneys, and immune system.
Yet, an estimated 200 million Americans are drinking water contaminated with PFAS, and PFAS have also been found in grocery store meats, milk, seafood, bottled water, as well as in wild fish and game. Studies have also found PFAS in the bloodstream of 99% of Americans.
Although the U.S. Environmental Protection Agency (EPA) knows of about 13,000 types of PFAS, it has only proposed drinking water limits on sixPFAS in drinking water and two PFAS under the Superfund hazardous waste cleanup program.  Much more needs to be done.
PEER is urging EPA to regulate PFAS as a class of chemicals and to classify waste contaminated with PFAS as a hazardous waste under the Resource Conservation and Recovery Act (RCRA), so that it can be more safely managed during generation, transportation, and disposal. In addition, PEER continues to expose how EPA violates its own scientific integrity norms and guidance in approving PFAS chemicals for use. We also work vigorously to release to the public information on PFAS that EPA tries to keep hidden from the public.
PFAS in Fluorinated Containers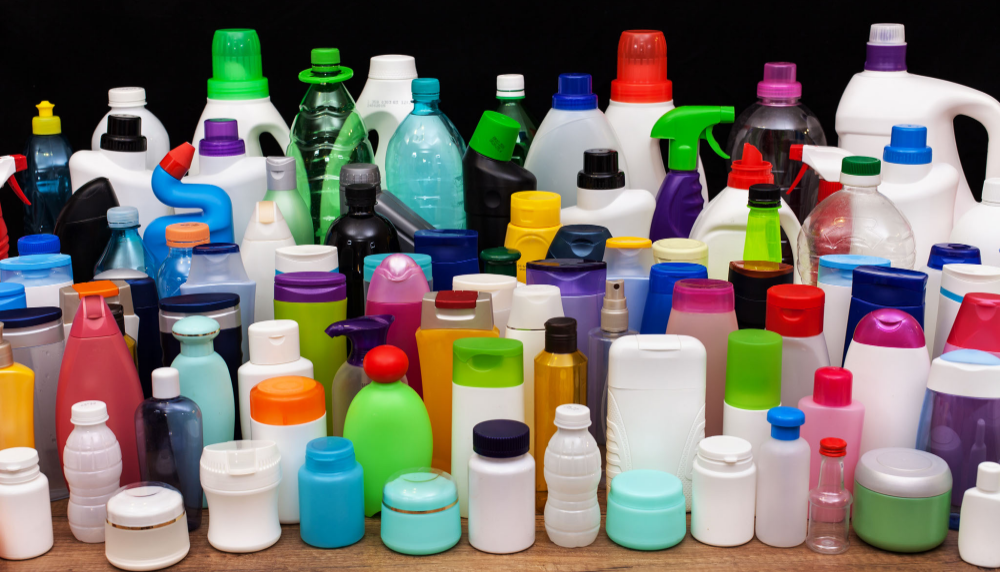 To address the growing threat of PFAS from fluorinated containers, PEER has been engaged in ongoing litigation against Inhance Technologies. Fluorinated containers are found in everything from household to industrial products the the fluorination process is responsible for the creation of PFAS chemicals that can leach into the products from the containers.
Read the latest: PEER and CEH Ask Court to Immediately Stop Unlawful PFAS Formation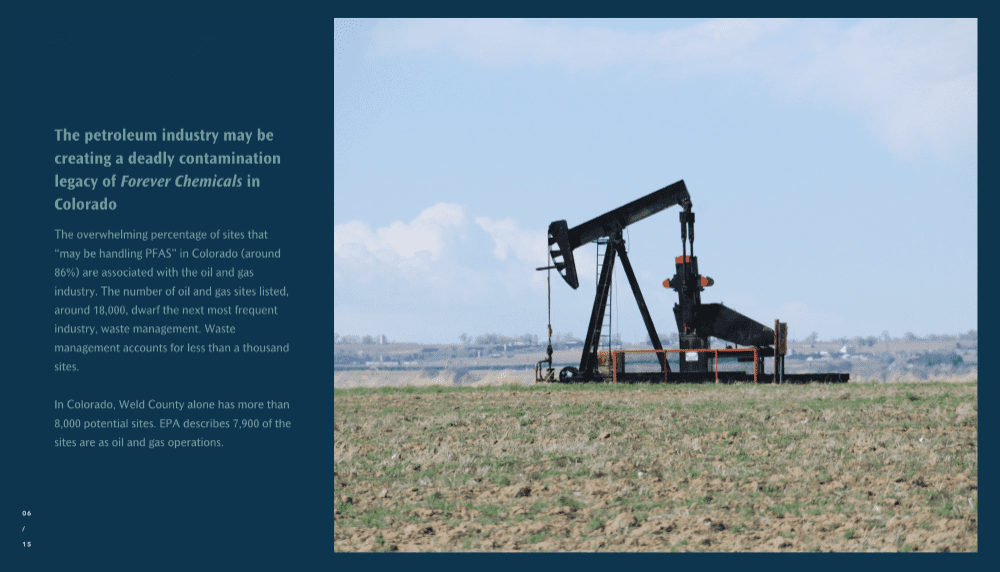 Toxic Chemicals in Your Backyard
Environmental Protection Agency Data: Does it Point to Colorado as the PFAS Capital of the U.S.?
PEER and CEH Applaud EPA's Decision to Protect People from PFAS that Leach from Plastic Containers
EPA Orders Inhance Technologies to Stop Exposing Millions of Americans to Dangerous PFAS in Fluorinated Plastic ...
One Woman's War Against 'Forever Chemicals'
Dr. Kyla Bennett is featured in the short documentary from Bloomberg Originals on the dangerous conundrum of the ...
COMMENTARY | Artificial Turf – A Plague on the Earth
Like a nasty rash, artificial turf has spread beyond sports fields to urban lawns, schoolyards, and parks.
REPORT | "Forever Chemicals" Disposal Is Creating a Health Nightmare (PDF)
New data compiled by EPA depicts a vast, uncontrolled, and spreading web of unregulated disposal of PFAS waste.
"Forever Chemicals" Disposal is Creating a Health Nightmare
EPA is Failing to Control Spreading Web of PFAS Waste
Water Board Still in Dark About Santa Susana Discharges
Staff Withholding Documents on PCB Poisoning of LA River on Eve of Vote
PEERMail | An Epic Journey You Won't Want to Miss
Bloomberg Businessweek featured an epic quest by our Science Policy Director to uncover why her town's drinking ...
COMMENTARY | Why the Chilling Fight Behind Climate Change?
This country cannot be locked into a new generation of toxic refrigerants, many of which have significant global ...
PFAS at Santa Susana Seep Through Regulatory Cracks
Toxic Forever Chemicals Not Monitored in Discharge or Included in Cleanup
Webinar | The Local Fight Against PFAS Contamination
Learn how community leaders in Nantucket are working to educate their community about PFAS and make actionable change.
Presentation for Engineering Technologies Summit 2023 – PFAS and Refrigerants – 08-28-2023 (PDF)
Presentation on PFAS and Refrigerants: A Rapidly Evolving Legal and Liability Landscape for Engineering ...
EPA Plays Political Shell Game on PFAS Definition
No Sound Scientific Basis Available for Any of the Changing Definitions
Comment on Artificial Turf Field Installation – Harvard-Westlake River Park, Los Angeles – 07-11-2023 (PDF)
DESCRIPTION: Harvard-Westlake River Park Project Final Environmental Impact Report - Comment in regards to the ...
Letter to Senate Committee on Environment – Draft Legislation on PFAS – 07-03-2023(PDF)
Letter regarding draft PFAS legislation for stakeholder comment urging changes to the draft legislation, as the ...
PEER and CEH Ask Court to Immediately Stop Unlawful PFAS Formation
Motion seeks to stop violations of federal law that are exposing millions of Americans to dangerous PFAS in ...
Presentation for Atmosphere America Summit 2023 – PFAS Policy – 06-12-2023 (PDF)
Presentation on PFAS Policy Panel for Atmosphere America Summit 2023 by Tim Whitehouse
EPA Must Remove PFAS from Plastic Containers
New Analysis Demonstrates Health Risks to Millions of Americans Using Plastic Containers
STATEMENT | DOJ Falls Short on Protecting the Public from Unsafe Exposure to PFAS Chemicals
In their request for a declaratory judgement against Inhance, the DOJ failed to seek an injunction to stop ...
COMMENTARY | EPA's Whack-a-Mole "Forever Chemicals" Posture Is an Intolerable Failure
The agency must treat PFAS as a class of chemicals regulated in the same manner as the European Union and other ...
High Levels of Dangerous 'Forever Chemicals' Found in California's Most-Used Insecticide
40% of Tested Agricultural Pesticide Products Contain PFAS