Whistleblowers Making a Difference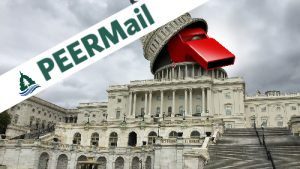 Today, on National Whistleblower Appreciation Day, we want to recognize the many government whistleblowers who have come forward at great personal risk to stand up for strong environmental and public health protections and expose wrongdoing in their agencies. In the past year, our clients have come forward to reveal fraud in EPA's toxic chemicals program, stand up for rare and endangered species, fight for clean air, and protect the health of our children and the most vulnerable among us.
In addition to those who have come forward, we also are working with current and former government employees behind the scenes to bring information into the light of day on topics such as the dangers of pesticides and toxic "forever chemicals," the need for governments to champion real climate solutions, and protecting our nation's waters from pollution.
Our modern environmental movement has its origins in diverse efforts to promote policies to reduce disease; clean up our air, land, and water; protect wilderness areas and promote social justice.  We are proud of the unique role whistleblowers have played in this movement and of our victories this past year. But we are also wary of the precarious protections afforded to those who stand up to reveal wrongdoing. That is why we are fighting so hard to increase whistleblower protections and strengthen scientific integrity safeguards in this country.
Our year ahead will be busy as we continue our work to protect whistleblowers and our environment! We hope you will join us in this effort by supporting PEER today.
---
President Biden's Scientific Integrity Task Force failed to meaningfully engage with the public on fundamental issues during its public comment period. PEER shows how the lack of independent review violates the basic principles this task force was created to uphold. Read more»
PEER's new analysis of the BLM's grazing data showed that nearly two-thirds of BLM grazing allotments fail the agency's own standards for water quality, vegetation, soil, and wildlife habitat. Specifically, Nevada, by any measure, had the worst ecological conditions in the West. Read more»

Overgrazed federal rangeland is blocking the Biden Administration's goal of conserving 30 percent of our lands and waters by 2030. PEER has asked Interior Secretary Deb Haaland to ensure major improvements to rangeland health by addressing overgrazing. Read more»