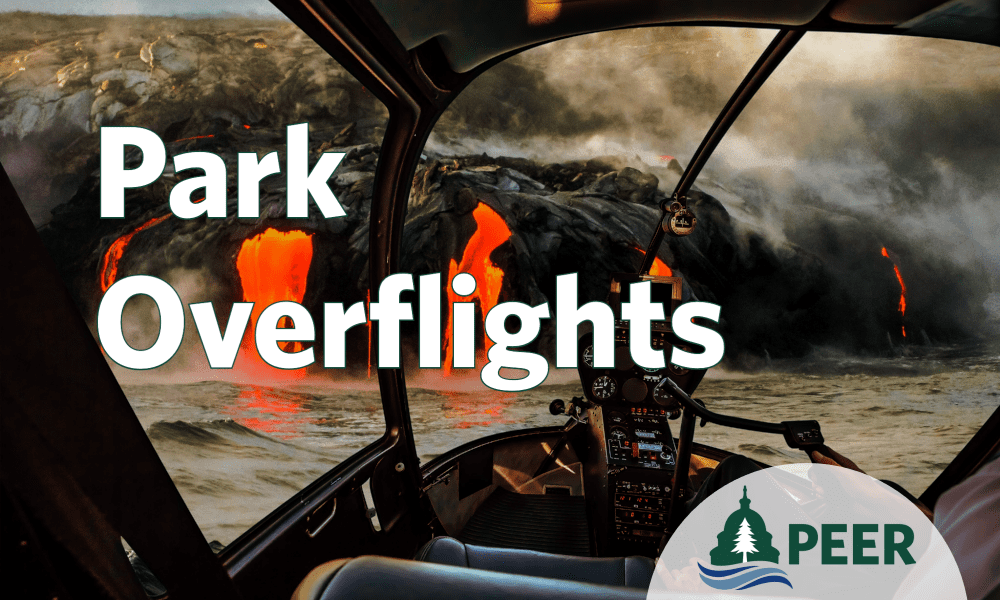 It took a court order to end decades of foot-dragging against reining in the thousands of noisy tourist overflights buzzing across national parks. Now, the first two National Park Air Tour Management Plans have been finalized but a score more parks will miss a court-ordered deadline altogether and many of those will be incomplete, lacking legally required environmental reviews.
In 2020, PEER won a court judgment requiring the Federal Aviation Administration (FAA) and the National Park Service (NPS) to finally implement the National Park Air Tour Management Act of 2000, which requires regulation of park overflights to minimize noise and disruption in any park with more than 50 overflights a year. Despite this clear mandate, not a single such plan had been completed in the more than 20 years the law had been on the books.
"While we are glad the agencies are at long last starting to do their jobs of curbing noisy and disruptive park air traffic, the quality and integrity of those plans leave a lot to be desired," stated PEER General Counsel Paula Dinerstein, noting that most all the official noise and other studies upon which several plans are based have not been available for public scrutiny. "These agencies still do not seem to grasp that the law commands environmental review and public involvement at the earliest stage of planning and through its entire course, not waiting until after the final decision has been made. Our aim is to curb abuse, we are not trying to ground all overflights in every park," added Dinerstein, pointing to a park like Hawai'i Volcanoes which suffers a noisy helicopter tour every 8 minutes from dawn to dusk."
PARK OVERFLIGHT NEWS FROM PEER
COMMENTARY | Park Service's Inhumane Inertia
The Biden administration has left several disastrous Trump policies in place - from allowing inhumane hunting ...
COMMENTARY | Glacier Skies to Finally Go Quiet
The path to serenity in the skies above all national parks is no longer subject to the demands of commercial ...
National Park Air Tour Plans Late and Off-Course
First 2 Overflight Limits OKed; 20 Behind Schedule, Most Lack Eco-Reviews
Court Puts National Park Overflights on Tight Leash
Agencies Taken to Task for Violating Air Tour Management Plan Deadlines
FAA Blows Court Deadlines for Park Air Tour Limits
Overflight Plans for 8 Major National Parks Due This August Not Close
FAA Off Course on National Park Air Tour Plans 
No Environmental or Noise Assessments Inform Draft Management Plans  
Long-Delayed Curbs on Noisy Park Overflights Slated  
FAA Posts Air Tour Management Plan Schedule Covering 23 National Parks  
Promised Crackdown On Park Overflights Yet To Take Off
Facing Lawsuit, FAA and Park Service Vow Action after Years of Impasse
Lawsuit to Ground Excessive National Park Overflights
FAA Faulted for Failure to Implement 2000 Law for Management of Park Air Tours