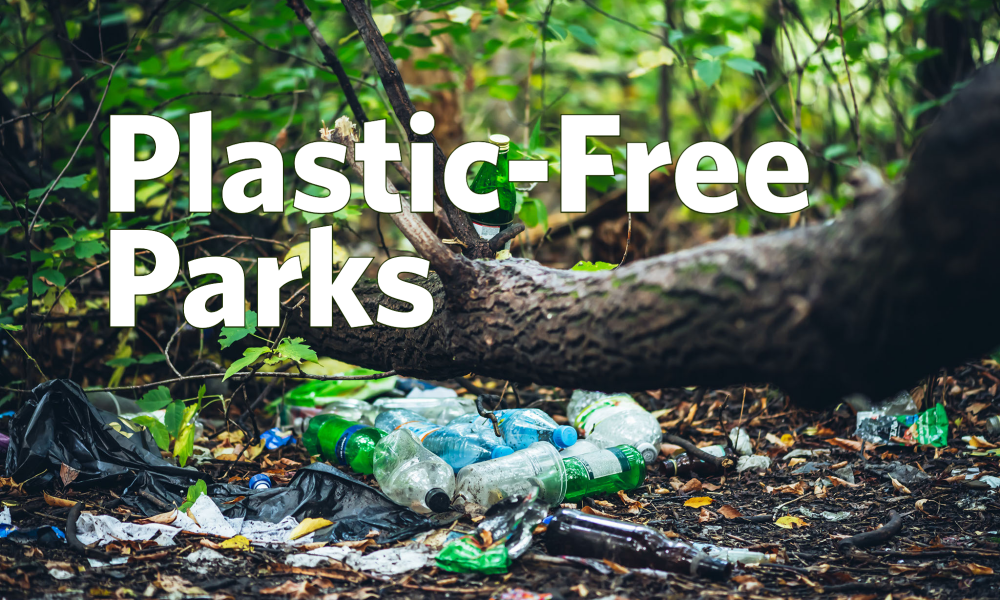 Our national parks are drowning in a rising tide of plastic waste.  Single-use disposable plastic bottles are the single biggest component of national park waste streams. They are damaging human health and our environment with disproportionate impacts on low-income and communities of color.
Mountains of plastic bottles burden wildlife, create greenhouse gases, and cost taxpayers to haul away. As crowds return to record levels following the pandemic, a tsunami of plastic waste will again swamp our parks.
In June 2022, the Department of the Interior announced a phaseout of single-use plastics in national parks over the next ten years. Now, we must work to ensure the order is carried out as quickly and effectively as possible.
By ensuring there are adequate sources of free potable water available for park visitors and outlawing sales of plastic water bottles at all national parks, we can cut discarded plastics by 75%. Our national parks can set a "green" example and encourage all public lands and the planet take a break from plastic.
The Biden administration has pledged to make national parks plastic-free over the next ten years. But why wait? Park concessioners are willing to stop stocking disposable plastic items now, but they need direction from the National Park Service.
Read our petition, delivered to National Park Service Director Chuck Sams, to expedite the plastic-free timeline for national parks to 2 years, not ten! Read the petition»
PEER and CEH Applaud EPA's Decision to Protect People from PFAS that Leach from Plastic Containers
EPA Orders Inhance Technologies to Stop Exposing Millions of Americans to Dangerous PFAS in Fluorinated Plastic ...
PEERMail | A National Park Service Blunder
Reducing plastic consumption is one of the most important things we can do as a nation to fight climate change and ...
National Park Service Punts on Plastic Reduction
No Concrete Action for Years as Parks Ink New Plastic Bottle Concessions
PEERMail | An Epic Journey You Won't Want to Miss
Bloomberg Businessweek featured an epic quest by our Science Policy Director to uncover why her town's drinking ...
PEER and CEH Ask Court to Immediately Stop Unlawful PFAS Formation
Motion seeks to stop violations of federal law that are exposing millions of Americans to dangerous PFAS in ...
PEERMail | A Tempered Victory for Clean Air
EPA rejects a Trump-era proposal that would have lifted Clean Air Act regulations on two types of plastic recycling.
EPA Must Remove PFAS from Plastic Containers
New Analysis Demonstrates Health Risks to Millions of Americans Using Plastic Containers
COMMENTARY | Don't Let Plastics Overtake the Earth
We are recommitting ourselves to finding ways to rapidly reduce our dependence on plastics and their impact on the ...
EPA Needs a Transparent Public Process for Inhance PFAS SNUNS
Unclear comment and review deadlines, heavy redactions, and disorganized files are blocking meaningful comments on ...
PFAS Fluorinated Container Citizens' Suit Dismissed Without Prejudice
Groups Plan Intervention in EPA Lawsuit Against Inhance Technologies
Organizations Push to Get PFAS out of Plastic Containers
EPA must ban fluorination process that creates PFAS in plastics
COMMENTARY | EPA Asks for Comment on PFAS Data It Won't Release
EPA is asking the public to comment on fluorination of plastics but keeping important materials, including health ...
Groups Call on EPA to Ban Plastic Fluorination that Creates PFAS
EPA Must Release Withheld Health and Safety Studies
PFAS in Plastic Containers Should Not Be Confidential
Groups Urge EPA to Inform the Public of the Presence of Unsafe PFAS in Fluorinated Containers
Tens of Millions of Plastic Containers Treated with Fluorine Gas Leach Toxic PFAS Chemicals into Art and Cleaning Supplies, Food, and Other Household Products
Nonprofit Organizations File Suit Against Inhance Technologies to Stop Violations of U.S. EPA Regulations
PEERMail | Climate Change, Plastics and Our National Parks
Together, we can make plastic-free parks a reality in #2NOT10 years!
Plastic-Free National Parks Are Needed Now
Drive Launched to Remove Plastic Bottles in Two – Not Ten –Years
Letter to Sec. Deb Haaland – Plastic Free Parks in Two Not Ten Years – 08-09-2022 (PDF) 
DESCRIPTION: Letter to Secretary Deb Haaland to move up the Department of Interior/National Park Service ...
PEERMail | Good News on Banning Plastics
The Interior Secretary announced a phaseout of single-use plastics in national parks and other public lands.
National Park Service Punts on Plastic-Free Policies
NPS Balks on Plastic Bottle Sales Ban or Restoring Superintendent Discretion
PEERMail | Plastic Free Parks Are Possible!
The National Park Service must act quickly to address the crisis of plastics in our parks, Sec. Haaland has an ...
Letter to Secretary Deb Haaland – Plastic Free Parks – 06-23-2021 (PDF) 
DESCRIPTION: Letter to Secretary Deb Haaland regarding reducing plastics in the National Parks TO: Secretary Deb ...
PETITION | Plastic Free Parks
Petition to Sec of Interior to outlaw sales of plastic water bottles in national parks, setting a green example ...
National Parks Should Go Plastic Free  
Rulemaking Petition Presses Park Service to Ban Plastic Water Bottle Sales   
How Park Ban on Plastic Bottles Got Throttled
Misstatements Masked Lack of Current Data or Consultation Except with Industry
Park Plastic Bottle Bans Work but Remain Few and Far Between
Number of Parks Ending Bottled Water Sales Has Plateaued as Industry Pushes Back
Yellowstone Struggles With Rising Tide of Plastic Waste
New Initiative to Reduce Visitor Plastic Bottle Use to Avoid Need for a Sales Ban
More National Parks Ban Plastic Bottle Sales
Plastic Bottles Are Largest Single Contributor to National Park Solid Waste Load
National Parks Not Rushing to Embrace Plastic Bottle Bans
Fewer Than 5% of National Park Units Restrict Sales of Disposable Water Bottles
Park Service Scrambles to Save Face in Plastic Bottle Fiasco
Focused Public Pressure Trumped Corporate Influence on National Park Policies
Documents Link Coke to Grand Canyon Plastic Bottle Reversal
Secret Decision to Block Single-Use Bottle Bans throughout National Park System
Things Don't Always Go Better With Coke
Did Corporate Donation Sway Reversal of Grand Canyon Plastic Water Bottle Ban?