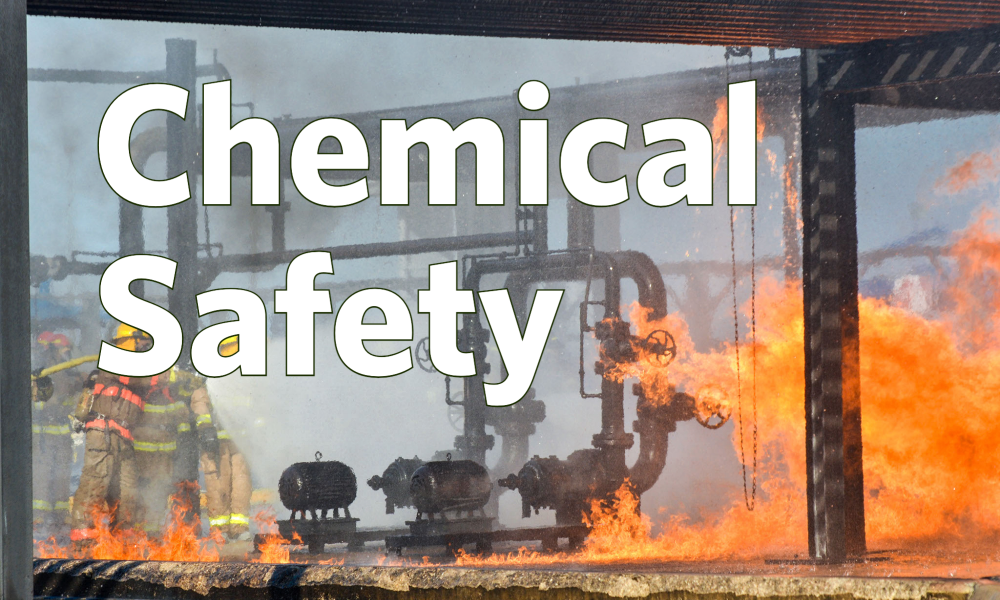 The U.S. Chemical Safety Board is an independent federal agency charged with investigating industrial chemical accidents. Headquartered in Washington, DC, the agency's board members are appointed by the President and confirmed by the Senate.
The CSB's mission is to "drive chemical safety change through independent investigation to protect people and the environment." Sadly, the CSB is failing in its mission. Wrought by cratering morale, personnel issues, industry influence and weak regulations.
Lax chemical safety monitoring and reporting could result in serious mass casualty events. Massive refinery explosions are a textbook example of dangerous chemicals mixing with lack of oversight and a profits-over-safety approach to management. Politicians and regulatory agencies, however, are blocking critical steps to prevent future plant explosions and to hide the chemical content of plumes that coat communities after explosions. PEER is pushing the Environmental Protection Agency (EPA) to ban the use of Hydrogen Fluoride (HF), a highly volatile and deadly chemical used at many refineries, we are fighting for the implementation of laws that let communities, firefighters and first responders know what chemicals are released into their communities as the result of fires, explosions and releases.
CHEMICAL SAFETY NEWS FROM PEER
Santa Susana Slated to Remain Major Ecological Hazard
Post Cleanup Toxics Will Subject Wildlife to "Observable Adverse Effects"
"Forever Chemicals" Disposal is Creating a Health Nightmare
EPA is Failing to Control Spreading Web of PFAS Waste
STATEMENT | IG Report Finds EPA New Chemical Review Process Badly Broken
EPA has not complied with applicable record keeping and quality assurance requirements when implementing its New ...
CSB Should Recoup Improper Payments to Ex-Chair
Trump Appointee Racked Up Nearly $100,000 in Unauthorized Expenses
Waste Incinerators' Toxic Output Should Be Reported
Incinerator Chemical Releases Not Included in EPA Toxics Release Inventory
Public Health Scientist Sidelined by Industry Tactics
Academic Freedom Complaint Filed with University at Albany Senate
PEERMail | Save the EPA
On September 20, 2022, thousands of people from around the country will take part in a rally outside of the EPA ...
EPA Routinely Ignores Chemical Risk Calculations
Workers imperiled by failures to flag serious known hazards.
EPA Corrupted Pesticide Risk Assessment to Aid Industry
IG Found Managers Trampled Standard Procedures to Diminish Cancer Risk
EPA Flunks PFAS Chemistry Test
New Advisories Ignore Precursors That Transform into Most Toxic Fluorinated Chemicals
Trump Holdover's Hasty Exit Not Fast Enough
Chemical Safety Board Chair Lemos Resigns but Wants to Stay Thru July 22
PEERMail | Getting a Grip on Toxic Chemicals
As thousands of communities throughout the country find their water and food contaminated on with PFAS, the ...
EPA Sued Over Failure to Explain Its Narrow PFAS Definition
EPA's Definition Misses Many Toxic and Persistent Chemicals
Denver Superfund Site May Be Leaching Toxic PFAS
Groups Seek State Testing and Monitoring at Lowry Landfill Superfund Site
More Toxic Runoff From Santa Susana Field Lab
Latest Monitoring Report Underlines Need for Stricter Contamination Curbs
UN Bans Mercury Satellite Propellants Under New Minamata Treaty Provisions
Just one communications network using the technology could result in hundreds of metric tons of mercury releases ...
Lack of Scientists Dooms EPA Chemical Reviews
Crippling Staff Shortage in Chemical Safety Work Continues in 2022 Budget
COMMENTARY | EPA Sets Low Bar on Chemical Safety – And Trips Over It
EPA staff are under pressure, and often retaliated against, to remove chemical hazard information and to keep ...
"Garden Pathway" Needed for Toxic Cleanups
Safe Fruit & Vegetable Cultivation Should Be EPA Remediation Yardstick
EPA Belatedly Posts Industry Chemical Safety Warnings
PEER Suit Prompts EPA to Unearth Over 1,300 Industry Chem Substantial Risk Reports
EPA Tunes Out Industry's Chemical Safety Alarms
Lawsuit to Excavate 1,200+ Buried Industry Chemical Hazard Reports
Expertise Gaps Plague EPA Chemical Assessments
EPA Lacks Plan to Fill or Retain Critical Scientific Specialist Positions
EPA Hid Cancer Danger of "Green" Chemical It Promotes
Auto Workers and Consumers Exposed without Any Health Warnings
Letter to House Subcommittee – Chemical Safety for the 21st Century Act – 10-26-2021 (PDF)
DESCRIPTION: Implementation of the Frank R. Lautenberg Chemical Safety for the 21st Century Act TO: House Energy ...
Webinar | Hair on Fire and Yes Packages!
Second in a series of webinars that examines how risk assessments for new chemicals have been improperly altered ...
EPA Illegally Destroying Internal Records
Assessments and Comments Routinely Overwritten, Obliterating Drafts
Letter to Dr. Michal Freedhoff – Chemicals Division -08-10-2021 (PDF)
DESCRIPTION: Letter to Dr. Michal Freedhoff regarding the hardships in the New Chemicals Division at the EPA TO: ...
Letter to Representative DeGette – 08-03-2021 (PDF) 
DESCRIPTION: Letter to Representative DeGette regarding the chemical industry's influence over EPA's ...
PEERMail | Whistleblowers Making a Difference
On Whistleblower Appreciation Day, we honor those who stand up for strong environmental protections and work for ...
EPA Risk Assessments Doctored to Mask Hazards
Managers Remove Elements of Risk without Analysts' Knowledge or Consent
Chemical Safety Board Chair's Spending Spree – On Herself 
Trump Holdover Consolidates Control to Preempt Biden Appointees
Chemical Safety Board Goes on Crony Binge
Disgraced Ex-Louisiana Official Given Top Job by Trump Holdover 
Federal Industrial Safety Agency Withering Away 
Investigator Ranks and Recommendations Plummet under Absentee Chair  
NRC Stages Swift Sweeping Rollback During Pandemic
Vast Amounts of Rad Waste Slated for Disposal by Unlicensed Operators 
BLOG: Weak Industrial Accident Emissions Rule Final But Not Effective
After more than 20 years of delay and a successful lawsuit by PEER and chemical safety advocacy groups, the ...
PEERMail: Exploding in a Neighborhood Near You
America's industrial infrastructure suffers from aging pipes prone to corrosive leaks leading to ignition that ...
Industrial Accident Emissions Reporting Plan Too Weak
CSB Proposal Would Not Produce Useful, Accurate, or Timely Information
EPA Declines to Avert Mass-Casualty Refinery Accidents
Despite Near Misses, Agency Claims Ignorance on Hydrogen Fluoride Risks
Refinery Fires Needlessly Risk Mass Casualty Events
EPA Action Needed to Ban Chemical Threatening Bhopal-Like Tragedies
Chemical Safety Board Personnel Case Settles
Courthouse Steps Agreement Means Thursday MSPB Hearing Is Cancelled
PEERMail: David Bernhardt and the Banality of Evil
As disturbing Trump appointees go, Scott Pruitt at EPA is hard to top.  Well, somebody else who has that potential ...
Court Orders Disclosure of Chemical Accident Emissions
Chemical Safety Board Shirked Its Clean Air Act Mandate to Protect Communities
Morale Cratering at Chemical Safety Board
Number of Investigators Down by More Than Half as More Employees Depart
Outgoing Chemical Safety Chair Fires Managing Director
Civil Servant Punished for Doing His Job Amidst Shifting Politics and Leadership
Lawsuit to Require Chemical Accident Emission Reports
Hurricane Harvey Chemical Explosions Spotlight Neglected Clean Air Act Mandate
Obamas Timid Chemical Safety Legacy
EPA Plan Limited, Largely Voluntary and Leaves Largest Threats Unabated
Morale Charades at Chemical Safety Board
Managing Director Scapegoated as CSB Stalls Mandatory Morale Survey Analysis
New Transparency Is Opaque at Chemical Safety Board
Basic Information on Investigations, Procurement and Private Emails Still Missing
Chemistry Classroom Flash Fire Should Be Investigated
Chemical Safety Board Dispatches Tweets Not Investigators to Latest School Blowout
No New Chemical Safety Investigations Opened in Seven Months
19 Major Accidents Ignored as Chemical Safety Board Prolongs Internal Probes
Indefinite Leave at Chemical Safety Board Prompts Complaint
OPM Intervention Sought for Merit Violation of Extended Suspension without Cause
Covert Contracts Drain Chemical Safety Board Budget
Sole-Source Payments Piecemealed to Avoid Bid, Affirmative Action and Other Rules
Silent Epidemic of Workplace Chemical Exposures Rages On
New Worker Right-to-Know Database Maps All OSHA Health Inspection Readings
Myopic IG Demand for Total Access Often Misses Mark
Pursuit of Trivial Information Masks IG Lack of Oversight on Serious Matters
Obama Retreats From His Own Chemical Safety Measures
Despite Recurring Disasters, Industrial Plants No Safer Now Than Under Bush
Why U.S. Is Not Embracing Inherently Safer Chemical Plants
Chevron Richmond Refinery Explosion Ignored in GOP Red Herring Oversight
Don't Drink the Fracking Fluids!
Toxic Well Flowback Pumped for Consumption by Wildlife and Livestock
Vapor Intrusion Standards Relaxed in New Jersey
No Public Review of New Guidance to Industry Consultants on Toxic Cleanups
Jersey Toxic Spill Fiasco Demands Second Look
Review of Evacuation and Health Warnings Confusion, Role of Corporate Consultant
Love That Dirty Water: Romney Water Pollution Record
Hundreds of Corporate Waivers to Dump Toxics into Massachusetts Water Supply
Twenty Seven New Jersey Superfund-Eligible Sites Left off List
EPA Still Reviewing Status of Unknown Number of Garden State Toxic Hotspots
Dupont Pompton Lake Pollution May Be Headed Downstream
DEP Scientists' Questions Could Prompt Feds to Expand DuPont Cleanup Scope
EPA Corrects Cleanup Standard for Industrial Solvent
Agency Mistakenly Relaxed 1,4 Dioxane Standard by More Than 50-Fold
Grain Elevator Deaths Product of LAX OSHA Enforcement
Summer Plea Bargain Letting Executives off Set up Repeat of Preventable Fatalities
Lawsuit to Uncover Toxic History of New Jersey
U.S. EPA Will Not Release Hazardous Ratings for Pompton Lakes and Other Sites
New Jersey to Deregulate Toxic Vapor Intrusion
Control of Deadly Seepage Put on "Honor System" in Christie Regulatory Rollback
Strong Federal Action Needed Now at Toxic Jersey Dupont Site
Spreading and Uncontrolled Contamination in Hundreds of Pompton Lakes Homes
Chemical Caused Nerve Damage to Military Base Workers
Alaska Health Report Cannot ID Agent, Urges Permanent Paving for Base Site
Pay-To-Players Take Over Jersey Environmental Agency
Corporate Political Donors Control DEP Toxic Clean-Up Oversight and Rulemaking
Spiking Mercury Levels in Coal Ash Pose New Risks
Tougher Pollution Controls Multiply Toxic Potency of Coal Combustion Wastes
Pennsylvania Hazmat Rules Roil Both Industry and Workers
DEP Employees Files Grievances over Higher Toxic Exposure with No Protection
Gas Drilling Divides Another National Forest
Damage to Endangered Bat Caves and Toxic Pits Plague Monongahela NF
Dow Dioxin Deal Flying Under EPA Radar
Contamination Case in Closed-Door Negotiations for "Non-Regulatory" Resolution
EPA Delays Experiments Exposing Children to Chemicals
Studies Modeled on Infamous CHEERS Underline Enduring Ethical Uncertainties
State Charges Army Chemical Weapons Depot with Violation
Criminal Probe Widens to Spill Cover-Ups and Falsification of Monitoring Reports
New Whistleblower Surfaces at Chemical Weapon Depot
Worker Safety, Environmental Violations and Data Falsification at Kentucky Facility