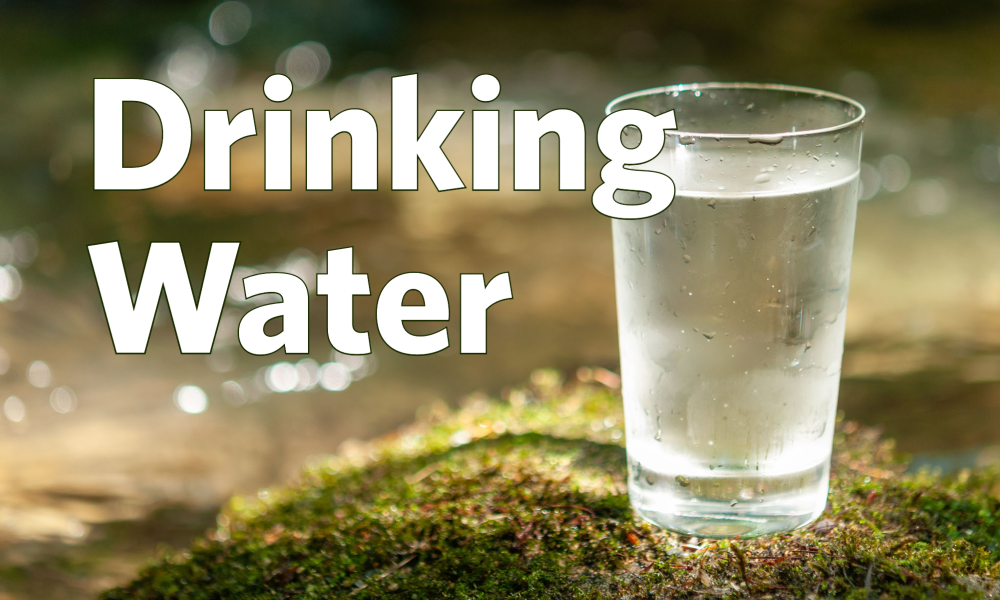 Americans get their drinking water from one of two places: groundwater (e.g., aquifers), or surface waters. Approximately 10% of people in the United States rely on private wells for their drinking water; the remaining 90% get their water for drinking, cooking, and bathing from public drinking water systems. 
One of the most basic functions of government is to ensure that people are drinking and using clean, safe water. We have seen again and again how the government has failed in this most basic function. Working with those inside the government, PEER provides constant oversight on government actions.  
Our current efforts include focusing on removing lead and copper from drinking water, pressuring states and the federal government to develop standards for a class of toxic chemicals called PFAS, known as "forever chemicals," and minimizing pharmaceuticals and other contaminants in drinking water. 
EPA's Action on PFAS in Drinking Water
March 14, 2023
The U.S. Environmental Protection Agency's proposed drinking water limits announced today on six per- and polyfluoroalkyl substances (PFAS) do not go far enough, according to Public Employees for Environmental Responsibility (PEER). EPA proposed limits on only two "forever chemicals" in drinking water, and on mixtures of four other PFAS chemicals. 
Read the Full Statement»
DRINKING WATER NEWS FROM PEER 
Nutrient Bomb Set to Detonate in San Francisco Bay
$3 Billion Plan Will Inject Even More Nutrients into Degraded Estuary
COMMENTARY | Florida's Environment – A Native Floridian Perspective
Florida must take significant steps to promote coastal resiliency and protect all communities against the effects ...
Florida's Environment Spirals Downward Under DeSantis
Nosedive in Anti-Pollution Enforcement Leading to Declining Water Quality
REPORT | 2022 Florida Enforcement Report
Florida's environmental enforcement actions are well below historical averages and have declined significantly in ...
San Francisco PUC Awash in Water Pollution Violations
City Agency Facing Stiff Fines Amid Pending Federal & State Legal Sanctions
Florida Annual Eco-Enforcement Reports
Since 2004, PEER has examined Florida Department of Environmental Protection (DEP) files to assess pollution ...
PEERMail | Supreme Court Guts Wetlands Protections
Special interests have finally succeeded in getting the Supreme Court to eliminate Clean Water Act protections for ...
COMMENTARY | EPA's Whack-a-Mole "Forever Chemicals" Posture Is an Intolerable Failure
The agency must treat PFAS as a class of chemicals regulated in the same manner as the European Union and other ...
STATEMENT | EPA's Action on PFAS in Drinking Water
EPA's chemical-by-chemical approach leaves the public unprotected from the vast majority of toxic but unregulated PFAS.
COMMENTARY | Conowingo: A Better Deal Coming for the Chesapeake Bay
In a major victory for waterman and environmental groups, courts have vacated the licensing for Maryland's Conowingo Dam.
COMMENTARY | Biden Strengthens Clean Water Rules
The new regulations repeal a Trump-era rule, called the "Dirty Water Rule" by many, that left millions of acres of ...
Florida's Waters Awash in Sewage Spills
Under DeSantis, More Inspections, More Pollution but Less Enforcement
REPORT | 2021 Florida Enforcement Report
Report on Enforcement Efforts by the Florida Department of Environmental Protection – Calendar Year 2021
Florida's Seagrass Under Relentless Pollution Assault
Florida's Fabled "Forgotten Coast" Beset by Torrent of Sewage Violations
Biden Estimate of "Conserved" Waters Inflated
Almost All 30x30 Waters in Remote Pacific; Scant Safeguards for the Rest
COMMENTARY | PEER works with Lawmakers to Fight Conowingo License
PEER continues to work to compel Exelon Corp., owners of the Conowingo Dam, to clean it up and mitigate the ...
Letter to Minnesota Pollution Control Agency – Impaired waters list and PFAS – 01-07-2022 (PDF)
DESCRIPTION: Letter to MPCA regarding the impaired waters list, to consider expanding the type and levels of PFAS ...
REPORT | 2020 Florida Enforcement Report
Report on Enforcement Efforts by the Florida Department of Environmental Protection – Calendar Year 2020
Florida Pollution Enforcement Fell into COVID Coma   
Inspections and Eco-Compliance Tumbled in 2020 among Enforcement Gaps   
Delray Deputy Utility Manager Cashiered   
Troubled Florida Water Utility Faces Gauntlet of Public Health Challenges
Letter to Chad Hardy – 03-31-2021 (PDF) 
DESCRIPTION: Letter to Chad Hardy regarding wastewater permits for the City of Delray Beach TO: Chad ...
Florida's Clearwater Awash in Sewage Violations
More than 400 Sewage Overflows in Last Five Years; Almost No Enforcement
Florida Issues Drinking Water Safety Citations 
Delray Plagued by Persistent Contamination with Partially Treated Sewage
Beyond 2020: Pollution Enforcement
The strength of pollution regulation in the U.S. relies on enforcement, and the agency in charge is falling down ...
New EPA Lead and Copper Rule Inadequate
Final Rule Perpetuates Risk to Minority Communities 
Aerially Sprayed Pesticide Contains PFAS  
"Forever Chemicals" Potentially Spread Over Millions of Acres 
More PFAS Found in Maryland Water and Seafood  
Maryland Must Set Health Standards for Toxic "Forever Chemical"  
Rhode Island Ignores Sewage Dumping in Historic Harbor   
Federal Action Sought to Stop Sewage Discharges Befouling Sakonnet Harbor   
PEER Testifies Before Colorado Oil and Gas Commission
Kyla Bennett testified in front of the Colorado Oil and Gas Commission to require a robust analysis of the impacts ...
BLOG | EPA's Latest Toxic PFAS Whitewash Revealed
EPA delayed and continues to delay release of its interactive PFAS map, which shows local sources of PFAS, forever ...
Toxic PFAS Taints Delray And Boynton Beach 
Florida Needs to Develop Monitoring Program and Safety Standards 
Florida Eco-Noncompliance Rises as Enforcement Wanes   
Governor DeSantis' Pollution Control Record Even Weaker Than Scott's
BLOG | How GAO Is Helping Shine A Light on My Former Federal Agency
Former DOE scientist Bill Dam reveals groundwater contamination coming from several former uranium mills in ...
Orlando Chronic Sewage Breakdowns Fester  
Spills Risk COVID Exposure Yet No Abatement or Enforcement
Sewage Spills Pose COVID-19 Risks  
Overflows into Drinking Water Sources May Create New Infection Vectors  
Suit Against EPA's Elimination of Clean Water Protections 
EPA Rule Paves Way for Destruction of Wetlands and Small Streams
Colorado Lags in Controlling Forever Chemicals
Dangerous Levels of PFAS in Drinking Water Without Enforceable Limits
Massachusetts Issues Permit for PFAS It Is Fighting
Big Discharge Slated for Merrimack River – Water Source for Half-Million
Forever Chemical Requires Cradle-to-Grave Approach
To Stem Exponential Spread All PFAS Chains Must Be Classified Hazardous
PEERMail | Fighting for the Planet in Court
Evidence compiled by the government's own experts is our most valuable asset in demonstrating the irrationality of ...
WOTUS Redefinition: South Dakota
Impact of Proposed Waters of the U.S. (WOTUS) Redefinition on Wetlands and Waters in South Dakota
South Dakota Ground Zero for Trump Water Rollbacks
State's Drinking Water, Flood Control, and Wildlife Habitat at High Risk
Arid New Mexico To Get Much Drier Under Trump Plan
Virtually All Rivers and Streams, Many Wetlands to Lose Legal Protection
WOTUS Redefinition: New Mexico
Impact of Proposed Waters of the U.S. (WOTUS) Redefinition on Wetlands and Waters in New Mexico
PEERMail: A Growing Water Crisis
As two PEER staffers, we are here to let you know some of the water issues we are working on and why we are ...
EPA Response To "Forever Chemical" Crisis A Total Dud
"Action Plan" Too Weak and Limited to Meaningfully Protect Public Health
Trump's Rapidly Shriveling PFAs Response
Extensive Edits Embedded in Public Comment Page Eviscerate EPA Action Plan
EPA's Hypocritical Drinking Water Proposal
Proposed Budget Cuts Threaten Nation's Drinking Water Quality
Trump Administration's Budget Would Impair Safe Drinking Water
The proposed FY 2020 budget cuts $8.124 million (8%) from the drinking water program.
Trump's Clean Water Debacle
Proposed Rewrite of WOTUS Threatens U.S. Water Security
CDC Punts on Studying PFAS Cancer Risks
Study to look at relationship between PFAS exposure and select health outcomes
Massachusetts Needs a PFAS Public Health Advisory for Game
"Forever Chemical" Buildup in Food Chain Affects Game and Fish in Toxic Hotspots
PFAS Breakthrough in Massachusetts
Army to Give Both Immediate Relief and Long-Term Treatment for Hard-Hit Town
Tampa Sewage Meltdown Early Eco-Test for Desantis
Federal Intervention Needed If State Continues to Ignore Major Pollution Violations
Agriculture Poisoning the Prairie Pothole Region
Pesticides and Pollution Runoff Imperil North America's "Duck Factory"
Trump Clean Water Rollback Threatens U.S. Water Supply
Most Waters and Wetlands Would Lose Legal Protections against Pollution and Fill
Lake O's Gateway City Spewing Illegal Wastewater
Clewiston Phosphorus and Other Pollution Violations Go Unpunished and Unabated
Tele-Press Conference on EPA Failure to Prevent Future Flint Crises
Retired EPA Experts Discuss Lack of Early Warning System to Avert Lead Drinking Water Tragedies
Venice Epitomizes Florida Water Pollution Crisis
Continued Illegal Discharges Amid Record Gulf Red Tide Outbreaks
EPA Has Done Little to Prevent Future Flint Crises
Agency Still Lacks Early Warning System to Avert Lead Drinking Water Tragedies
Drinking Water for Third of U.S. in Legal Tug-Of-War
On-Again Off-Again Clean Water Rule Protects Both Water Quality and Quantity
America's Coastal Waters, Bays, and Estuaries in Bad Shape
EPA Classifies the Vast Majority of Our Marine Waters "Impaired" by Pollution
America Losing the War for Clean Water
More Than Half of U.S. Rivers and Two-Thirds of Lakes and Reservoirs Impaired
Pruitt's Wacky Wotus Repeal Do-Over Digs Deeper Legal Hole
Supplemental Filing to Justify Jettisoning Clean Water Rule Runs Further Aground
Mega-Pollution Violations Befoul St. Johns River
Non-Enforcement Leaves Florida's Longest River with Excess Bacteria and Nutrients
Feds Urged To Tackle Rampant Florida Water Pollution
Lack of State Enforcement vs. City of Lynn Haven Triggers Intervention Petition
Pruitt Hijacks National Stream and Wetlands Protections
Pruitt Strips EPA Offices of Decision Power on Pebble Mine and Other Big Projects
Brian McKenna: Michigan Environmental Anthropologist
An anthropologist in the University of Michigan-Dearborn's Department of Behavioral Sciences, Brian works as an ...
EPA Urged to Close Dirty Water Public Notice Loopholes
Schools, Day-Care, Nursing Homes Lack Warning on Unsafe Drinking Water
Many Floridians Unknowingly Drink Contaminated Water
No Notice to Residents at Thousands of Sites Polluted by Leaking Petroleum Tanks
Trump's Radical Rollback of Clean Water Protections
Repeal and Replace Waters of U.S. Safeguards Rooted in "Alternative Facts"
Pruitt's Massive Wetlands Shell Game
WOTUS Repeal Cost-Benefit Study Premised on Wetlands Having Zero Value
Fig Leaves No Cover for Drinking Water Radiation Rollback
Final Approval for Radical Radiation Rise in Water Supplies after Nuclear Release
Radical Drinking Water Radiation Rise Confirmed in EPA Plan
EPA Hid Planned Exposure Levels 1,000s of Times Safe Drinking Water Act Limits
Lawsuit to Bare Full Range of EPA Radiation Rollback
Ultra-High Exposures in Water after Nuclear Release but Details Remain Cloaked
EPA Should Keep Oversight of Florida Drinking Water
State Potable Water Program Is a Shambles and Getting Significantly Worse
Florida's Drinking Problem – Unsafe Water
Widespread Potable Water Violations but Virtually Nonexistent Enforcement
Ultra-High Radiation Coming to Your Drinking Water
EPA Hiding True Impacts and Limiting Public Comment on Radioactive Water Plan
EPA Pushing Huge Hike in Drinking Water Radioactivity
Thousand-Fold Increase Following Fukushima-Type Incident – More than Bush Plan
Highlands Septic Study Faces Retraction Demand
Highlands Septic Study Faces Retraction Demand
Portrait of Florida Coddling Corporate Pollution Offenses
Hundreds of Violations Repeatedly Forgiven in Name of "Compliance Assistance"
Timid Step Toward Stemming Pharmaceutical Pollution
Timid Step Toward Stemming Pharmaceutical Pollution
End Dumping of Fracking Fluids
Rulemaking Petition Urges EPA to Ban Surface Discharge of Fracking Fluids
Major Florida Wastewater Violators Go Unpunished
Many Million Gallon/Day Dischargers Remain in Noncompliance for Years
Christie's Barnegat Bay Shell Game
Regulatory Ruses to Evade Legal Duty to Impose Meaningful Pollution Controls
Study Documenting Barnegat Bay Decline Kept in Limbo
Land Use Driving Nutrient Loading; Pollution Diet Needed to Avert Tipping Point
More Safe Drinking Water Violations at Missouri State Parks
Cuivre River State Park Multiple Failures May Point to Uninspected Water Towers
New Jersey Hands Drinking Water Safeguards to Dupont
Corporate-Dominated Science Board Asks DuPont to Self-Assess Chemical Effects
New Jersey Oks Capping Toxic Soils Over Groundwater
Latest Christie Rollback for Developers Reverses 40-Year Public Health Policy
Missouri Park Water Systems Court Contamination
State Ignores Its Own Water Tower Standards as Whistleblower Hearing Nears
Agreement Paves Way for Eldorado Forest Trail Designations
Compromise Reopens Some Trails, Closes Some and Requires Restoration for Others
EPA Drops Conflict-Of-Interest Probe of Top Florida Officials
EPA Let Vinyard Run out the Clock on Complaint without Determining Violation
EPA Abdicates Oversight Role in Protecting Florida Waters
State Pollution Permitting Standards Warped to Accommodate Corporate Agenda
Boca Raton Drinking Water Violations Swept Under Rug
Scathing Palm Beach Health Department Findings Prompt Slap-on-Wrist Settlement
Missouri Parks' Drinking Water Passes Federal Muster
Contaminated Water Confirmed in State Parks during 2012 Peak Visitation Season
Federal Review of Missouri Parks' Drinking Water Sought
Whistleblower Cites Contaminated Water in State Parks and Lax Enforcement
Corporate Gambit on New Jersey's Drinking Water
Legislation Would Limit Science That Could Be Used for Risk Assessments
Cascading Failures Threaten New Jersey Water Supplies
Abandonment of Climate Preparedness Work Aggravates Garden State's Plight
Most U.S. Waters Are Polluted and Getting Dirtier
EPA Figures Show Grim Pollution Realities on 40th Anniversary of Clean Water Act
Aerial Spraying Leaves Pesticide Footprint in Local Waters
No Buffer Zone or Other Effort to Minimize Pesticide Discharge into Water Bodies