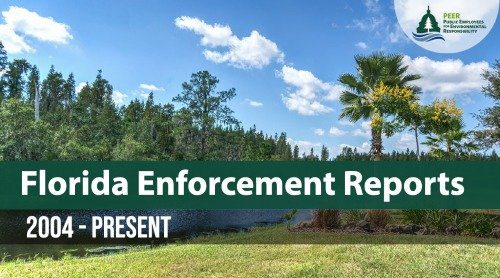 Since 2004, PEER has examined Florida Department of Environmental Protection (DEP) files to assess pollution enforcement. In a state heavily reliant on its natural beauty for tourism revenue, it has fallen far short of acceptable pollution levels primarily in its waterways and wastewater management.
Despite pledges to strengthen pollution enforcement, Florida state records show declines in virtually all meaningful measures. Notably, violations and significant noncompliance with pollution limits are growing while major enforcement actions are declining.
Select a year below to view the Press Release and Report.
2021 | Report on Enforcement Efforts by the Florida Department of Environmental Protection
"There were fewer new cases opened in 2021. 693 new cases were opened in 2021, compared to 742 cases in 2020. While the number of cases fell in 2021, the basic parameter of the number of new cases, judged by itself, was still significantly better than each of the years from 2012 through 2019. 2021's performance is still only 44% of cases turned in by the agency in 2010. The graph below shows the number of new enforcement cases opened for the years from 2009 through 2021.
The total number of cases does not tell the whole story concerning the agency's enforcement performance. This is the fourth consecutive year in which we have been able to report on both the FDEP's enforcement program and the compliance data associated with that program. This allows for a more holistic review of the agency's performance because the compliance data allows us to evaluate how the agency responds to inspections that show regulated entities to be functioning out of compliance. 2021's performance was mixed, as compared to the previous year.