Celebrating 30 Years of PEER
Our story has been one of remarkable service, hard work, and a steadfast commitment to helping current and former public employees speak the truth, protect science, and safeguard the environment. Join the Celebration and Learn More»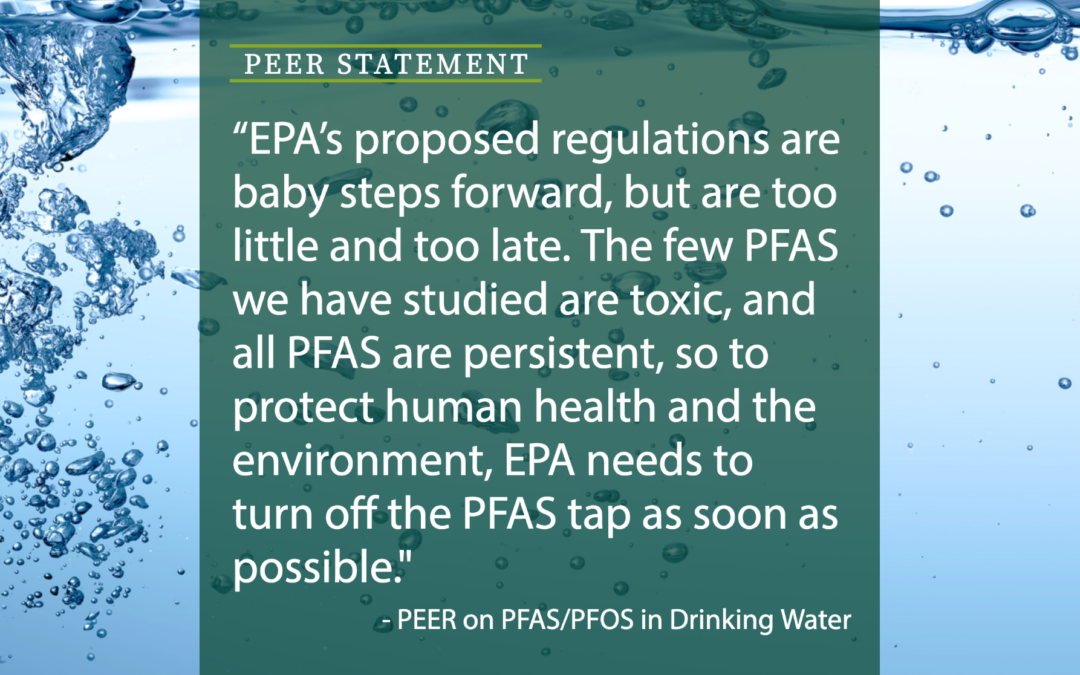 EPA's chemical-by-chemical approach leaves the public unprotected from the vast majority of toxic but unregulated PFAS.
read more
Suit Charges Air Tour Plan for Four Bay Area Parks Developed Illegally
read more
Unfortunately, turf field disposal is often a matter of out-of-sight, out-of-mind, advocates say. "It's being shipped overseas. It's being dumped in fields in Pennsylvania and...
read more
PEER and The Ocean Foundation filed the petition, which is the first to propose a nationwide minimum standard for whale safety zones. NOAA Fisheries would...
read more
Toxic PFAS chemicals are found in multiple products, ranging from waterproof clothing to firefighting foams and ski waxes. Often called "forever chemicals" because they don't break...
read more
This Sunshine Week, we discuss the use of "Confidential Business Information" to hide health and safety information from the public.
read more
Scientists who formally file dissenting opinions that challenge the orthodoxy of their agency, are often on a lonely, fraught journey.
read more
Even though Dr. Carpenter's case has been resolved, we hope the University at Albany will address the broader academic freedom issues that this case has opened
read more
CONFIDENTIALITY
All communications with PEER are strictly confidential.
LEARN MORE »
ANONYMOUS ACTIVISM
As a service organization assisting federal, state & local public employees, PEER allows public servants to work as "anonymous activists" so that agencies must confront the message, rather than the messenger.
LEARN MORE »
DONATE
Your donation to PEER strengthens our ability to defend whistleblowers pro bono, enforce environmental laws, safeguard public lands, and combat the political manipulation of science.