PFAS Waste Generation and Disposal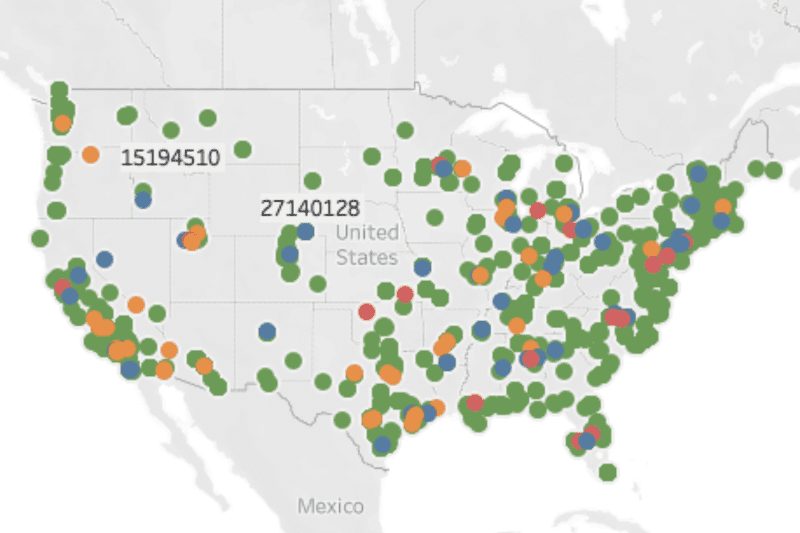 January 2022 – Through a Freedom of Information Act request, PEER received data from EPA on PFAS transfers identified in hazardous waste e-manifests and state waste code searches. This data and the map PEER produced has information on the generation, storage, and disposal of almost 14 million kilograms of waste contaminated with PFAS between July 2018 and August 2021.
Over 120,000 Facilities "May Be Handling" PFAS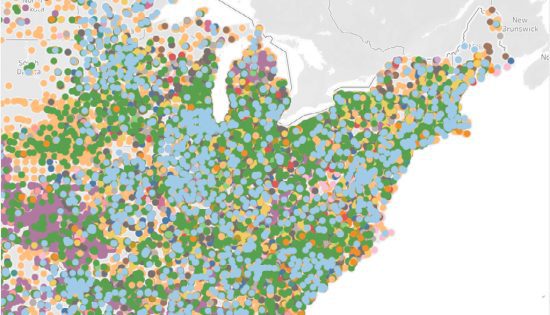 October 2021 – After several Freedom of Information Act requests and a lawsuit, PEER received an EPA data set with information on some 120,000 industrial facilities that "may be handling" PFAS – with that information, we produced our own map of these facilities.
Forever Chemicals Everywhere
PEER works to protect public health and wildlife from per- and polyfluoroalkyl substances (PFAS) contamination. Unfortunately, the absence of enforceable federal health and environmental standards for PFAS poses a significant and growing threat to our health, water, and soil. A key cause for concern is that these so-called "forever chemicals" do not break down in the environment, many of which are toxic, and some bio-accumulate in the food chain — and in us.
PFAS are used as fire retardants and repellents; in consumer products, such as furniture, take-out containers, and non-stick cookware; and have many other applications. Human exposure to PFAS is associated with cancer, birth defects, developmental damage to infants, and impaired functioning of the liver, kidneys, and immune system.
Yet, an estimated 200 million Americans are drinking water contaminated with PFAS, and PFAS have also been found in grocery store meats, milk, seafood, bottled water, as well as in wild fish and game. Studies have also found PFAS in the bloodstream of 99% of Americans.
Although the U.S. Environmental Protection Agency (EPA) knows of about 12,039 types of PFAS, it has failed to set a legal limit for PFAS in drinking water, clean up existing PFAS pollution, reduce ongoing releases of PFAS, and ban PFAS from everyday products. The only action taken has been to issue a non-enforceable health advisory, even though there are more than 2,854 known contaminated sites. This number will surely grow as more communities begin testing.
PEER is urging EPA to regulate PFAS as a class of chemicals and to classify waste contaminated with PFAS as a hazardous waste under the Resource Conservation and Recovery Act (RCRA), so that it can be more safely managed during generation, transportation, and disposal. In addition, PEER continues to expose how EPA violates its own scientific integrity norms and guidance in approving PFAS chemicals for use. We also work vigorously to release to the public information on PFAS that EPA tries to keep hidden from the public.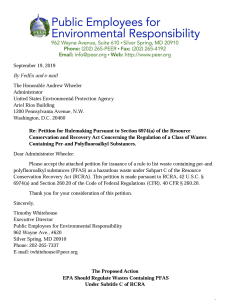 The absence of federal standards for tracking and managing waste contaminated with toxic per-and polyfluoroalkyl substances (PFAS) poses a significant and growing threat to our health, water, and soil. That is why, over two years ago, PEER petitioned EPA  to issue a rule listing waste containing PFAS as a hazardous waste under Subpart C of the Resource Conservation and Recovery Act (RCRA). EPA has not yet responded to our petition. (Click  image to read petition)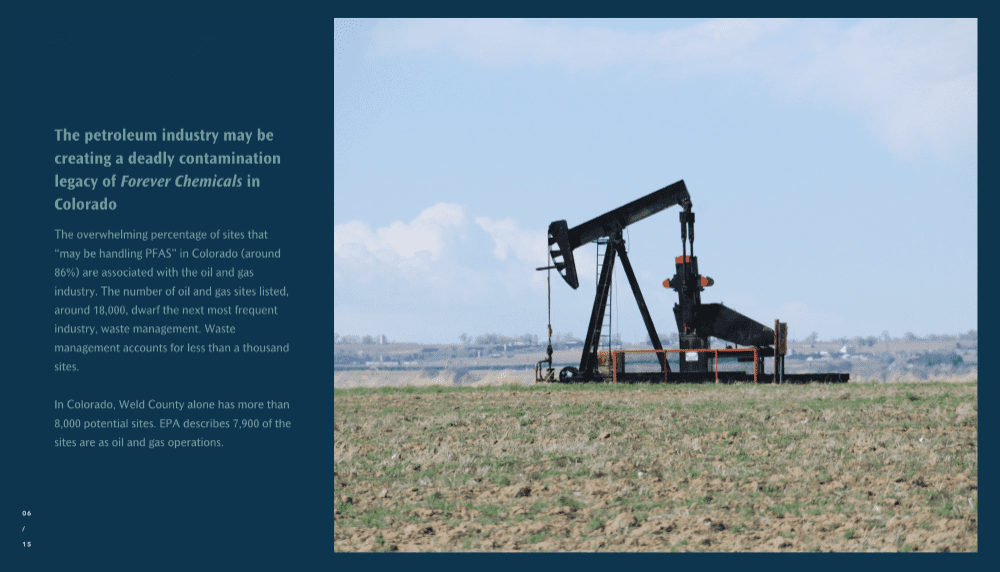 Toxic Chemicals in Your Backyard
Environmental Protection Agency Data: Does it Point to Colorado as the PFAS Capital of the U.S.?
COMMENTARY | PFAS Contamination Study Yields Frightening Results
Environmental contamination of PFAS has exceeded a new planetary boundary or environmental limits within which ...
EPA Flunks PFAS Chemistry Test
New Advisories Ignore Precursors That Transform into Most Toxic Fluorinated Chemicals
EPA Takes First Baby Steps on PFAS
Nonregulatory Health Advisories on Just Four of Thousands of PFAS
Gaping Hole in Biden PFAS Strategy
Documents Show EPA Has No Consistent Definition of PFAS
COMMENTARY | New Mexico Dairy Farmers' Toxic Fight
A new Mexico Dairy farmer who lost his entire herd to PFAS contamination is yet another tragic example of the ...
COMMENTARY | Colorado PFAS Prevention Act Passes
On May 11, 2022, the Colorado Legislature tackled the PFAS contamination crisis by passing one of the most ...
COMMENTARY | Fighting Government Secrecy
Government agencies are coming up short in their stewardship of environmental information, and that is having real ...
PEERMail | Getting a Grip on Toxic Chemicals
As thousands of communities throughout the country find their water and food contaminated on with PFAS, the ...
EPA Sued Over Failure to Explain Its Narrow PFAS Definition
EPA's Definition Misses Many Toxic and Persistent Chemicals
Denver Superfund Site May Be Leaching Toxic PFAS
Groups Seek State Testing and Monitoring at Lowry Landfill Superfund Site
Forever Chemicals: Understanding and Mitigating Impacts of PFAS
Boston Globe climate reporter Sabrina Shankman moderates a discussion with PEER's Kyla Bennett, scientists and ...
COMMENTARY | EPA Releases PFAS Contamination Information
After PEER FOIAs and a lawsuit, EPA releases a trove of information on PFAS contamination throughout the United ...
False Artificial Turf Recycling Claims Ripped
FTC Enforcement Urged to End Deceptive Turf Industry Greenwashing
Does Biden Consider Artificial Turf "Conserved" Land?
Lawsuit to Uncover Turf Industry Greenwashing in 30x30 Conservation Plan
"Forever Chemical" Disposal Becoming Eco-Nightmare
EPA Data Depict Vast Uncontrolled and Spreading Web of PFAS Waste
COMMENTARY | Startling New EPA Data on PFAS Waste Disposal
Recently obtained data from EPA documents what is likely only a small fraction of the generation and disposal of ...
Comment on PFAS Monitoring Plan – to Minnesota Pollution Control Agency – 01-21-2022 (PDF)
DESCRIPTION: Comment (via letter) to Minnesota Pollution Control Agency on Draft PFAS Monitoring Plan Comment TO: ...
Letter to Minnesota Pollution Control Agency – Impaired waters list and PFAS – 01-07-2022 (PDF)
DESCRIPTION: Letter to MPCA regarding the impaired waters list, to consider expanding the type and levels of PFAS ...
EPA's PFAS Action Plan A Dud
Response Too Weak and Limited to Protect Public Health 
PEERMail | From PFAS to Climate Change: Are we Moving Forward Yet?
While we have many reasons to be optimistic, the Biden Administration's environmental actions so far are falling short.