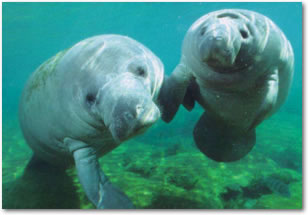 The endangered Florida manatee has made only tenuous progress toward recovery, principally due to lawsuits. And that progress has been reversed in the last few years due to toxic algae and removal of protections. 
With a population hovering under 6000 animals, according to 2018 agency estimates, the manatee is in danger of spiraling toward extinction: 
A total of 804 manatee deaths were recorded, higher than any other year save the massive die-off in 2013 which saw 830 deaths;

 

More than a quarter (209) were red-tide related, more than triple the toll taken in 2017 and again second only to the 277 red-tide deaths in 2013; and

 

Compounding these losses was a record number of deaths from boating collisions, with 119 in 2018, compared to 111 in 2017 and 102 in 2016, both previous record totals.

 
What are the major factors? 
The potential biological removal level (PBR) is defined by the Marine Mammal Protection Act as the maximum number of animals, not including natural mortalities, that may be removed from a marine mammal stock while allowing that stock to reach or maintain its optimum sustainable population. The PBR for manatees is a

pproximately 12 per year. 

 

The State of Florida projects a 30% to 50% decline in manatee population over the next 60 years due to the triple threat of rising boat traffic, loss of habitat (particularly warm springs) and red tides and algal blooms poisoning the manatees and their food supplies; and

 

Much critical manatee habitat is unprotected from swarms of tourists in swim-with encounters, or from boaters and fishermen.

 
By every measure, the Florida manatee population is not recovering it is teetering on the precipice. Yet both state and federal agencies are moving toward reducing protections for the manatee including stripping the species of its endangered status. 
Biggest Threat to Manatees? Humans.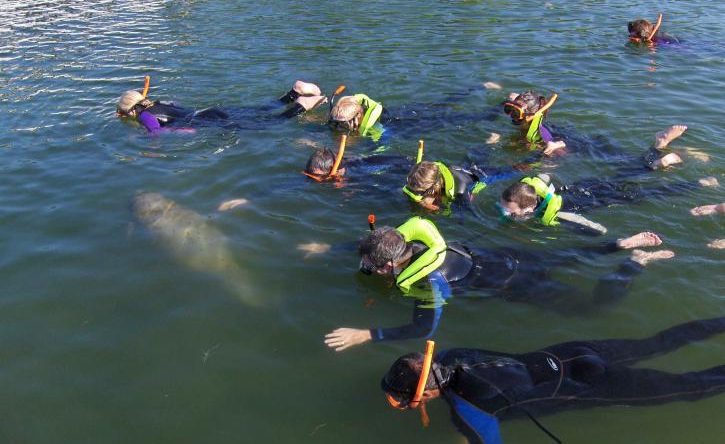 Every year an estimated 100,000 tourists participate in manatee "swim-with" programs that promote direct encounters in manatee lagoons.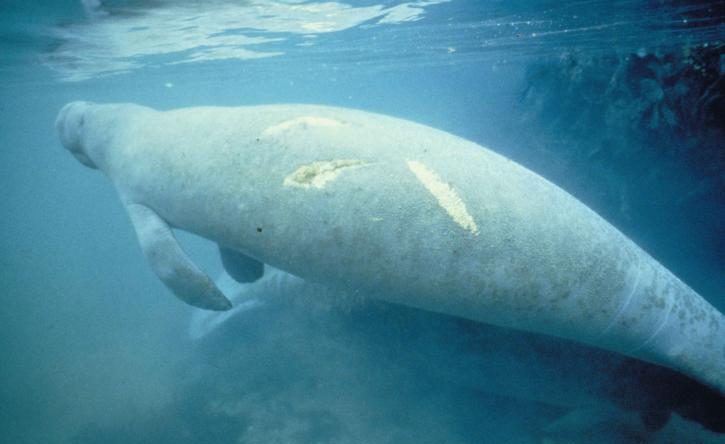 Speed Kills
Boats, docks, the need for speed all pose immense threats to manatees
Florida's Manatees Suffering Another Very Bad Year
Mortality Through September on Track for Second Deadliest Year on Record
Another Record Manatee Mortality Year Unfolding
400 Manatee Perish in First Two Months as Seagrasses Continue Retreat
PEERMail | Another Deadly Year For Manatees
Humans have made Florida waters dangerous to manatees and other living organisms due to fertilizer runoff, ...
2022 Begins Another Deadly Year for Manatees
High Toll in January Adds Cold Stress as Another Factor Driving Mortality
Record Manatee Mortality in New Year 
More Than 300 Die in Six Weeks; Vast Majority Not Necropsied
Record Florida Manatee Boat Kills in 2019
Annual Death Toll Reaches Third Highest; Tops Five-Year Average
Manatee Deaths in 2018 Approaching All-Time Record
More Than One-Seventh of Population Perished as Red Tide Mortality Tripled
September Was Especially Deadly for Florida Manatees
Red Tide Drives Manatee Mortality So Far in 2018 to Third-Highest All Time
Manatee Deaths in 2018 Already Top Last Year's High Toll
Nearly 100 Red Tide-related Deaths so Far; Second-highest Total This Decade
Disastrous 2018 Brings Record Manatee Deaths
In Less Than 2 Months, 154 Florida Manatees Perish, One-Third from Cold Stress
500 Manatee Deaths in 2017…and Counting
Last Year's Mortality Spike Already Topped Before December Cold Snaps
Manatee Mortality Spiked in 2016
Record Number of Florida Manatees Killed by Boat Collisions
Florida Manatees Get Scrooged for the Holidays
Chamber of Commerce Pressures Delay of Manatee "Swim-With" Safeguards
New Manatee Safeguards Need to Be Strengthened
Inadequate Enforcement Unless Refuge Adopts Video Monitoring System
Manatee Harassment Rampant on Refuges
"Out-of-Hand" Disturbances, Enforcement Overwhelmed, Visitor Education Failing
New Manatee Protection Lawsuit in the Works
End of "Swim-With" Programs, Plus Expansion of Habitat and Sanctuaries Sought
Record Manatee Deaths in 2013 on Surging Red Tides
Fatalities More than Double; Red Tide Deaths Equal Combined 8 Year-Total
Speed Kills
With manatee numbers temporarily growing, Florida developers are waging an all-out campaign to undo the very ...
Swim-With Harrassment
Every year an estimated 100,000 tourists participate in manatee "swim-with" programs that promote direct ...
Manatees
The endangered Florida manatee has made only tenuous progress toward recovery, principally due to lawsuits. And ...
Manatee Safeguard Limits Undermine Effectiveness
Pending Kings Bay Manatee Refuge Long Overdue but May Be Too Little Too Late
Make Emergency Manatee Measures Stronger and Permanent
115 Manatee Deaths So Far in 2011; Emergency Safeguards Lapse in Mid-March
Feds Announce Emergency Rule to Protect Manatees
Expanded Manatee Refuge and Winter Limits on Boating, Swimming and Fishing
New Lawsuit Looms for Manatee Protection
Record Mortality Cited in Legal Notice Seeking Sanctuary Designation
Feds Okay Tourists Swimming With Manatees
Fish & Wildlife Service Rejects PEER Petition to End "Swim-With" Permits
Manatees' Fragile Fate Mirrors National Wildlife Peril
Senate Confirmation Hearing Today for Fish & Wildlife Service Director
Move to End Harassment of Florida Manatees
Legal Filing to Outlaw Manatee "Swim-With" Dives by 100,000 Tourists Annually
Lawsuit to Force Florida Manatee Oversight Record Release
Boating Speed Limits, Warning Signs and Swim-With Harassment at Issue
Florida's New Manatee Plan Still Falls Far Short
Second Attempt to Justify Reduced Manatee Protections Has Gaping Holes
MANATEE PROTECTIONS TO BE CUT UNDER BUSH PLAN
Down-Listing Comes Despite Record Number of Manatee Fatalities in 2006
Florida Plan Dims Prospects for Manatee Survival
State Lowers Protections Despite Record Deaths and Projected Population Decline