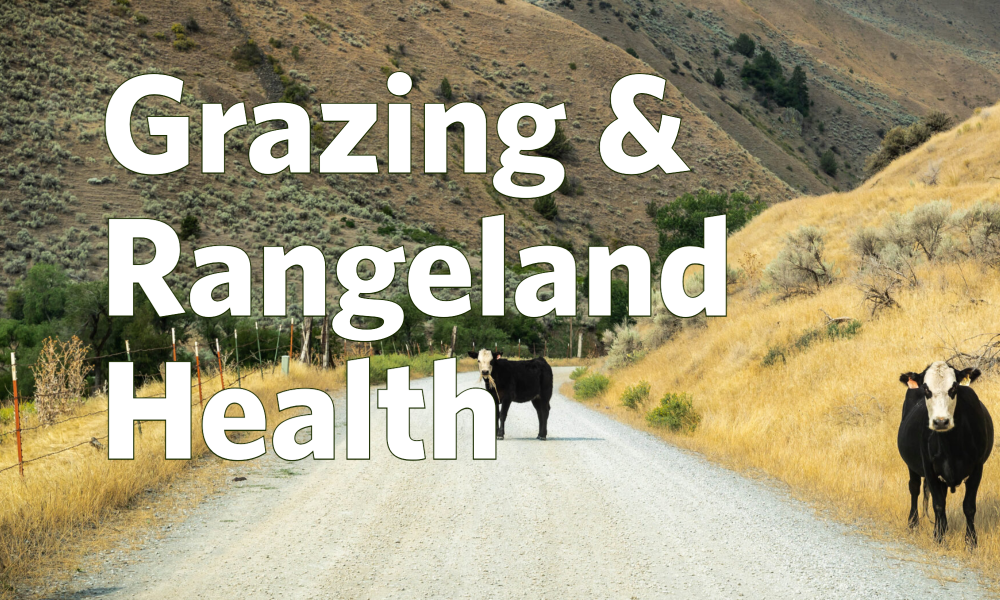 On more than 250 million acres of public lands in the American West, grazing by domestic livestock constitutes by far the most widespread human-caused impact on fundamental range conditions, including habitat quality, riparian functioning, and endangered species. More extensive than the impacts of logging and mining combined, commercial livestock grazing exacts an enormous toll on native ecosystems and wildlife throughout the American West. The federal government has yet to asses the impacts of the grazing program on climate. The significance of livestock methane production and desertification are certainly contributing factors to global warming. Grazing is a cited factor in the endangerment of federally listed threatened and endangered species and a major contributor to non-point source water pollution.
The Forest Service (FS) manages grazing on 102 acres of public land and the Bureau of Land Management (BLM), administrator grazing permits on 155 million acres.
BLM is required to monitor the ecological impacts of grazing on its lands. BLM conducts field evaluations of whether its grazing allotments meet "Land Health Standards" (LHS), but until now the results of these evaluations have been largely inaccessible to those outside the agency and their results have escaped independent review.
GRAZING REFORM NEWS FROM PEER
Lawsuit Demands BLM Step Up Range Health Protections
Agency Let Go of Oversight Reins on 155-Million Acre Livestock Program
Op-Ed | The BLM Is Ignoring Its Most Serious Land-Health Problem
This head-in-the-sand approach to destructive livestock grazing has to stop.
PEERMail | A Busy Summer is Winding Down
August has been quite a month for us - Logging in Minnesota, Grazing in Colorado, Scientific Integrity across the ...
Rampant Grazing Trespassing Goes Unpunished
Whistleblower Faces Suspension for Saying BLM Lacks "Gumption"
BLM Data Measuring Rangeland Health Not Available
Suit to Uncover Success of Efforts to Reverse Severe Livestock Eco-Damage
COMMENTARY | Managing Rangelands From Outer Space
The BLM has introduced satellite imagery as its latest land management tool – with predictably bad results.
COMMENTARY | Questions About BLM's Conservation Rule
There are serious concerns about many provisions of the new BLM conservation rule and its potential negative ...
BLM's Sketchy Satellite-Based Range Management
Agency Sets the Stage to Renew 1, 372 Montana Grazing Allotments Renewed in One Fell Swoop – No NEPA
Permit Renewal Shows BLM Not Serious on Range Reform
Despite Horrid Conditions No Recognition of Overgrazing or Climate Impact
BLM Oil Exemptions Threaten Sage Grouse in Wyoming
Groups Ask for Immediate Moratorium on Waiver of Habitat Protections
Federal public land grazing fees stay low despite inflation and climate costs
Public lands grazing fees are the only expense immune to inflation, despite the increasing costs to the taxpayer
Letter to Forest Service – Futuring of Livestock Management – 12-30-2022 (PDF)
DESCRIPTION: Letter to J. Eric Davis Jr., U.S. Forest Service regarding the "futuring" of livestock management on ...
PEERMail | Are Wild Horses to Blame for Failing Rangeland Health?
BLM must address overgrazing on public lands and stop scapegoating wild horses for failing land health.
COMMENTARY | Home on the Range: Wild Horses on Public Lands
Wild horses are given a bad reputation for damaging public lands but BLM data shows that livestock are the real problem.
REPORT | Bureau of Land Management Land Health Status – 11-09-2022 (PDF) 
Huge swaths of BLM lands are failing fundamental land health standards with current livestock ...
Interior Has Bad Case of Climate "Cow Blindness"
Failure to Address Commercial Livestock Climate Impacts Invites Lawsuits
Letter to Sec. Haaland – Climate Impacts of Livestock Grazing – 07-22-2022 (PDF)
Letter to Secretary Deb Haaland and the Climate Task Force regarding Interior's failure to address climate Impacts ...
PEERMail | Agency Policies Threaten Iconic Bird
The Interior Secretary announced a phaseout of single-use plastics in national parks and other public lands.
VIDEO | Mapping the Range
BLM needs to create a central BLM geodatabase, coordinate all of the agency databases, complete and update all ...
PEERMail | Rangeland Health Means Fixing the BLM Grazing Program
PEER is working to ensure that a functional BLM grazing program is a part of the land conservation conversation.
Agency Records Paint Bleak Picture of Western Landscape
New Map Shows Harmful Impacts of BLM Livestock Grazing Program
Interior Wild Horse Focus Ignores Cattle Impacts  
BLM's Scientific "Cow Blindness" Impedes Sage Grouse Recovery
Nevada Has a Very Bad Grazing Problem
Worst in West: Two-Thirds of Assessed BLM Allotments Badly Overgrazed
Letter to Secretary Deb Haaland – 07-21-2021 (PDF) 
DESCRIPTION: Letter to Secretary Deb Haaland asking the administration to address livestock overgrazing on federal ...
Decades of Overgrazing Compromise 30 x 30 Goal 
40 Million Acres Fail Minimum Federal Standards for Rangeland Health  
BLM Won't Stop Illegal Grazing  
Range Manager Facing Suspension After Appealing to Pendley 
Trump's "Sagebrush Rebels" Mull Latest Bundy Trespass   
Prosecution Unlikely Amid Sharp Decline in Interior Criminal Enforcement    
PEERMail | Bungling Public Health in a Pandemic
The bungled response to the COVID-19 pandemic exposes the rapid decline in the U.S. government's ability to ...
America's Rangelands Deeply Damaged by Overgrazing  
Figures Show Vast Areas Failing BLM's Own Rangeland Health Standards
Taxpayers Fleeced Once Again
Public Lands Livestock Operations Pay the Bare Minimum
Rock Bottom Federal Grazing Fees Probed
BLM Cloaking Environmental and Fiscal Impacts of Vast Livestock Program
BLM Whistleblower Reinstated
Courthouse Steps Agreement Means Monday MSPB Hearing Is Cancelled
Blowing Whistle on Range Violations Unwelcome in BLM
BLM Fires 21-Year Veteran Whistleblower Rather than Curtailing Illegal Grazing
BLM Commercial Grazing Program Goes Underground
Agency Stops Posting Performance Data and Hides Basic Programmatic Information
Public Land Livestock Fees Hit Rock-Bottom
Full Cost of Federal Grazing Program Well Overdue for Complete Analysis
Clueless Oversight Promotes Damaging Livestock Practices
House Hearing Ignores Declining Range Conditions and Costs of Welfare Ranching
CLIVEN BUNDY IS A FREE MAN. HIS COWS ARE STILL A NUISANCE
From: Mother Jones ""There's sort of a metaphor between Bundy and his cows: They've both gone rogue," says Jeff ...
BLM Still MIA On Grazing Trespass
After Bundy Mistrial, Repeated Agency Vows to Stem Illegal Grazing Go Astray
BUNDY VOWS STANDOFF IF BLM TRIES TO SEIZE CATTLE
From: Greenwire "Public Employees for Environmental Responsibility and WildEarth Guardians also urged Zinke to ...
Range Rustling Remains Rampant
Ignoring GAO Reports, BLM Foregoes Promised Steps to Check Grazing Trespass
Livestock Land Abuse Rampant on Public Range
New BLM Figures Show Little Progress in Healing Lands Degraded by Overgrazing
BLM Agrees to Beef up Livestock Range Condition Reports
Data Quantifying and Qualifying Grazing Effects on Land Health Belatedly Restored
Shaving Livestock Grazings Carbon Hoofprint
Complaints Target BLM Neutral Stance on Livestock Grazing Climate Impacts
Oregon Refuge Standoff Latest Extremist Jihad
Federal Inaction for 19 Months on Bundy Spawns More Militia Confrontations
Battle Mountain Grazing Settlement Sows Seeds of Discord
Rancher Rewarded for Defiant Trespass as BLM Avoids Enforcement at All Costs
Surrendered Bundy Documents Shed No Light on Events
BLM: No Criminal Referrals, Cattle Inventory, or Lessons Learned
BLM Dumbing Down Reports on Livestock Range Conditions
Complaint Demands Restoration of Data Quantifying and Qualifying Grazing Effects
Cattle Trample Sage Grouse Recovery Prospects
New Grazing Data Center Documents Widespread Habitat Damage
Nevada Ranchers Suffer From Self-Deluded Drought Denial
Data Backs BLM Manager's Allotment Cuts in Face of "Cowboy Express" Protest
BLM Weighs Wild Horse Impact Much More Heavily Than Cattle
Agency Sage Grouse Review Puts Thumb on Scale to Magnify Wild Horse and Burro Effects
BLM Says It Cannot Track Cattle on Its Lands
Blames Lack of "Seamless Data" for Excluding Livestock from Range Assessments
BLM Ducks Complaint About Suppressing Livestock Damage
Landscape Assessments in Limbo after Scientists Told to Ignore Livestock Impacts
Livestock's Heavy Hooves Impair One-Third of BLM Rangelands
33 million Acres of BLM Grazing Allotments Fail Basic Rangeland Health Standards
Grazing Punted From Federal Study of Land Changes in West
Scientists Told to Not Consider Grazing Due to Fear of Lawsuits and Data Gaps
Deadly Domestic Sheep Disease Threatens Endangered Sierra Nevada Bighorn
Feds Threatened With Legal Action to Close Grazing Allotments, Remedy Endangered Species Act Violations
New Questions About 9th Circuit Nominee Role in Sleazy Deal
"Deflector General" Tries to Blame Myers' Out-of-Control Subordinates
BUSH & NORTON'S BUREAU OF LAND MANAGEMENT IGNORING GRAZING AGREEMENT TO PROTECT DESERT TORTOISE
Environmentalists Ask Court to Hold BLM in Contempt for Failure to Comply with Court Order