The United States' bungled response to the outbreak of the COVID-19 virus points to a rapid decline in our government's ability to anticipate and respond to emerging and existing public health threats.
It highlights how, now more than ever, we need groups like PEER supporting public employees, so that they are able to do their jobs, tell the truth, and follow the science.
In early February, as the virus was rapidly spreading throughout the world, the Trump administration proposed massive cuts to the budget of the Centers for Disease Control and Prevention, including its emerging and zoonotic infectious diseases programs. The very programs that are able to identify potential public health threats like COVID-19.
These cuts built upon years of efforts to chip away at budgets of agencies charged with protecting public health, not just from the Trump administration. In the past 15 years, local public health agencies have lost 45% of their funding for staff, training, equipment, and supplies. Those at the front lines of this crisis now lack enough staff and basic equipment to respond to this crisis.
How has the administration reacted to criticism of its response?
The U.S is now suspending work on projects focusing on anthrax, Sudan ebolavirus, Marburg virus, smallpox, viral hemorrhagic fevers, and antimicrobial resistant threats, and urgently looking for more money to fund the response.
In true form, Trump has called criticism of his response a "hoax" and compared the outbreak to the seasonal flu. His press spokesperson declared: "the president is the best authority on this issue."
At least one whistleblower is seeking federal protection, alleging she was unfairly and improperly reassigned and threatened with termination after raising concerns to HHS officials that workers sent to meet U.S. evacuees from China did not have adequate protective gear and training.
When Donald Trump showed up at the CDC last week with his "Keep America Great" cap, he used top public health officials as props in the background. It was part of his con.
Making America great will require Trump and others to step back and allow the scientists to step forward, and it will require that elected leaders of all stripes support public health agencies and government workers throughout the country, now and long after this crisis subsides.
---
Trump's Post-Impeachment Hit Lists Illegal and Unethical
PEER filed a complaint with the Office of Special Counsel to halt attempts by the Trump Administration to seek out and remove staff deemed disloyal to the President. The complaint contends that any move to impose a political litmus test on government workers is contrary to the core protections that sustain the federal merit system. The complaint was based on statements by a top official equating political loyalty to the President to being "loyal to our country"  and that the administration is assembling "deep state" hit lists of employees to fire. Such threats appear to violate federal laws prohibiting employment discrimination based on political preference rather than performance as well as "Favoritism, or coercion for partisan political purposes."
---
Ranges Suffer under Heavy Grazing, Low Fees and Nonexistent Data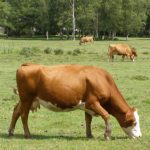 The Bureau of Land Management's most recent data on the health of federal rangelands reveal extensive damage from excessive commercial livestock grazing.
BLM's Standards for Rangeland Health prescribe the minimum quality of water, vegetation and soils, as well as the ability to support wildlife, required by the agency for permitting livestock grazing. Not only are federal rangelands not meeting those standards, but the BLM is no longer making that range health data publicly available. On top of that, ranchers are continuing to pay rock bottom grazing fees to continue to abuse the lands. According to 2018 rangeland data that PEER obtained directly from the agency, nearly 70% of range health failure is due to livestock overgrazing in allotments covering nearly 28 million acres, an area the size of Pennsylvania.
BLM no longer displays rangeland health data, which was once available to the public on the agency's website for years dating back to 1989. Despite promising improved new data reporting and mapping standards in 2016, the agency has removed updated information on range health from its website altogether.
---
Proposed Amendments to NEPA Will Likely Destroy It
PEER submitted comments this week opposing the Commission on Environmental Quality (CEQ)'s proposal to fillet our nation's foundational environmental law, the National Environmental Policy Act (NEPA). NEPA requires that every agency of the federal government consider environmental consequences before any action or decision which might have a significant effect on the environment. The proposed amendment to CEQ's regulations implementing the law, which date back to 1979, would allow agencies to ignore any information outside of a predefined scope, ignore the impacts of climate change, and consider private economic gain on the same level as public environmental harms.
---
PEER Status – Caution
The work of PEER never stops and neither does the staff. However, in light of recommendations from public health officials, we will be practicing social distancing and primarily working from home for the next couple weeks. The great news is that technology is amazing and we won't miss a beat. Voicemail messages get routed directly to staff and emails will pour in as usual. Please reach out!