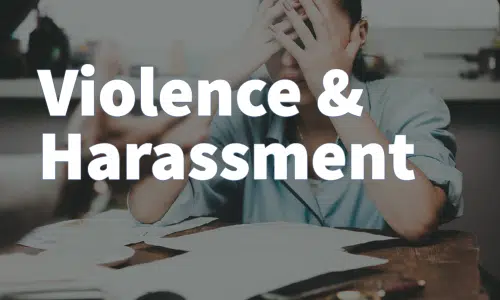 Ever since 1995, PEER has maintained the nations only database on violence against resource employees. The trend toward violence continues to grow with rank-and-file resource employees, those professionals in the field who are charged with implementing regulations and enforcing environmental laws, bearing the brunt. Across the country, those charged with protecting our environment are the victims of harassment, threats, intimidation, beatings, shootings and bombings.
Besides documenting incidents and calling attention to the problem, PEER helps targeted public servants fight back by filing lawsuits against harassers and pushing for policies that protect the safety of government workers.
A Slice of Life in Public Service
A National Park Service ranger at Organ Pipe Cactus Monument in Arizona was run over by a moving vehicle driven by an anti-government land owner who had claimed ownership of federal land.
Ranchers in Reserve, New Mexico, threatened to kill U.S. Forest Service employees for trying to enforce grazing restrictions intended to protect endangered species.
An EPA employee in the Ozarks region of Missouri was beaten, bound with tape and abandoned in her vandalized vehicle by suspected pro-mining activists.
A federal mine inspector and his wife were seriously injured when a car bomb exploded while they were driving on a major interstate in California. The explosion occurred hours after a phone death threat to workers in the inspectors office.
A Forest Service ranger in Arizona was harassed, threatened, forcibly thrown out of a public meeting, and then beaten by several attendees. The meeting was sponsored by the local cattle association and featured a prominent "wise use" attorney who spoke about "states rights."
An anonymous telephone caller warned a refuge manager in California that he had offered a $15,000 contract to kill the manager.
A bomb placed on the windowsill of a Forest Service office in New Mexico exploded, causing $25,000 in damages.
A bomb detonated outside the home of a Forest Service district ranger in Carson City, Nevada, destroying the family van, which was parked in the driveway, and blowing out the front windows of his home. The office of that district ranger had previously been firebombed.
Abdication of Justice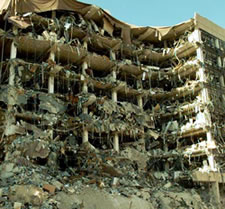 Enacted by Congress in the wake of the Oklahoma City bombing, the 1996 Anti-Terrorism Act directed the Attorney General to collect data relating to crimes and incidents of threats of violence and acts of violence against government employees and their families in the performance of official duties. It was a law that was never implemented.
Citing the expense and impracticality of the law, the Justice Department immediately began lobbying for its repeal. Among other objections, Justice insisted that the law could not be implemented because it required subjective judgment from the FBI in identifying bona fide threats.
In 2002, Justice succeeded in securing a Repeal of Compilation of Statistics Relating to Intimidation of Government Employees." So in addition to abandoning its requirement to track threats, Justice does not keep statistics on bombings, arson, shootings and other crimes against public employees.
By contrast to its stance on public employees, the Department of Justice regards eco-terrorism as a top domestic security threat and prepares elaborate and detailed annual reports. If you ask public employees to rank the problems they must confront daily, eco-terrorism would not even make the chart. Despite the attention paid to the handful of eco-terrorism incidents, their number and impact are dwarfed by the volume and violence directed by Wise Use and resource-user groups against public employees and facilities.
VIOLENCE AGAINST EMPLOYEES – NEWS FROM PEER
PEERMail | Un-Silencing National Park Service Voices
Park Service employees deserve work environments that are respectful, inclusive, and safe. Their voices should be heard.
Park Service Shelved Employee Harassment Review
Elaborate Employee Outreach Effort Completed in 2018 but Not Distributed
Letter to Charles Sams – NPS Voices Survey – 11-15-2021 (PDF)
DESCRIPTION: Letter to regarding the NPS Voices listening tour and report identifying culture of employee ...
Ed Patrovsky: A Ranger for Responsible Recreation
While working at BLM and NPS, Ed witnessed widespread agency indifference to the violence against land management ...
NPS Voices Summary Report – 06-06-2019 (PDF)
Summary Report of The Voices Project, 2019, which encouraged National Park Service employees to speak out about ...
Drop in Reported Violence vs. Federal Employees in the West
Despite Incident Reduction, Land Management Workers Still Have Safety Concerns
On Sex Harassment National Park Service Still Doesn't Get It
Groping Superintendent Gets Bonus and Lateral Transfer despite Raft of Violations
Forest Service Rangers at Record Low Levels
Assaults and Threats against Forest Workers Spike but Decline in Other Agencies
Malheur Siege Still Shadows Range and Refuges
Survey Reflects Federal Land Management Workers' Growing Safety Worries
Canaveral Superintendent Kicked Upstairs to Non-Job
"Strategic Planning" Posting Highlights Park Service Accountability Blind Spot
National Park Service Leadership Shaken Not Stirred
Top Woman Out; Top Men Remain Amid Sex Harassment, Ethics & Other Scandals
Open Season on Harassing Fisheries Observers
Assaults More than Double in Two Years with No Reported Enforcement
Attacks Against Federal Range and Forest Workers on Rise
2015 Saw Spike in Reported Threats and Interference on Federal Lands in West
National Park Rangers Under The Gun
Nine-Fold Increase in Attacks During 2001
Oregon Refuge Standoff Latest Extremist Jihad
Federal Inaction for 19 Months on Bundy Spawns More Militia Confrontations
Heated Rhetoric on Nevada Monument Invites Confrontation
Federal Employees in the West Put in Crosshairs by Superheated Political Rhetoric
BLM Reports Record Low Number of Threats in 2014
Despite Armed Standoff, Agency Claims Least Assaults and Threats Since 1996
Surrendered Bundy Documents Shed No Light on Events
BLM: No Criminal Referrals, Cattle Inventory, or Lessons Learned
Nevada U.S. Attorney Sits on Criminal Referrals From BLM
35 Prosecution Requests Made on April 30th Still in Limbo as DOJ Withholds Status
Extremist Anti-Government Militias on the Rise
DHS Assessment Finds Inaction on Bundy Stand-Off Likely to Spur More Violence
Lawsuit Seeks Bundy Documents and Attack Stats on BLM Staff
BLM Stonewalls on Nevada Standoff, Post-Incident Precautions and Lessons Learned
Protecting Forests and Visitors Yields to "Gotcha" Exercises
Suit over Forest Service Assault Stats and Shift to Internal Affairs Investigations
Park Rangers Call for Safety Improvements
Plan to Address Growing Risks to Both Rangers and Visitors
Spike in Attacks on Rangers and Federal Land Managers
2012 Saw Major Increase in Violence Directed at Refuge Mangers & U.S. Park Police
High Seas Harassment of Fisheries Observers More Than Doubles
Nearly One in 5 Victimized Yearly; 160% Jump Since 2007 Yet Few Cases Prosecuted
Mexican Drug Gangs Invade Great Lakes Forests
Forest Service Cops in Michigan and Wisconsin Decry Agency Head-in-Sand Stance
Attacks on Federal Forest and Park Staff Reach All Time High
Incidents More than Triple in National Parks, Forest Violence Up a Third in 2009
ATTACKS ON FISHING OBSERVERS RISE BY ALMOST HALF IN 2006
Number of Reported Threat and Harassment Cases Nearly Triple Since 2004
HIGH SEAS HARASSMENT OF NOAA FISHING OBSERVERS ON RISE
As Incidents Proliferate, NOAA Stops Keeping Track
ABUSES AT NATIONAL BISON RANGE CONFIRMED BY INVESTIGATION
Threats, Intimidation and Safety Concerns Documented in Independent Report
FWS TERMINATES CONTROVERSIAL BISON RANGE AGREEMENT
Agency Rebuffs Efforts by Tribe to Assume Management of Entire Refuge in FY 2007
STAFF REBEL AGAINST HARASSMENT ON BISON RANGE REFUGE
Joint Complaint of Tribe Trying to Drive Off Staff in Order to Take Over Their Jobs
U.S. PARK POLICE AT LOWEST LEVEL IN MORE THAN A DECADE
Retirements Will Send Force Lower as Assaults on Officers Rise
ATTACKS ON FOREST SERVICE STAFF UP FIVEFOLD IN 2005
Urban Ills Penetrating Deep into Backwoods as Law Enforcement Presence Shrinks
ATTACKS ON NATIONAL PARK LAW ENFORCEMENT HIT ANOTHER ALL-TIME HIGH
Ranger and Park Police Staffing Cannot Keep Up With Rising Security and Visitor Demands
ATTACKS ON NATIONAL PARK LAW ENFORCEMENT REACHES ALL-TIME HIGH
Understaffing Aggravated by Interior Department Diverting Officers, Money & Training
VIOLENCE AGAINST PARK RANGERS REMAINS HIGH
Two Deaths and 98 Attacks in 2002, NPS Assailed for Ignoring Growing Trend
MORE ATTACKS ON FEDERAL RESOURCE EMPLOYEES
Violence Against Forest Service, BLM and Wildlife Staff Rises for Third Straight Year
JUNKYARD OWNER THREATENING STATE INSPECTORS
Employee Group Asks DA to Take Action
ATTACKS ON FEDERAL FOREST, FISH AND RANGE WORKERS ON RISE
Forest Service Violence More Than Doubled in 2001
MCINNIS ECO-TERRORISM HEARING DIVERTS ATTENTION FROM REAL PROBLEMS
Gloria Flora Testifies
ATTACKS ON FOREST SERVICE AND BLM WORKERS FALL BY HALF
Assaults, Acts of Arson and Threats Down in 1999, Agencies Report
THREATS AND ASSAULTS AGAINST FEDERAL WILDLIFE STAFF
Fish & Wildlife Service Finally Begins Tracking Attacks on Employees
FOREST SERVICE COMPLAINTS IGNORED BY JUSTICE IN NEVADA
Nevada U.S. Attorney Among LeastResponsive in Nation
REFUGE MANAGERS REPORT HARASSMENT
National Wildlife Refuge Managers report threats