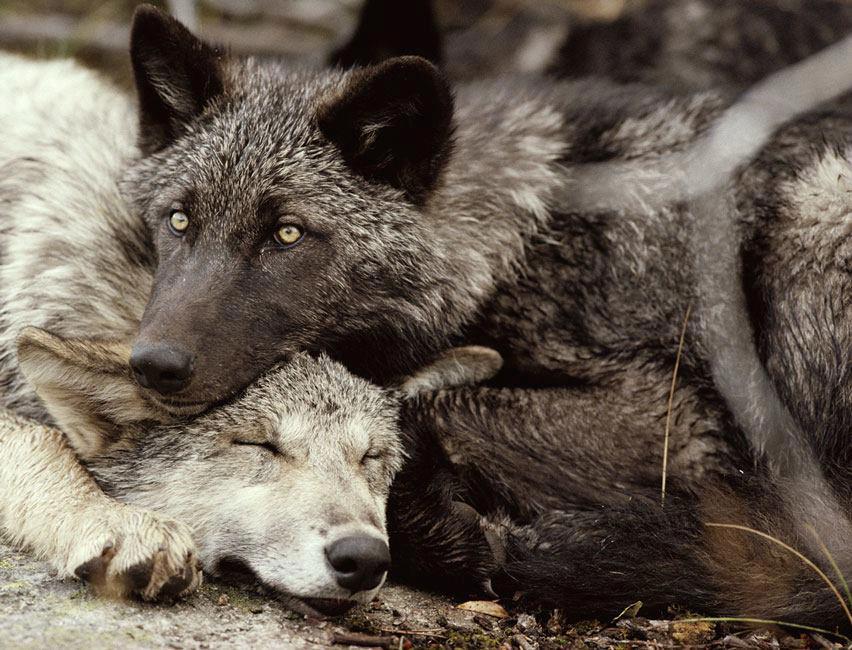 Having been eradicated from the lower 48 states due to unfettered hunting during the early twentieth century, gray wolves (Canis lupus) have been a hallmark species for the success of the Endangered Species Act. More than twenty years after being listed as an endangered species, whose recovery is mandated under the ESA, in 1995 gray wolves were re-introduced to Yellowstone National Park from Canada. Over the past 22 years of ESA recovery protections, the gray wolf population has swelled from 31 to 1,782 in the Northern Rocky Mountain region. Though far from fully recovered, political pressure has been rising to reintroduce legal wolf hunting throughout much of its range despite continued evidence that such hunting severely hampers recovery efforts while providing little benefit to livestock ranchers.
Having been extirpated in Washington nearly a century ago, the gray wolf (Canis lupus) began returning to the wild lands of eastern Washington in 2009. The Endangered Species Act protections afforded to the population of wolves reintroduced into Yellowstone were so successful that their population levels have begun to rise and the wolves have begun returning a level of ecological balance to their ancestral habitats. However, their continued recovery is being threatened by disregard for and suppression of scientific research, as well as expedited state-sponsored slaughter on behalf of ranching interests.
Studies have shown that non-lethal conflict avoidance is also safer for humans and livestock, as well as the wolves.
Profanity Peak Wolves
In August of 2016, Washington Department of Fish and Wildlife ("WDFW") killed nearly 10% of the state's endangered gray wolf population at the behest of the state's largest rancher
Eco Champion Rob Wielgus
One of the continent's leading experts on wolf-livestock interactions faced heavy academic and political pressure for his research.
Call to End Federal Subsidies for Wildlife Slaughter
Alaska aerial hunting of bears and wolves sparks protest
Do Bears Get Shot in the Woods?
Alaska Won't Release Photos of Aerial Slaughter of Nearly 100 Brown Bears
PEERMail | Wildlife Management: Alaska Edition
Effective, humane wildlife management is critical but Alaska is being hit with a double shot of poor management - ...
Alaska Misuses Federal Wildlife Aid on Killing Predators
Penalize Alaska for Diverting Conservation Dollars to Intensive Management
COMMENTARY | Park Service's Inhumane Inertia
The Biden administration has left several disastrous Trump policies in place - from allowing inhumane hunting ...
COMMENTARY | Countering the Western War on Wolves
A science-based approach to wolf and predator management is the key to restoring ecological balance in America's ...
STATEMENT | Federal Protections Restored to Gray Wolves
A federal judge today reinstated Endangered Species Act protections for the gray wolves but our work to protect ...
Webinar | Pups and Packs: Saving Wolves in 2022
Coffee Talk Webinar Series, Episode 1: A virtual conversation about wolves and policy in the US in 2022. Watch the video!
PEERMail | A New Year and Wolves on the Edge
Protecting wildlife will be a significant part of our work in the new year, starting off with a webinar on ...
COMMENTARY | Concern Over President's Choice to Head Federal Wildlife Agency 
The Biden Administration's pick to lead the Fish and Wildlife Service, Martha Williams, seems to be lacking in the ...
PETITION | End State Subsidies for Slaughter
Petition to Sec of Interior to disqualify states from receiving wildlife restoration funding if they allow hunting ...
PEERMail | Stop the Senseless Slaughter
We aim to stop federal support for state programs that encourage slaughter of predators by reinforcing "healthy ...
Letter to Secretary Haaland – Pittman-Robertson Funding – Wolves – 09-27-2021 (PDF)
DESCRIPTION: Letter to Interior Secretary Deb Haaland regarding rogue states receiving Pittman-Robertson funding ...
Political Sabotage by Anti-Wolf Colorado Parks Manager
State Funds and Staff Used to Undermine Governor and Wolf Advocates 
PEER and 70 Conservation Organizations, Representing 16 Million Americans, Endorse Colorado Wolf Restoration
PEER and 70 conservation organizations have endorsed the concept of the restoration of the gray wolf to Colorado, ...
Chances of Seeing Denali Wolves in the Wild Now Remote
1% Viewing Success Record Low After State Eliminated No-Hunt Buffers
Politicized Science The Bane Of The Mexican Wolf
Study Dissects How Politics Skewed Science to Jeopardize Wolf Survival
Rob Wielgus: War on Wolf Science
Rob is one of the continent's leading experts on wolf-livestock interactions. His pioneering research on wolves ...
Assault Rifle Slaughter of Wolves Outside Denali
Alaska Belatedly Imposes No-Hunt Buffer to Avert Wolf Population Implosion
Wisconsin Hounders Illegally Harass Wolves
Criminal Complaint Cites State Payments for Hunting Dogs Killed in Wolf Clashes
Wolf Scientist Vindicated in Legislator's Attack
Professor Still under Siege as WSU Seeks Ways to Accommodate Ranchers
Wisconsin Coyote-Killing Contests Need Reining In
Groups Push for Federal Intervention to Curb Endangered Species Act Violations
Curbs Sought on Rogue Rancher to Abate Wolf Conflicts
Washington Rancher Wiped Out 15% of State's Wolves in Violation of Federal Rules
Wolves
War on Wolves and Science Having been eradicated from the lower 48 states due to unfettered hunting during the ...
Wolf-Livestock Avoidance
As gray wolves return to their native habitat, some livestock operators have voiced alarm. These concerns can be ...
Academic Freedom Fight on Reprisals over Wolf Science
Washington State U. Scientist Says Official Restraints Due to Political Pressure
Alaska Game Agents Decimate National Park Wolf Packs
Air-Hunts and "Judas Wolf" Tactics Wipe out Natural Sustainable Wolf Populations
Hunting Compounds Record Low Denali Wolf Survival
110,000+ Sign Petition as NPS Backtracks on Factors behind Ultra-Low Wolf Density
Denali Wolf Population Cratering Without State Buffer
Plummeting Sighting of Wolves Threatens Big Cash Tourist Draw for Alaska
Gray Wolf Peer Review Panel Purged by Agency
Fish & Wildlife Service Forces Contractor to Axe Scientists Due to Sign-On Letter
Wolf Delisting Scientific Shell Game Begins
Contract for Quick Limited Peer Review Designed to Give Illusion of Impartiality
Politics Dominated Wolf De-Listing Meetings
Science Was Afterthought in Developing Preferred Alternatives for Wolf Recovery
Suit to Uncover Political Deals Behind Gray Wolf De-Listing
Closed-Door Meetings Honed Plan to Strip Gray Wolf Endangered Species Status
Fish & Wildlife Service Acquits Itself on Mexican Wolf Science
Cursory Findings by FWS Official Prompt Calls for Independent Scientific Review
Politics Molest Mexican Wolf Science
Improper Pressure to Lower Recovery Threshold for Wolf Numbers and Habitat Size
Conservationists Ask New Mexico Governor to Set Wolf Policy on Facts
Top State Officials to Consider Endangered Mexican Gray Wolves at Meeting Today
Federal Cash Brings Reward for Information on Illegal Wolf Killings to $50,000
Contact: Rob Edward, WildEarth Guardians,(303) 573-4898 ext. 762, redward@wildearthguardians.org Michael ...