Park Service's

Inhumane Inertia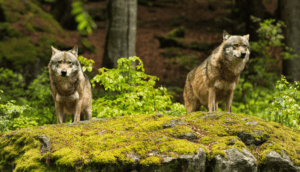 Undoubtedly, the worst thing the Trump administration did to national parks was to suspend federal protections for predators, such as wolves, black and brown bears, in the vast national park preserves within Alaska, such as those in Denali and Wrangell-St. Elias. In so doing, Trump ceded control to the State of Alaska and its extreme game rules, which allow such questionable and inhumane practices as bear baiting, killing wolves and bears in their dens, and hunting with lights and dogs.
Alaska also exercises little control over the number of predators that can be "lethally removed." This combination has devastated predator populations within the parks. Due to the high level of carnage on Denali National Park's borders, a visitor's chances of seeing wolves have dropped to under 1%, down from viewing success as high as 45% a decade ago. And in the park preserves, like Yukon-Charley Rivers National Preserve, where hunting is allowed, there are no more viable wolf packs left to study.
Conservation groups challenged this Trump roll-back in court and, to their surprise, found they were opposed by the Biden Justice Department. Fortunately, the groups prevailed, with the U.S. district court ruling the Trump reversal was based on the false legal premise that the National Park Service had to align its game regulations with those of the state, but instead it retains "plenary power over" federal lands in Alaska.
However, instead of throwing out the Trump action and returning to the previous Park Service restrictions that were last tightened in 2015, the court left the Trump rules in place, citing the government's assertion that it would propose new rules.
This position was disturbing because it signaled that the Biden Park Service was not going back to the same posture as under Obama. Further, the agency has still not unveiled new rules, allowing Trump's inhumane practices to continue through the fall and winter, if not longer.
This is yet another conservation challenge where Biden's Park Service is sitting on the bench. From confronting ruinous overcrowding, to combatting the scourge of lead ammo, to stemming the rising tide of plastic waste, to reining in noisy commercial tourist overflights, the current National Park leadership remains missing in inaction.
If you are inspired to engage in a bit of slacktivism, consider writing to the NPS Director Director@nps.gov to ask why he is not at the forefront on these and other battles to protect park wildlife and natural resources.
---

Jeff Ruch is the Pacific PEER Director and formerly served 22 years as its Executive Director