The Unfinished Wilderness Agenda of the National Park System
National park wilderness contains some of the most magnificent wild land in our nation or, for that matter, the world. The 44 million acres of designated park wilderness comprise more than half of all the lands within our park system and more than 40% of all federal lands within the National Wilderness Preservation System.
Despite this superlative profile, the National Park Service (NPS) has turned its back on its wilderness. The agency has failed to forward wilderness recommendations to the President, conduct legally-mandated wilderness assessments, prepare wilderness management plans, or take a myriad of other steps necessary to protect wilderness resources.
In an effort to return NPS wilderness to the gold standard for wilderness in America, PEER is pursuing a three-pronged effort to:
Resuscitate Abandoned Wilderness Designations
The process of securing statutory protection for an enduring resource of park wilderness has stopped dead in its tracks. All told, long-pending or stalled wilderness proposals would increase park wilderness land by more than half, putting at least an additional 26 million acres under wilderness protection.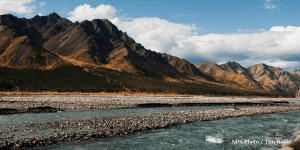 Absent wilderness designation, park backcountry is protected only be agencies policies which may be waived. Thus, fulfilling the NPS wilderness mandate will yield several important benefits, such as –
Precluding commercial intrusion into park wild lands by outlawing more transmission towers, pipelines, cell phone towers, and other structures from park wild-lands;
Strengthening park air quality protections by extending the scope of anti-degradation guarantees; and
Preventing mechanized recreation from penetrating park backcountry.
Look at the eleven Steps for Rescuing Orphaned Park Wilderness for the specific actions required to reverse all these abdications of wilderness stewardship.
See the wilderness status of 100 national parks with wilderness capacity with recommended next steps for NPS and Secretary of Interior.
Protect Existing Wilderness
Guided by employees on the scene, PEER is stepping up its interventions to halt wilderness violations committed or condoned by NPS managers. Explore this site to see examples of that work across the park system.
Address the Big Picture
At present NPS devotes less staff time to managing the national wilderness program than any other federal land management agency, even though NPS administers more wilderness acres than any other agency. In the 1970s, NPS had an entire office devoted to wilderness.
The Wilderness Act was enacted in 1964. After more than a half-century, the wilderness structure of the national park system remains significantly incomplete. The leadership at both NPS and its parent agency, the Interior Department, are sworn to faithfully execute the law but have breached this oath when it comes to the Wilderness Act. PEER will continue to work to implement the unfinished wilderness mandate in our national park system.
PEERMail | Conservation Road Map Falls Short
Fighting climate change and the extinction crises requires bold federal action on issues such as wilderness ...
Let's Resist the Temptation to "Improve" Wilderness
In designated wilderness areas, management means protecting the resource and natural processes, sometimes this ...
National Park Service Shirks Wilderness Legacy
50th Wilderness Act Anniversary Marked by Lip Service Not Leadership
Groups Push to Fix Flaws in National Park Wilderness Directive
Fixed Mountain Climbing Anchors, Widened Road Corridors among Problems Cited
No Sequester for Jet-Skiing in National Parks
Hefty Spending to Expand Activities Aggravated by Ranger Furloughs
Languishing Wilderness Legacy of National Parks
Vast Wild and Roadless Tracts Remain Unprotected in Wilderness Logjam
Park Backcountry Thrown Open to Mountain Biking
Bush Proposal Dusted Off and Adopted with Only Slight Modifications
Big Bend Breaks Ground on Single-Track Bike Racing Trail
Precedent-Setting Embrace of Converting Park Backcountry to Thrill Sport Venues
Federal Lawsuit to Keep Big Cypress Addition Lands Wild
Suit to Block Park Service Plan to Carve a 130-Mile Network of ORV Trails
The Big Cypress Wilderness Robbery
Park Service Scheme to Strip 40,000 Preserve Acres of Wilderness Eligibility Bared
National Park Plans Trail Designed for Mountain Bikes
Unprecedented "Pay-to-Play" Deal Gives Private Bike Group Backcountry Access
Park Service Plan Muddies Wilderness Protections
Confusing, Conflicting Guidance on Climbing Anchors and Other Topics
Wilderness Vanishing Act in Big Cypress
Converting 40,000 Wilderness-Suitable Acres to ORV Trails Violates Law and Policy
Commercial Aquaculture in Wilderness Pushed by Key Senator
Point Reyes National Seashore Oyster Farm Dispute Opens Legal Can of Worms
California Desert Wins New Protection via Feinstein Amendment
Lion's Share of CDCA Included in Landscape Conservation System by Omnibus Bill
Mountain Bike Group Wants Access to Park Backcountry Trails
NPS Director Appears This Week at International Mountain Biking Convention
NEW PARK SERVICE POLICY PROMOTES ALASKA INHOLDINGS
Interim Guidance Abandons Acquisition as Tool to Protect Wilderness and Wildlife
Park Service Stunts Wilderness Growth
Stalled Park Wilderness Plans Could Increase Wild Lands by More than Half
OLYMPIC PARK PLANS TO SET FIRES IN THE WILDERNESS
Burns for Cultural, Non-Safety Reasons Are Illegal and Ill-Advised, Groups Charge
OLYMPIC NATIONAL PARK PLAN SHORTCHANGES WILDERNESS
Development Promoted While Rivers and Wild Lands Shortchanged
PARK OFFICIAL SHOULD BE DISCIPLINED FOR WILDERNESS VIOLATION
Olympic Superintendent Wasted $250,000 Despite Warning Plan Was Illegal
U.S. DISTRICT COURT UPHOLDS WILDERNESS ACT
Olympic National Park's Shelters Are In Violation Of Act
MOUNTAIN BIKE DEAL MAY OPEN UP PARK WILDERNESS
5.5 Million Acres of Wild Lands Vulnerable to New Mountain Bike Trails
Petrified Forest National Park Due for Wilderness Review
Will New Park Lands Be Protected for Their Wild Values?
OLYMPIC PARK VIOLATING WILDERNESS ACT
Lawsuit to Block Pre-Fabs Being Helicoptered Into Wilderness
COURT RULES PARK SERVICE VIOLATES WILDERNESS ACT
End of Motorized Vehicle Tours in Georgia's Cumberland Island Wilderness
OLYMPIC NATIONAL PARK TO AIRLIFT PREFABS TO WILDERNESS AREAS
Wilderness Act Violations Cited
TOP NATIONAL PARK WILDERNESS OFFICIAL RESIGNS IN FRUSTRATION
Park Service Ignoring Letter and Spirit of the Wilderness Act
PARK SERVICE OKAYS WILDERNESS VIOLATIONS BY ITS STAFF
Groups Petition to End
PARK WILDERNESS PLANS BLOCKED
Bush Administration Maintains Moratorium on New Wilderness Designations
CONSERVATIONISTS FILE LAWSUIT TO PROTECT CUMBERLAND ISLAND WILDERNESS IN GEORGIA
Motorized Vehicle Tours Violate Wilderness Designation