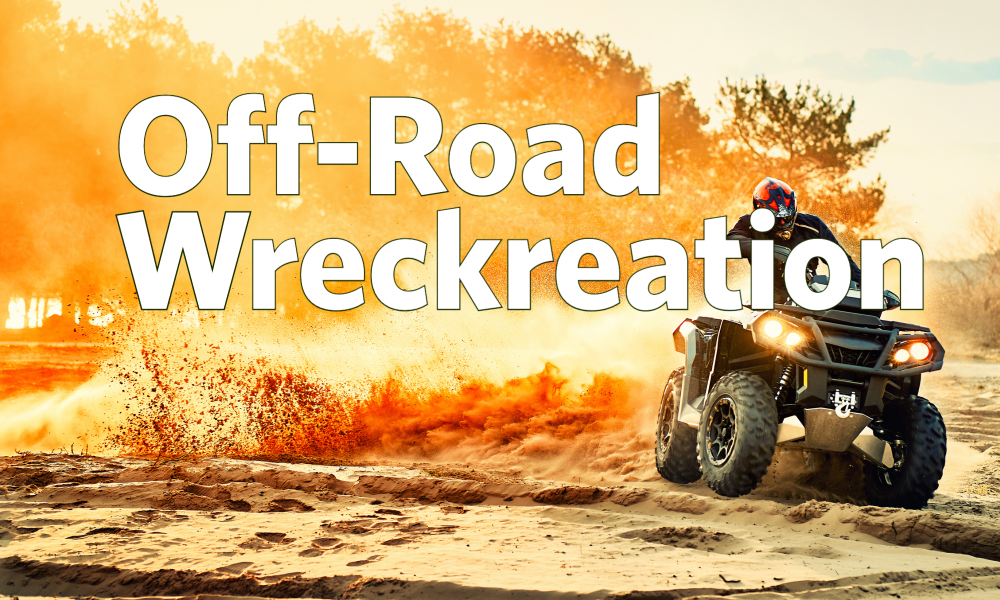 Off-road vehicle abuse is a growing problem on our public lands. On any given day, there are reckless riders tearing up fragile lands and streams and creating chaos.
Reckless off-roading is creating a backlash among many public land users, including those who enjoy viewing wildlife, conducting archaeological research, hiking, camping and hunting. Besides causing extensive damage to natural and cultural resources, off-road vehicles are becoming an increasingly severe public safety and law enforcement problem, and taxpayers will be stuck with the bill to clean up their mess.
PEER has worked to draw attention to the growing threat posed by off-road vehicle misuse and to assist overmatched state and federal land managers.
Roadmap to End Wreckreation

America needs a strategy to cope with the burgeoning safety and eco havoc wreaked by an explosion in off-road vehicle use and abuse on our public lands. PEER and Rangers for Responsible Recreation propose that we begin with three simple steps:
Penalties that Deter: Today's infraction fines for off-road abuse are inadequate. Reckless off-roading should be punished by loss of hunting and fishing licenses as well as confiscation of vehicles when off-roaders are caught destroying property or ignoring the law, just as we confiscate weapons when people are caught poaching. Repeat offenders should face suspension of riding privileges, fishing and hunting licenses and, where appropriate, jail time.
Tough Enforcement: Enforcement against off-road abuse is taking an ever larger toll on over-stretched rangers. Off-roading is fast becoming the number one law enforcement problem on our public lands. Congress and state legislatures need to immediately augment their affected public lands law enforcement budgets. In addition, they should also empower other public lands agency officials to issue citations.
End Hidden Costs to Taxpayers: Taxpayers are footing the bill for the damage and havoc caused by reckless off-roaders. As yet, we do not know the full extent of these costs. Congress needs to conduct a thorough investigation and enact common sense solutions to the growing off-road problem.
"Water and Brimstone" is short film by Genuine Human Productions and a work in progress. Environmental scientist Barry Sulkin begins to study the impact of recreational ATV activity on the rivers and creeks that feed into the Big South Fork of the Cumberland River, a protected national treasure. Unregulated and unrelenting ATV traffic is also destroying adjacent Scott County land that has been in the Morrow family for generations. This short is intended to be the catalyst for increased awareness and control of this activity on our natural areas. Learn More>>
Big Cypress ORV Plan a Travesty: Former Superintendent   
Park Service Shirking Wilderness, Wildlife, and Conservation Responsibilities  
Ed Patrovsky: A Ranger for Responsible Recreation
While working at BLM and NPS, Ed witnessed widespread agency indifference to the violence against land management ...
Water & Brimstone
Environmental scientist Barry Sulkin begins to study the impact of recreational ATV activity on the rivers and ...
Off-Road Race Through Nevada Monument Aborted
USAF Helicopter Crash on Race's Eve Closed Basin & Range Monument Course Leg
BLM Bound to Betray Nevada Desert Monument
Reviews Rigged to Preclude Challenge to Last Minute Approval of Off-Road Race
New Nevada Monument to Be Rutted by Off-Road Desert Race
BLM Rigs Reviews to Route Vegas-Reno Race through Basin & Range Monument
Settlement Limits Off-Road Vehicle Routes for Inyo County's Adventure Trails
The Center for Biological Diversity, PEER and Inyo County today settled a lawsuit on the so-called "Adventure ...
Lawsuit Filed on Inyo County's Adventure Trails
Ill-conceived Plan Would Turn Owens Valley Into Noisy, Polluted ORV Playground
Tahoe National Forest Wins Court Protections
Court Rules to Restrict Motorized Off-Road Vehicles
Agreement Paves Way for Eldorado Forest Trail Designations
Compromise Reopens Some Trails, Closes Some and Requires Restoration for Others
Big Rollback of California Desert Protection
BLM to Open 49,300 Acres of Algodones Dunes Plan to Off-Road Vehicles
Court Orders Tighter Off-Road Plan for Stanislaus Forest
Forest Service Must Minimize Environmental Damage by Unauthorized Travel
Public Lands Advocates Act to Defend Tahoe National Forest
Forest Could Lose New Protections From Off-Road Vehicle Damage
ORVs Barred From Carolina-Tennessee Mountain Forest Trails
Federal Court Upholds Closure of the Tellico ORV Area to Protect Brook Trout
Responsible Recreation
More than a dozen of our country's most seasoned law enforcement and resource management specialists from every ...
Lawsuit Filed Challenging Plan to Allow ORVs on Inyo County Roads
Lawsuit Filed Challenging Plan to Allow ORVs on Inyo County Roads Independence, Calif. — The Center for ...
Federal Lawsuit to Keep Big Cypress Addition Lands Wild
Suit to Block Park Service Plan to Carve a 130-Mile Network of ORV Trails
The Big Cypress Wilderness Robbery
Park Service Scheme to Strip 40,000 Preserve Acres of Wilderness Eligibility Bared
Off-Roaders Seek Takeover of California Parks
Henry Coe and Red Rock Canyon State Parks Targeted in Financial Crisis Gambit
Overstressed AZ Border Refuge Invites in Off-Road Vehicles
No Field Damage Monitoring as Refuge Fired Volunteers for Expressing Concerns
Big Cypress ORV Plan Triggers Lawsuit Threat
Proposed Trail Network Poses Threat to Florida Panther and Other Protected Species
Court Orders Redo of Federal ORV Plan for Millions of Acres in California's West Mojave Desert
Court Orders Redo of Federal ORV Plan for Millions of Acres in California's West Mojave Desert San Francisco — A ...
After Deaths, BLM Permits Bigger Off-Road Race This Weekend
Problem-Plagued Vegas-to-Reno Race Marked by Inability to Enforce Permit Rules
Forest Off-Road Vehicle Plans at Crossroads in the Southwest
Status of Million of Acres at Stake; Wide Variation in Emerging ORV Forest Plans
Off-Road Abuses Prompt Call for Probe of BLM-Nevada
Recreation Planner Resigns in Frustration After "Body Part" Incident in Ghost Town
Off-Roading Ends Until California Park Cleans up Its Act
Clean Water Victory at Carnegie State Vehicular Recreation Area
California OHV Dollars Can Fund Non-Motorized Recreation
Legal Opinion May Open New Support Base for Floundering State Parks
Tellico River Watershed Closed to Off-Road Traffic
Conservationists Applaud U.S. Forest Service Action to Restore Water Quality
Mojave Off-Road Plan Struck Down in Federal Court
BLM Told to Redesign Bush-Era ORV Plan for Mojave Desert Federal Lands
State ORV Park Violating California Water Quality Law
State ORV Park Violating California Water Quality Law Tracy — Despite budget cuts that threaten other State ...
Water Pollution Lawsuit Against California State ORV Park
Creek Ruined by Off-Road Abuse in Carnegie Recreation Area
Forest Service ORV Plan Near Grand Canyon Halted
ORV Access for Hunter Removals of Carcasses Dealt Setback with Ruling
Reward Offered for OHV Vandals Who Trashed Meadow
Reward Offered for OHV Vandals Who Trashed Meadow Sacramento — Conservationists are offering a reward for ...
Fuel Tax Surplus Could Save California State Parks
Funds Earmarked for Off-Road Recreation Which Generates Only 1/6th of Revenue
Grand Canyon Threatened by Off-Road Vehicle Plan
Groups Protest ORV Penetration into Habitat and Across Archaeological Sites
Regional Water Board Orders Clean-Up of Rubicon Trail
Iconic Off-Road Trail Has Lost Its Way
Bush Plan for National Park Mountain Bike Expansion Unveiled
Lame Duck Rule Opens Park Backcountry and Proposed Wilderness to Bike Trails
New Tahoe National Forest Proposal Lacks Balance, Quiet Recreation Shortchanged
Hikers, Campers, Anglers and Other Forest Visitors Worry That New Forest Service Proposal Would Lead to More ...
We Have Met the Enemy…and He Is Us
Bush Sporting Council Identifies Administration Policies as Highest Hunting Hurdles
Off-Road Vehicle Route Designations Going Badly off Track
U.S. Senate Hearing Grasping for Solutions to Rising Toll of ORVs on Public Lands
Off-Roaders Booted From Arizona Monument Due to Abuses
Section of Sonoran Desert National Monument Off-Limits to ORVs for Two-Years
Bush order to Promote Hunting May Spark New Off-Road Curbs
Rangers Want Agencies to Help Hunting & Fishing by Ending Reckless Off-Roading
KEY WITNESS AT OFF-ROAD CONGRESSIONAL HEARING PULLED
Deputy Sheriff Testimony Blocked as Anxiety Rises in Off-Roading Groups
Congress to Take First Look at Off-Road Ravages on Public Land
Rangers to Testify Situation Out-of-Control as Anniversary of Utah Riot Nears
CONSERVATION GROUPS CHALLENGE SHRINKING HABITAT FOR RARE PLANT ON ALGODONES DUNES
Contact: Ileene Anderson, Center for Biological Diversity, (323) 654-5943 Karen Schambach, Public Employees for ...
BLM Drops Desert Road Plan for Furnace Creek
California Desert Wilderness Protected from Ravages of Off-Road Vehicles
FOREST SERVICE PROMISES ROAD CLOSURES TO STEM ORV RAVAGES
Conservationists encouraged by USFS first steps to restore water quality in Tellico ORV area
Off-Road Violations Out of Control, Say Federal Rangers
In First-Ever Survey Southwest Rangers Call for Tougher Penalties
Off-Road Abuse Tearing Up National Monument in Arizona
Sonoran Desert National Monument Overwhelmed by Off-Road Traffic and Impacts
CONGRESSIONAL MEMBERS SEEK PROTECTION FOR UTAH'S PREHISTORIC ARCHAEOLOGICAL SITES AND ROADLESS AREAS
Request directed at Secretary Kempthorne for the Bureau of Land Management's proposed off-road vehicle travel plans
JUDGE DENIES OFF-ROAD VEHICLE ACCESS TO SURPRISE CANYON
Unique Oasis in Death Valley National Park Saved
OFF-ROAD POLITICS BENDING CALIFORNIA PARK PROTECTIONS
Conservation Groups Warn State to Tread Lightly in State Parks
BLM Sees Worsening Off-Road Crisis Risking Visitor Safety
Ranger Ordered to Ignore Emergency in "Near Riot" at Utah's Little Sahara
Off-Roading Becoming Monstrous Law Enforcement Headache
Off-Road Crime Outstripping All Other Violations Combined on Public Lands
Rangers Call Off-Road Vehicles Biggest Threat to Public Lands
"Rangers for Responsible Recreation" Launched to Combat "Wreck-reation"
FOREST SERVICE MISMANAGEMENT OF OFF-ROAD VEHICLES SPURS SUIT THREAT
Sportsmen, conservationists join to protect prized trout habitat in NC and TN
Conservation Groups Call on Park Service to Protect the Florida Panther
Park Service Should Not Have Opened More Routes to Off-Road Vehicles in Big Cypress National Preserve
"Near Riot Conditions" In Utah Off-Road Gathering
Irresponsible ORV Use Becoming Major Law Enforcement Challenge
BUSH ADMINISTRATION FAILS TO PROTECT RARE SAND MOUNTAIN BLUE BUTTERFLY
SAN FRANCISCO— The Bush administration today refused to extend the protections of the Endangered Species Act to ...
RARE BUTTERFLY PROTECTED BY EMERGENCY OFF-ROAD VEHICLE CLOSURE IN SAND MTN NEVADA
RENO, Nev.– Yesterday the Bureau of Land Management announced an emergency closure of 3,985 acres of public land ...
ALGODONES DUNES TO STAY PROTECTED FROM ORV ABUSE
Court Enjoins Access until Environmental Reviews Completed
DESERT PRESERVATION LAWSUIT FILED
Agency Staff, Rural Residents and Conservation Groups Challenge Off-Road Vehicle Abuse
ALGODONES DUNES WILL STAY PROTECTED
Court Rejects Bush Administration Bid for Off-Road Lobby
GROUPS MOVE TO PROTECT GREAT BASIN DUNES BUTTERFLY AND HABITAT
Bush Interior Department Failing To Protect Sand Mountain Blue From Off-Road Vehicle Excess
COURT RULES BUSH ADMINISTRATION'S OFF-ROAD PLAN IS ILLEGAL THREAT TO DESERT WEB-OF-LIFE
To help recovery, off-road vehicles ordered off 572,000 acres of desert tortoise critical habitat
BUSH ADMINISTRATION HACKS DUNES ENDANGERED SPECIES CRITICAL HABITAT
Local FWS biologists' science-based proposal gutted
CONSERVATIONISTS MOVE TO PROTECT 16 ALGODONES DUNES ENDEMIC SPECIES FROM BUSH OFF-ROAD PLAN
BLM's plan to open 86% to off-roading puts rare desert wildlife at risk of extinction
PETITION FILED TO LIST NEVADA BUTTERFLY AS ENDANGERED SPECIES
Bush BLM failing to protect Sand Mountain blue from intensive off-road vehicle harm
BLM STALLS SAND MOUNTAIN PLAN AS BUSY WEEKEND APPROACHES
Bush Administration Working Only With Off-roaders
WILDLIFE AGENCY PROPOSES 52,780 ACRES OF ALGODONES DUNES FOR CRITCIAL HABITAT PROTECTION
Biologists' Science-based Approach Recognizes Off-road Threats and BLM Plan Failures
BLM SERVES OFF-ROAD INDUSTRY BY ALLOWING UNRESTRICTED USE AT NEVADA'S SAND MOUNTAIN
Administration Ignores Law, Recommendations by Staff, Wildlife Agencies, Conservationists and Local Tribe
BUSH PLAN TO ROLL BACK DUNES CONSERVATION FACES BROAD CHALLENGE
Twelve Groups, Local Citizens Target BLM Off-road Plan
FEDERAL COURT UPHOLDS OFF-ROAD VEHICLE BAN AT ALGODONES DUNES
Industry Loses Anti-environmental Lawsuit
BUSH ADMINISTRATION FACES LEGAL CHALLENGE TO CALIFORNIA DESERT OFF-ROAD PLAN
BLM's Plan Would Interfere With Conservation, Wildlife and Air Quality
SECRETARY NORTON IGNORES BALANCE AND BEST SCIENCE WITH PERMIT TO OPEN DUNES HABITAT TO ORVS
BLM's Final Plan is Even Worse than Bad Draft; Conservationists Will Sue
BUSH ADMINISTRATION FACES LEGAL CHALLENGE TO 5.5M ACRE CALIFORNIA DESERT LAND PLAN
BLM's NECO Plan Reduces Conservation, Harms Desert Tortoise, Biodiversity and Wilderness
DRAFT BLM PLAN COULD OPEN 40,000 DUNE ACRES TO MOTORIZED DESTRUCTION
Imperial County, CA -- The Algodones Dunes, a scenic and active dune system harboring many rare, threatened, and ...
BLM REASSIGNS KEY SO. CAL. MANAGER AFTER POLITICAL PRESSURE BY OFF-ROAD AND GRAZING INTERESTS
Employee Reassigned
CONSERVATIONISTS TAKE TO THE SAND IN DUNES DEFENSE MISSION
Environmental Monitoring At Dunes Stepped Up Over Holidays
BLM RANGERS FILE OSHA COMPLAINT
Ranger Runover by Vehicle
PUBLIC PROTECTION DUTIES IMPEDED, BLM RANGERS SAY
ORVs Damaging Public Lands
BLM CLOSES SURPRISE CANYON TO OFF-ROAD VEHICLES
Protects Rare Species, Wilderness Values & Water Quality
LAWSUIT SETTLED WITH BLM TO PROTECT 11 MILLION ACRES IN THE CALIFORNIA DESERT
BLM Agrees to Biologically Strategic Actions for Endangered Species Recovery
"Near Riot" Conditions in Desert, Says Government Report
"Unsafe for Family Recreation"; Officers in "Life Threatening Situations"
ENVIRONMENTALISTS & BLM AGREE TO PROTECT LARGE AREAS OF ALGODONES DUNES
Peirsons Milkvetch, Colorado Desert Fringe-Toed Lizard, and Other Rare Desert Species to be Protected
ENDANGERED SPECIES LAWSUIT FILED AGAINST U.S. BUREAU OF LAND MANAGEMENT
BLM Mismanagement Imperils Desert Tortiose and Twenty-three Other Endangered Species