Celebrating 30 Years of PEER
Our story has been one of remarkable service, hard work, and a steadfast commitment to helping current and former public employees speak the truth, protect science, and safeguard the environment. Join the Celebration and Learn More»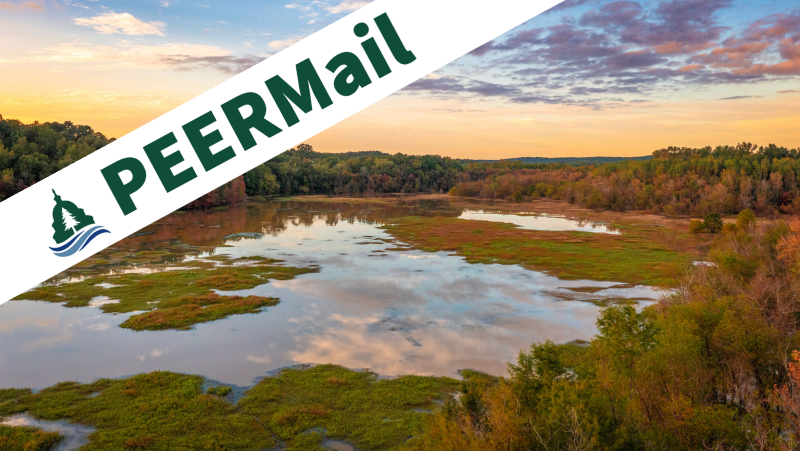 Special interests have finally succeeded in getting the Supreme Court to eliminate Clean Water Act protections for wetlands and small streams.
read more
In their request for a declaratory judgement against Inhance, the DOJ failed to seek an injunction to stop Inhance's unlawful and dangerous conduct in producing PFAS.
read more
PFAS are a class of about 15,000 chemicals often used to make products resistant to water, stains and heat. The compounds are ubiquitous, and linked...
read more
Earlier this year, an analysis by watchdog group Public Employees for Environmental Responsibility found that more than 25 million acres of BLM-managed land, about one-fifth of its...
read more
The proposals hope to mitigate adverse effects on visitors' experiences and the cultural and environmental resources of the parks. This would be achieved by limiting...
read more
At least three large whale species in U.S. waters are on the brink of extinction, with more listed as endangered. Urgent action is needed!
read more
The first serious inroads have been made into curbing swarms of commercial air tours rumbling across some of America's most besieged national parks.
read more
There are serious concerns about many provisions of the new BLM conservation rule and its potential negative impact on public lands
read more
CONFIDENTIALITY
All communications with PEER are strictly confidential.
LEARN MORE »
ANONYMOUS ACTIVISM
As a service organization assisting federal, state & local public employees, PEER allows public servants to work as "anonymous activists" so that agencies must confront the message, rather than the messenger.
LEARN MORE »
DONATE
Your donation to PEER strengthens our ability to defend whistleblowers pro bono, enforce environmental laws, safeguard public lands, and combat the political manipulation of science.