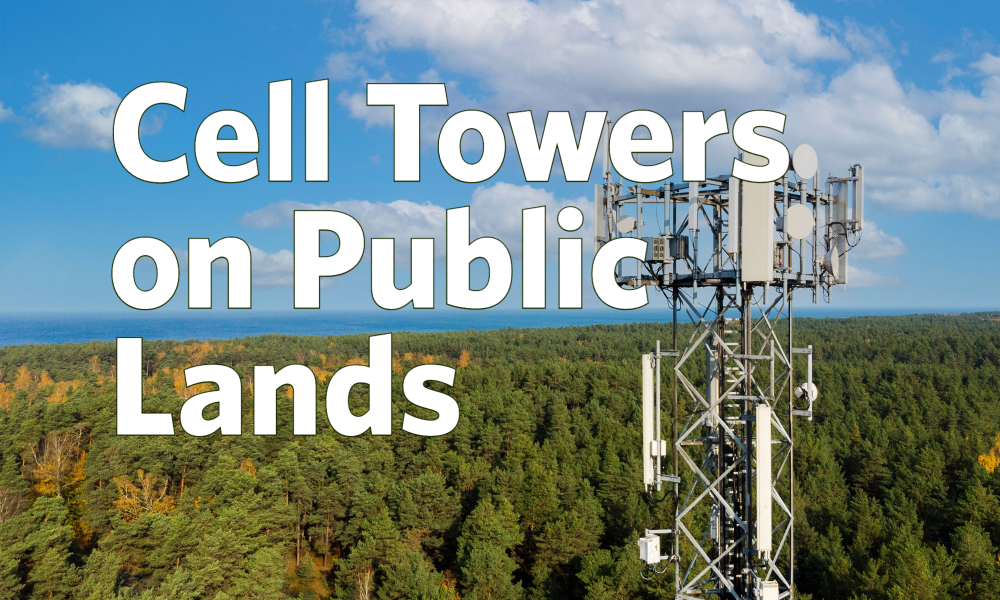 Cell phone towers have sprouted up in national parks across the country because the National Park Service lacks a coherent policy on cell coverage in park areas.  As a result, the incessant chirp of the cell phone can be heard in the wild backcountry as well as at iconic places like Old Faithful. 
 Few parks have adopted a plan for cell towers or wireless communication.   
 Nonetheless, the Park Service is moving ahead with an industry-sponsored initiative which would change the way many visitors experience national parks.  This plan would significantly expand cellular and internet "connectivity" inside parks, at not just visitor centers but along most roads and at major sites such as trailheads.  The plan would also cede control and placement of facilities, as well as interpretive content about the park, to private concessionaires. 
 This stealth scheme to wire our national park system has advanced with little public involvement.  It will mean more ugly cell towers marring park vistas and "spill-over" coverage in wilderness and backcountry.  It is also a giant step to further "Disney-fy" our parks, replacing rangers with corporate icons as your guides. 
CELL TOWER NEWS FROM PEER
Letter to Senators King and Barrasso – Connect Our Parks Act (PDF)
Letter to Senators King and Barrasso Urging Amendments to S 2018 Connect Our Parks Act
Cell Tower Casts Shade on Bryce Canyon Centennial
Regional Office Steamrolled over Park Management and Staff Objections
COMMENTARY | How the FCC Fails to Follow Environmental Laws and Fails the Public
Given the FCC's lack of oversight and failure to comply with environmental laws, numerous environmental harms ...
Park Service Eliminates Public Notice of New Cell Towers
Public Shut Out of Review of Telecom Expansion as 5G Era Dawns
Yellowstone's Thermal Features vs. Expanded Bandwidth
Plan to Bury 187 Miles of Fiber Optic Cable May Damage Park "Hot" Spots
Letter to Department of Interior – Suspension of Delegated Authority – 03/17/2021
DESCRIPTION: Letter to Department of Interior to extend the Suspension of Delegated Authority from January 20, ...
National Parks Screwing Up Cell Tower Permits  
Nearly One-Third Invalid or Expired; Call to Extend Permit Moratorium  
National Park Cell Tower Violations Pile Up
Lawsuit and Audit to Expose Shady Telecom Deals with National Parks
Yellowstone Wi-Fi Plan Driven by Corporate Wishes  
Trees Felled in Proposed Wilderness and Historic Landmarks Penetrated   
More Than 500 New Antennas Slated for Yellowstone
Formerly Off-Limits Historic Buildings to Be Honeycombed with Wi-Fi
National Parks Seek Ubiquitous Cell Coverage
Telecoms in Driver's Seat as Cell Towers Sprout Across Park Landscapes
Cell Tower Miasma Pervades National Park System
Audit Finds Broad Noncompliance with Eco-Rules and Revenue Collection
Grand Teton Cell Mega-expansion Violates Law and Policy
Inspector General Asked to Include 13-Tower Grand Teton Plan in Ongoing Review
Yellowstone Closes Hiking Destination to Hike Bandwidth
Mt. Washburn Build-Out Shows Cell Service Trumps Massive Infrastructure Needs
Grand Teton Stealth Plan for 11 New Cell Towers
Lawsuit Seeks Records Detailing Nation's Largest Park Cellular Expansion
Yosemites Illegal Cell Tower Network Grows in the Dark
Call for National Review of Improper Park/Telecom Deals Cut Behind Closed Doors
Yellowstone's Quandary: How Do You Fix Ugly?
Plans for Scenic Mt. Washburn Must Prevent Further Damage to Historic Value
Mount Rainier Poised to Wire Its Wilderness
Park Offers No Alternatives or Mitigation to Contain Cell Spillover from Paradise
New Yellowstone Cell Coverage to Swamp Backcountry
3-Sided Lattice Tower, 7 New Microwave Dishes to Encrust Historic Mt. Washburn
Yellowstone Plots Bandwidth Explosion
New Towers and Major Facility Expansion Violate Laws and Park Service Policies
Mount Rainier Wilderness Slated for Cell Coverage
Proposed Cellular Antennas in Paradise Visitor Center Will Wire Wilderness
Yellowstone Backcountry Blanketed With Cell Coverage
Remotest Corners Now Connected Despite Park Promises of Limited Coverage
Wiring National Parks Creates Conflicts
Commercial Cell Service Clashes with National Park Policies and Values
Another 4G Cell Tower Slated for Remote National Park
North Dakota's Theodore Roosevelt Wants Second Tower Abutting Wilderness
Park Service Reneges on Promised Cell Restrictions
Yellowstone Builds New Towers but Ignores Vows to Limit Visibility and Coverage
Yellowstone's Cellular Bandwidth Dilemma
Telecom Companies Push Plans to Wire Park for New 4G LTE
Languishing Wilderness Legacy of National Parks
Vast Wild and Roadless Tracts Remain Unprotected in Wilderness Logjam
Plans to Wire Entire National Park System
Concessionaires Would Control Visitor Cell and Internet Access and Content
Yellowstone's New Cell Tower Pre-Approved Despite Impacts
Disingenuous Call for Public Comments Does Not Cure Violations of Law and Policy
CELL TOWER TO RISE IN CENTER OF YELLOWSTONE PARK
100-Foot Monstrosity Violates Height, Visibility and Public Notice Policies
Old Faithful Vandals Caught on Webcam
"Geyser Gazers" Call in Violation in Yellowstone's First Cyber-Enforcement Case
More Cell Towers, Wi-Fi and Web-Cams Coming to Yellowstone
New Plan Extends Large Electronic Footprint across Yellowstone's Iconic Sites
CYBER-PARKS COMING TO A FLAT SCREEN NEAR YOU
Yellowstone to Unveil Live Streaming Web Camera at Old Faithful Geyser
YELLOWSTONE DOUBLES ITS CELL PHONE USE AMID TOWER STRUGGLES
Park Ignores Agency Policy to Limit Government Cell Phones to Verified Need
YELLOWSTONE SCRAMBLING TO STOP CELL TOWER AT PARK GATEWAY
115-Foot Tower Would Dominate Historic Area and Tourist Attractions
PLANS FOR MORE YELLOWSTONE CELL TOWERS INCH FORWARD
"Visitor Expectations" Cited as Basis for Electronically Blanketing the Park
OSHA FINDS YELLOWSTONE CELL TOWER EMITS EXCESS RADIATION
Popular Hiking Spot Has Unsafe Radio Frequency Radiation Levels
TELECOMS' SECRET PLAN TO WIRE ENTIRE YELLOWSTONE PARK
Industry Invited to Illegal Closed-Door Meeting to Divide Up Park
CELL PHONE RINGS COMING TO EVERY CORNER OF NATIONAL PARKS
Officials Invite Telecom Companies to Fill In "Dead Zones" Throughout Park System
OLD FAITHFUL CELL TOWER MAKEOVER IS A BUST
Revamped Tower Will Still Be an Eyesore
YELLOWSTONE PARK ILLEGALLY POCKETS CELL TOWER MONEY
Plus Free Phones and 60,000 Free Cell Minutes for Park Staff
OLD FAITHFUL CELL TOWER MAY BE SHORTENED AND CAMOUFLAGED
Park Resists Calls for Removal
PARK SERVICE WANTS TO KNOW WHERE CELL TOWERS ARE LOCATED
Headquarters Creating an Inventory as Telecom Companies Target Parks
U.S. HISTORIC PRESERVATION AGENCY TO INVESTIGATE OLD FAITHFUL CELL PHONE TOWER
Yellowstone Park Ignores Findings of Violations
CAN YOU HEAR ME NOW? CELL TOWERS SPREADING THROUGHOUT NATIONAL PARK SYSTEM
Park System Ignoring Public Notice Rules; Does Not Even Track New Towers
CELL PHONE TOWER AT OLD FAITHFUL IS AN EYESORE
Tower Illegal; Wyoming Files Complaint
TELECOMMUNICATIONS COMPANIES BENDING WITH ENVIRONMENTAL TIDE
Mounting Challenges Against Facilities on Federal Lands