FY 2021 (October 2021 – September 2022)
FY 2020 (October 2020 – September 2021)
FY 2019 (October 2019 – September 2020)
FY 2018 (October 2018 – September 2019)
FY 2017 (October 2017 – September 2018)
FY 2016 (October 2016 – September 2017)
FY 2015 (October 2015 – September 2016)
FY 2014 (October 2014 – September 2015)
FY 2013 (October 2013 – September 2014)
FY 2012 (October 2012 – September 2013)
FY 2011 (October 2011 – September 2012)
FY 2010 (October 2010 – September 2011)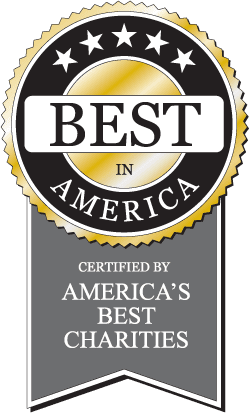 The Independent Charities Seal of Excellence is awarded to the members of Independent Charities of America and Local Independent Charities of America that have, upon rigorous independent review, been able to certify, document, and demonstrate on an annual basis that they meet the highest standards of public accountability, program effectiveness, and cost effectiveness.

Since 2002, using objective analysis, Charity Navigator has awarded only the most fiscally responsible organizations a 4-star rating. In 2011, Charity Navigator added 17 metrics, focused on governance and ethical practices as well as measures of openness, to its ratings methodology. These Accountability & Transparency metrics, which account for 50 percent of a charity's overall rating, reveal which charities operate in accordance with industry best practices and whether they are open with their donors and stakeholders.
Candid provides trusted information, data-driven tools, research, analysis, best practices, and trainings to help the social sector increase its ability to affect change and transform lives.