A New Year and Wolves on the Edge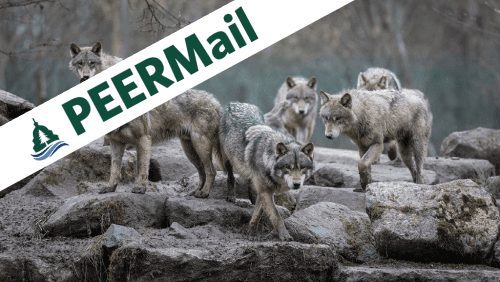 Happy New Year! We are so thankful for the work and accomplishments of the network of PEER supporters over the past last year. Together, we have engaged productively with government agencies while vigorously defending whistleblowers and pushing back against improper and illegal government actions that harm the environment. We hope you will check out our 2021 Annual Report to learn more about our work this past year.
In the new year, we are excited to carry forward our spirit of learning and hard-edged advocacy that characterized our work in 2021. That's why we invite you to join us on January 25 for an interactive webinar, "Pups and Packs: Protecting Wolves in 2022." You can register for the webinar here.
In this webinar, leading scientists will discuss the history and science behind failed policies to protect and conserve wolves, and provide an overview of federal, state, and tribal approaches to wolf management. We will also discuss ways we can help stop the gruesome killing of wolves, as well as provide participants with an update on PEER's efforts to get the Department of the Interior to deny federal wildlife management funding to states that excessively target predators, such as wolves, cougars, and grizzly bears.
Protecting wildlife will be a significant part of our work in the new year. Whether it is wolves, the North Atlantic right whale, the Louisiana Black Bear, the Kemp ridley sea turtle, or bees and other pollinators, we will be there pushing for meaningful protections for these and other animals. Too much is at stake. We look forward to our continued work together protecting wolves and all the other environmental issues and challenges we face.
I am looking forward to the coming year.
---
In a long-overdue report, an administration interagency task force concedes federal scientific integrity policies do not work but offered only general suggestions as to how to strengthen them. The task force recognized that scientific integrity policies lack basic implementation and enforcement mechanisms but does not lay out specific steps agencies must take to address these shortcomings or provide a timeline for doing so. PEER has provided detailed recommendations and comments on improving scientific integrity policies. Read more»
PEER has sued EPA for failing to release risk advisories on toxic harms from chemicals sent to it by chemical manufacturers. EPA stopped posting these risk advisories online in 2019. It now claims it lacks the resources to do so but has found money to create a "pizza tracker" for industry to track the regulatory status of new chemicals for industry's convenience. Read more»