Home on the Range: Wild Horses on Public Lands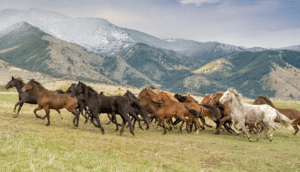 Bureau of Land Management (BLM) rangeland health data, collected and analyzed by PEER, paints a bleak picture of the conditions on a broad swath of public lands. The main reason for the cited ecological destruction is overgrazing by livestock.
The data reveals that more than 50 percent of the livestock allotments that fail to meet land health standards identify livestock grazing as a significant cause. That is about 54 million acres, an area about the size of Colorado.
That got us wondering – what role do wild horses play in causing the destruction of rangeland?
This seems like an important question given that BLM appears more focused on actively managing the impacts from wild horses on public lands, than it is on the impacts of livestock.ii
Consider the fact that in early October 2022, BLM stated in a National Wild Horse and Burro Advisory Board meeting that it rounded up a total of 20,851 wild horses and burros and permanently removed 19,011 animals from federal rangelands in fiscal year 2022. This record number exceeds by far the previous record of 13,666 animals, which was set in 2021. Yet even during a national mega-drought, BLM has not issued a mandatory "drought call," that is an emergency reduction in livestock numbers.
To help answer the question of wild horse and burro impacts, PEER decided to look carefully at the available BLM Land Health Assessments on livestock allotments and see what we could find. It can be difficult to know what is exactly happening at BLM with its' opaque and highly decentralized record keeping. However, through a series of public record requests and sifting through countless handwritten files, PEER found some surprising numbers.
When looking at the field reports of the 155 million acres of leased livestock allotments under BLM's administration, we see that BLM identifies many reasons for an allotment to be classified as failing– including livestock, invasive species, weeds, drought, fire, off-highway vehicles, deer, prairie dogs, and wild horses– horses are cited very few times. If horses are mentioned, they are most often cited as a cause of failure in conjunction with cattle.
The data reveal that BLM most frequently cites livestock grazing, by far, as the most significant cause of the failure of the allotment to meet rangeland Land Health Standards. This is the same across most of the grazing lands in every state under the agency's administration.
You can review the numbers. BLM field staff state that 685,112 acres are failing solely to wild horses. BLM attribute horses combined with livestock as the cause for failure in 6,846,777 acres. BLM cites livestock as the sole cause of land health failure in 39,059,868 acres.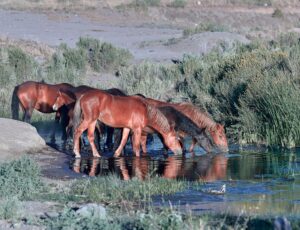 When you look exclusively at the wild horse Herd Management Areas (HMAs), you see the same pattern. The BLM data indicates that on more than half of the allotments that fail BLM standards for rangeland health, the agency identifies livestock as a significant cause of failure. That is approximately 11.5 million acres of the 21.5 million acres of assessed HMAs.
The data calls into question BLM's policy decision to prioritize the removal of wild horses and sell them at auction. Instead, it seems necessary for the agency to make management decisions that address the majority of the field staff's concerns.
You can compare the numbers of cows to horses and again, the data does not justify the agencies focus on reducing the wild horse and burro population without a similar focus on the grazing numbers. Though the agency does not give exact numbers, we suspect there are approximately 1.5 million cows on BLM lands. Cows outnumber wild horses on BLM lands by a ratio of more than 30 to 1. Yes, unlike horses, cattle are not on the land for 12 months of the year, however, BLM considers horses and cows roughly equivalent in terms of how much forage they consume. iii
We urge BLM to commit to use its' data to make land use decisions. If grazing has been determined to be a cause for failure, BLM can reduce livestock numbers or change the season of use. If the cause of failure is off-road vehicles, the agency can limit permitting. The data are not political.
Wild horses certainly impact the land. However, coherent landscape and recovery planning require a hard look at the BLM policy of continuing to permit millions of cows to forage on increasingly stressed rangelands.
To learn more, read the full report on BLM Land Health Status here»
---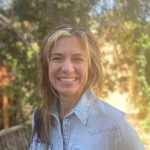 Chandra Rosenthal is the Director of PEER's Rocky Mountain Office located in Denver, CO.