Another Deadly Year For Manatees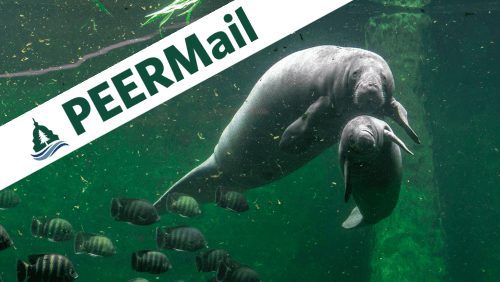 Manatees are dying at unprecedented rates this year, according to figures posted by PEER from the Florida Fish & Wildlife Conservation Commission. If this trend holds for the rest of 2022, Florida will have suffered three consecutive years of record-high manatee mortality.
The reason? Humans have made Florida waters dangerous to manatees and other living organisms due to fertilizer runoff, wastewater discharges and pollution.
Seagrass, on which the manatees depend for food, is dying. In Florida, algae blooms have become so thick that seagrass can't get the sunlight it needs to survive, devastating the manatees' main food supply. In the Indian River Lagoon, critical habitat for the manatee, algae blooms have killed about 95 percent of the seagrass.
Recent studies are also finding high levels of toxic PFAS and other chemicals in the blood of these sea cows, which weaken their immune and reproductive systems.
For years, PEER has documented Florida's failing environmental enforcement system and its inability to control sewer overflows and agricultural runoff.
Manatees are like the proverbial canary in the coal mine – indicating the dangers we all face from pollution.
Fortunately, there is good news. With the manatee in crisis, Florida residents are paying more attention to cleaning up the state's waters and restoring its marine habitats, for the manatee and for all other living creatures. We'll be part of that effort by exposing Florida's failure to enforce its water quality laws and pressuring the federal government to turn down the spigot of toxic pollution entering the environment.
Hopefully, that will help the manatee turn the corner on this latest crisis.
---
We have been documenting the looming disaster of spreading PFAS pollution throughout the United States and advocating that EPA develop standards to manage toxic PFAS waste. Now, we have published startling EPA data and created a map on PFAS waste in the United States that shows the looming nightmare posed by the disposal of this waste. Read more»
PEER hosted and participated in a webinar, Pups and Packs, Saving Wolves in 2022, with leading wolf experts throughout the United States to discuss threats to wolf populations in the United States and what we can all do to stop the slaughter of wolves. Watch the video here»
Last week, in response to a PEER lawsuit, EPA abruptly reversed course and began publicly posting some of the more than 1,300 substantial risk reports submitted by chemical manufacturers since 2019. These reports contain information submitted by chemical manufacturers on chemical substances that may present a substantial risk of injury to health or the environment. Read more»