CONTACTS
Kyla Bennett – kbennett@peer.org (508) 230-9933
Monica Mercola – mmercola@peer.org (202) 265-4187
Today's EPA Action on PFAS

in Drinking Water
The U.S. Environmental Protection Agency's proposed drinking water limits announced today on six per- and polyfluoroalkyl substances (PFAS) do not go far enough, according to Public Employees for Environmental Responsibility (PEER). EPA proposed limits on only two "forever chemicals" in drinking water, and on mixtures of four other PFAS chemicals. 
The two chemicals, PFOA and PFOS, which EPA proposed limits for, have been widely used in cookware, firefighting foam, plastics, and numerous other consumer products for their non-stick properties and ability to repel water, oil and stains. PFOA and PFOS are part of a larger class of thousands of chemicals known as PFAS that are widely found in pesticides, fertilizers, artificial turf, cleaning products, clothing, carpets, baby items and personal hygiene and make-up products. 
EPA announced restrictions of 4 parts per trillion (ppt) in drinking water for PFOA and PFOS, respectively. EPA is also proposing to limit any mixtures containing one or more of PFNA, PFHxS, PFBS and Gen X, but only if the specific combination of these PFAS pose a potential risk. In June 2022, EPA released interim Health Advisories for PFAS in drinking water for four commonly used PFAS: PFOA, PFOS, GenX, and PFBS. It found there were essentially no safe levels of PFOA and PFOS in drinking water.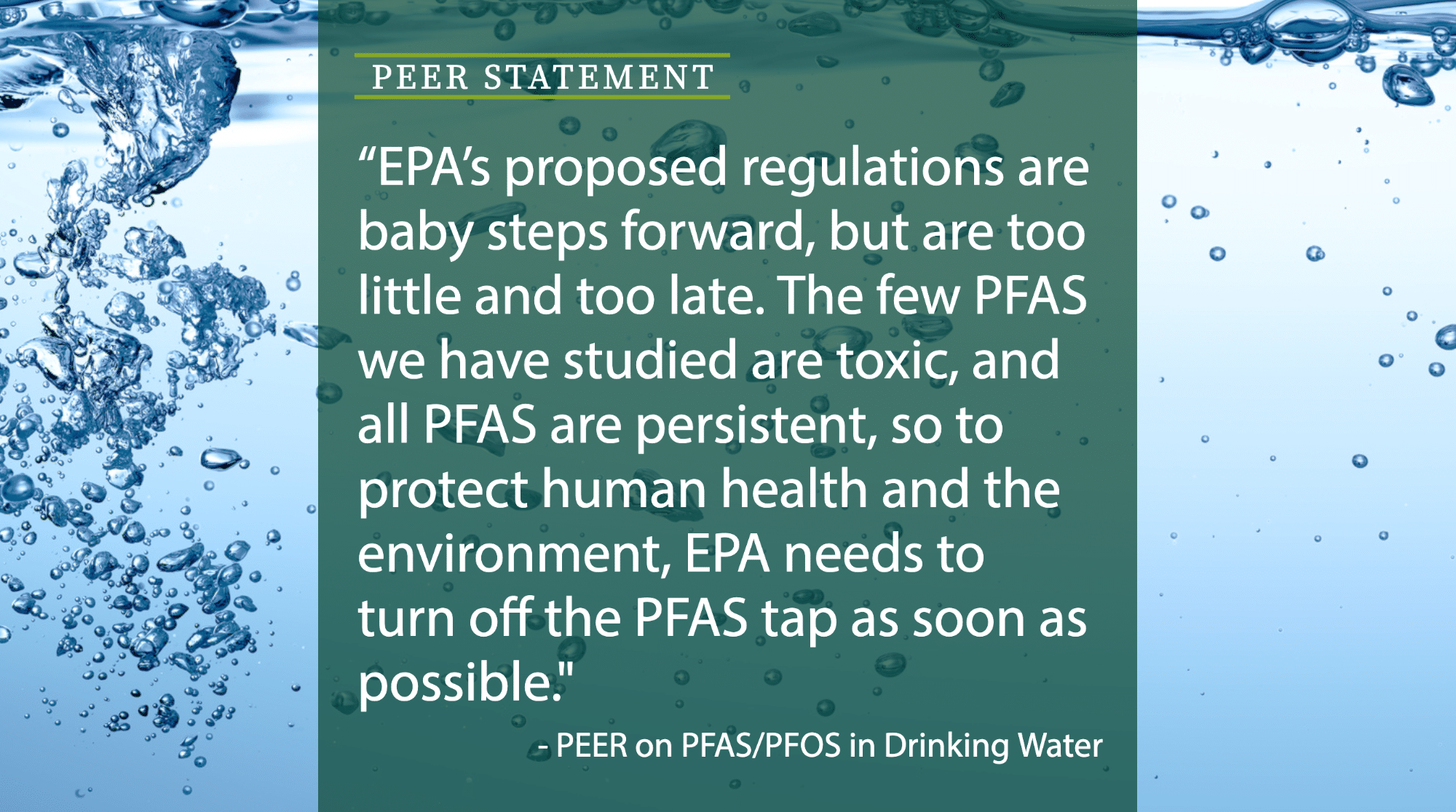 "EPA's proposed regulations are baby steps forward, but are too little and too late," said Kyla Bennett, PEER's Director of Science Policy, noting that at least 14,000 PFAS have been identified. "The few PFAS we have studied are toxic, and all PFAS are persistent, so to protect human health and the environment, EPA needs to turn off the PFAS tap as soon as possible. EPA has been moving too slowly to address this crisis." 
PFAS have been linked to kidney and testicular cancer, low birthweight, immune system disorders and a slew of other health issues.  PFAS are highly mobile, meaning they move into water and food systems, and they are difficult to destroy and dispose of because they contain carbon-fluorine bonds, one of the strongest bonds in chemistry. 
"EPA's chemical-by-chemical approach leaves the public unprotected from the vast majority of toxic but unregulated PFAS," said Monica Mercola, Staff Counsel at PEER.  "The only way to address this growing crisis is for EPA and Congress to regulate PFAS as a class of chemicals and to ban all but essential uses of PFAS." 
Despite today's actions, EPA is not close to a comprehensive solution to this crisis.  On some crucial fronts, EPA is actually fighting progress. For example, PEER and the Center for Environmental Health are suing Inhance Technologies for generating toxic PFAS, including PFOA, in violation of the Toxic Substances Control Act (TCSA) when fluorinating tens of millions of plastic containers. Despite knowing about these violations for over two years, EPA has failed to stop this practice that threatens the safety of our food supply and the health of all Americans. 
PEER has also sued EPA for failing to produce any documents revealing the scientific basis for the "working definition" of PFAS the agency currently uses for regulatory purposes. Further, PEER petitioned EPA to regulate waste contaminated with PFAS under Subpart C of the Resource Conservation Recovery Act but EPA has yet to act. 
"EPA's failure to develop a comprehensive solution to this PFAS crisis means contamination will grow exponentially worse over time, imposing tremendous financial, health, and environmental costs on society, while allowing those who created the problem to avoid or minimize financial responsibility for the harm caused by these chemicals," concluded Bennett. 
### 
Groups call on EPA to Ban Plastic Fluorination that Creates PFAS 
Scientific Basis for EPA's Definition of PFAS Still Missing 
PEER Petitions EPA to Regulate Waste Contaminate with PFAS 
---