FOR IMMEDIATE RELEASE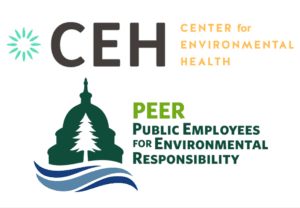 Tuesday, May 23, 2023
CONTACT
Bob Sussman (CEH), bobsussman1@comcast.net, (202) 716-0118
Kyla Bennett (PEER) (508) 230-9933 kbennett@peer.org
---
EPA MUST Remove PFAS from Plastic Containers
New Analysis Demonstrates Health Risks to Millions of Americans Using Plastic Containers
Washington, DC — Public Employees for Environmental Responsibility (PEER) and Center for Environmental Health (CEH) today submitted extensive comments to the U.S. Environmental Protection Agency (EPA) demonstrating serious health risks from Inhance Technologies' unlawful manufacture of per-and polyfluoroalkyl substances (PFAS) during its fluorination of hundreds of millions of plastic containers. The comments called on EPA to deny the company's request for approval to continue this dangerous practice and use its authority under the Toxic Substances Control Act (TSCA) to eliminate this unacceptable risk to human health and the environment.
Nearly three years ago, EPA testing confirmed the presence of numerous PFAS in plastic containers subjected to fluorine treatment by Inhance to make them impermeable. These PFAS include PFOA, which was withdrawn from production in 2015 by its major manufacturers and was recently declared by the Agency to be a carcinogen with no safe level of exposure. As EPA has repeatedly determined, Inhance's ongoing PFAS production has violated 2020 TSCA regulations requiring careful EPA review before these substances can be reintroduced into commerce. PEER and CEH and the Department of Justice are suing Inhance to stop this violation.
Inhance fluorinates an estimated 200 million containers a year. These containers are used throughout the economy for contents including household cleaning products, fuels for lawnmowers and recreational watercraft, paint removers, automotive fluids, industrial chemicals, pesticides and personal care products such as shampoos and conditioners.
The groups want EPA to prohibit PFAS formation during fluorination immediately because, among other reasons –
The levels of PFAS found that have leached into the contents of these containers likely cause significant adverse effects to human health based on the latest science from EPA;
Millions of consumers and workers have dangerous dermal, inhalation and ingestion exposure to PFAS during the manufacture, distribution, use and disposal of these containers; and
The life cycle of these containers represents a vast but uncontrolled release of PFAS into the environment.
"EPA's continued inaction on these containers presents a direct threat to human health and the environment," stated PEER Science Policy Director Kyla Bennett, a scientist and attorney formerly with EPA, pointing out that there are alternative barrier treatments that do not create PFAS. "EPA has a legal and moral obligation to immediately stop this PFAS carousel circulating through the heart of America's economy."
In recent months, both the Department of Justice, acting on behalf of EPA, and CEH and PEER together have sued Inhance for violating the Toxic Substances Control Act for creating PFAS during the fluorination of plastic containers without EPA approval. Last month, CEH and PEER successfully intervened in EPA's case after its case was dismissed without prejudice. Recent legal filings by the Government indicate that it does not plan to stop unlawful PFAS production by Inhance while its requests for approval are under consideration by the Agency.
CEH and PEER contend that EPA has a legal obligation to halt these practices.
"The Toxic Substances Control Act directs EPA to issue an immediately effective order 'to prohibit or limit the manufacture, processing, or distribution in commerce' of new uses of these PFAS determined to present an unreasonable risk of injury," said Bob Sussman, attorney for CEH and former senior EPA official, quoting Section 5(f) of the Act. "EPA must adhere to its commitment to stop the buildup of toxic PFAS in people and the environment by rejecting Inhance's request to continue producing PFAS when fluorinating plastic containers."
###
Track the latest maneuver in the Inhance litigation