FOR IMMEDIATE RELEASE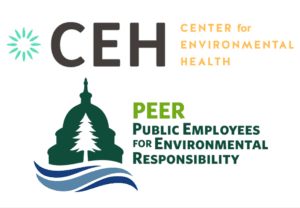 Tuesday, December 27, 2022
CONTACT
Sarah Packer (CEH), sarah@ceh.org, (510) 594-9863
Bob Sussman (CEH), bobsussman1@comcast.net, (202) 716-0118
Kyla Bennett (PEER), kbennett@peer.org, (508) 230-9933
---
Tens of Millions of Plastic Containers Treated with Fluorine Gas Leach Toxic PFAS Chemicals into Art and Cleaning Supplies, Food, and Other Household Products
Nonprofit Organizations File Suit Against Inhance Technologies to Stop Violations of U.S. EPA Regulations
Washington, D.C. – Today nonprofit organizations the Center for Environmental Health (CEH) and Public Employees for Environmental Responsibility (PEER) filed a lawsuit under federal environmental law to prevent Inhance Technologies USA of Houston, Texas, from generating toxic PFAS or "forever chemicals" when fluorinating plastic containers, in violation of EPA regulations.
Testing conducted by the U.S. EPA, Notre Dame researchers, and other organizations has found PFAS chemicals on the inner and outer surfaces of fluorinated containers and in the contents of the containers. The PFAS in the containers are likely formed as a result of chemical reactions that occur during the fluorination process conducted by Inhance.
The PFAS detected in fluorinated containers include perfluorooctanoic acid (PFOA), a harmful substance found in the blood of numerous Americans. The major producers agreed to voluntarily phase out the manufacture of PFOA in 2015 at the urging of U.S. EPA.
The EPA has concluded that very low levels of PFOA are unsafe and is taking action to prevent exposure to the substance at waste sites and in drinking water. Handling or using fluorinated containers could be a significant pathway for unsafe human exposure to PFOA and other PFAS. Exposure to PFOA is associated with the development of liver and pancreatic cancer, thyroid problems, reduced immune function and vaccine efficacy, impaired fetal development, among other negative health effects.
During fluorination, fluorine gas is applied to plastic containers in varying concentrations under high temperatures in order to improve their barrier properties. Inhance conducts fluorination operations at several facilities in the U.S. and is the leading supplier of post-mold fluorination services in the U.S. Tens of millions of plastic containers, used in vast sectors of the economy, undergo fluorination before they are filled with products and distributed to consumers and businesses.
In 2020, the U.S. EPA issued regulations under the Toxic Substances Control Act (TSCA) barring firms from producing PFOA and certain other PFAS until EPA had been notified and determined whether the proposed uses of these PFAS may present an unreasonable risk to health. In this event, the law required EPA to ban or restrict the PFAS for these uses. According to the PEER and CEH lawsuit, Inhance did not submit the necessary notice to EPA in 2020 and has been subsequently manufacturing PFOA and other PFAS in violation of TSCA.
In their lawsuit, filed in the U.S. District Court for the District of Columbia, CEH and PEER are seeking a court order restraining Inhance from continued manufacture of PFAS in violation of the EPA regulations, requiring it to stop all distribution of fluorinated containers in commerce until and unless TSCA requirements are met and directing it to inform purchasers and users of these containers of the dangers of exposure to PFOA and other PFAS.
On December 19, 2022, EPA filed suit against Inhance under TSCA. The EPA suit followed nearly two years of discussions between the agency and the company during which Inhance continued to produce PFAS in violation of TSCA without any EPA action to protect the public. The EPA suit came only after CEH and PEER wrote to the agency in late October of this year threatening to file suit against the company. The two organizations intend to use their suit to ensure that EPA takes all actions authorized under the law to put a stop to Inhance's unlawful conduct and prevent unsafe exposure to PFAS by users of fluorinated containers.
Plaintiff CEH is a national non-profit organization headquartered in Oakland, California, working to protect children and families from harmful chemicals in air, food, water, and in everyday products.
Plaintiff PEER is a national non-profit organization headquartered in Silver Spring, Maryland, that works with environmental and public health professionals, land managers, scientists, enforcement officers and other civil servants dedicated to upholding environmental laws and values.
Quotes
"These PFAS-laden containers present an ongoing danger to workers, consumers and the environment. The fluorination process contributes to the overall prevalence of this already-ubiquitous class of chemicals, and could be introducing PFAS into the recycling stream, as many of these containers bear recycling symbols. Inhance, the company that performs most of the fluorination in the U.S., has refused to comply with TSCA and must be ordered to stop this unsafe practice for the health of workers, nearby communities, consumers, and all who encounter these commonly-used containers or the products stored in them."
Sarah Packer, Director of CEH's Petrochemicals, Plastics & Climate program
"The TSCA requirements that Inhance violated were intended to provide important safeguards against the manufacture of dangerous PFAS that EPA has sought to eliminate from commerce. Inhance's unwillingness to comply with these requirements has resulted in unnecessary and harmful exposure to PFAS by millions of Americans."
Bob Sussman, CEH counsel and former senior EPA official
"This is not an academic violation. The leaching of PFAS from packaging and containers threatens our food supply and exposes all of us to harmful toxic chemicals. We are acting now because EPA has dragged its feet in ensuring that Inhance comes immediately into compliance with the law and stopping TSCA violations that represent a serious and ongoing threat to human health."
Tim Whitehouse, PEER's Executive Director and a former EPA enforcement attorney
"I restore and create custom furniture and work on vehicles as a hobbyist and have frequently handled these types of fluorinated containers while using paint strippers, adhesives, epoxies, solvents, motor oils, lubricants, and cleaning products. I am concerned about my personal exposure to the high levels of PFAS coming from these containers and the threat not only to my health but that of thousands of others who also use fluorinated containers daily."
Jay De La Rosa, small business owner who filed a 60-day letter with Inhance and plans to join the case as a co-plaintiff
###