FOR IMMEDIATE RELEASE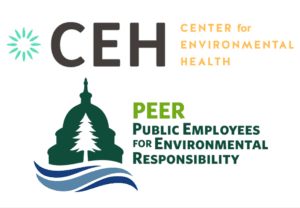 Thursday, March 23, 2023
CONTACT
Sarah Packer (CEH), sarah@ceh.org, (510) 594-9863
Bob Sussman (CEH), bobsussman1@comcast.net, (202) 716-0118
Kyla Bennett (PEER), kbennett@peer.org, (508) 230-9933
---
Groups Call on EPA to Ban Plastic Fluorination that Creates PFAS
EPA must ban fluorination process that creates PFAS in plastics
Oakland, CA – Today, 64 advocacy groups called on the U.S. Environmental Protection Agency to use its authority under the Toxic Substances Control Act (TSCA) to prohibit Inhance Technologies from continuing to produce several dangerous per- and polyfluoroalkyl substances (PFAS) during the fluorination of plastic containers. New research demonstrates that PFAS can leach from fluorinated plastics into substances including water, solvents, and food products. Fluorinated containers are used to store numerous industrial and consumer products, including cleaning products, automotive fluids, lubricants and greasers, hobby supplies and even food.
Inhance, which fluorinates tens of millions of containers used by businesses and consumers, has been producing these PFAS in violation of EPA regulations issued in 2020. The groups' letter to Assistant EPA Administrator Michal Freedhoff was prompted by Inhance's submission to EPA of nine significant new use notices (SNUNs) seeking approval to continue manufacturing, processing, and distributing PFAS and exposing people and the environment to these unsafe chemicals. In their letter, the groups emphasized that giving a green light to the SNUNs would undermine the Agency's commitment to reducing exposure to PFAS and preventing increased risks of harm.
Testing shows that the PFAS found in fluorinated plastic containers include the highly toxic perfluorooctanoic acid ("PFOA"), which has been detected in the blood of 98 percent of the U.S. population. PFOA and several related PFAS also found in fluorinated containers were voluntarily phased out by major producers in 2015 because of the combination of pervasive exposure and serious adverse health effects.
Last week, EPA proposed landmark regulations to reduce PFOA in drinking water to extremely low levels that are significantly below the amounts present in fluorinated plastics, stating "there is no dose below which [PFOA] is considered safe."
Inhance's unlawful PFAS production has been challenged in a lawsuit filed by Center for Environmental Health (CEH) and Public Employees for Environmental Responsibility (PEER), and another filed by EPA. Both suits aim to bar Inhance from producing PFAS while the SNUNs are under review.
"EPA has already stated that these PFAS have serious health effects at near zero concentrations," says Tim Whitehouse, Executive Director of Public Employees for Environmental Responsibility. "EPA needs to act now to get these PFAS out of plastic containers."
"The signatories to this letter range from community groups dealing with local PFAS contamination to sustainability-focused businesses and global advocacy organizations. Following the EPA's proposed restrictions on PFAS in drinking water, this letter sends a clear signal that the Agency's commitment to prevent PFAS exposure must extend to the everyday products that people and businesses use and consume."

– Sarah Packer, Director of Petrochemicals, Plastics & Climate at Center for Environmental Health
###
Read CEH PEER Letter to to ban the formation of PFAS during the "fluorination" of plastic containers and bottles 
Read CEH PEER demand letter to EPA to Release Information  
View FOIA request itemizing what data should be released  
Look at PEER/CEH lawsuit to stop use of PFAS-laden containers and the EPA suit filed under seal