FOR IMMEDIATE RELEASE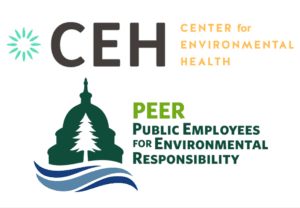 Tuesday, June 13, 2023
CONTACT
Bob Sussman (CEH), bobsussman1@comcast.net, (202) 716-0118
Kyla Bennett (PEER) (508) 230-9933 kbennett@peer.org
---
PEER and CEH Ask Court to Immediately Stop Unlawful PFAS Formation
Motion seeks to stop violations of federal law that are exposing millions of Americans to dangerous PFAS in fluorinated plastic containers
Public Employees for Environmental Responsibility (PEER) and the Center for Environmental Health (CEH) announced today that they have filed a motion for summary judgement and issuance of an injunction in their case against Inhance Technologies LLC (Inhance) in federal court in Philadelphia. The motion asks Federal District Judge John Murphy to determine that Inhance is producing per- and polyfluoroalkyl substances (PFAS) in violation of the Toxic Substances Control Act (TSCA) and direct Inhance to immediately cease its reckless and unsafe actions.  
Inhance treats plastic containers with fluorine, a process called fluorination, causing the formation of PFAS which studies show leach from the container into its contents. Over 200 million containers are fluorinated each year by the company and are used to package numerous consumer, commercial, and industrial products found throughout the economy.  
"It is shameful that Inhance continues to put the public at risk nearly three years after testing by PEER and  the U.S. Environmental Protection Agency (EPA) demonstrated that the fluorination process forms PFAS in  plastic containers, and over a year after the EPA found Inhance in violation of TSCA and told the company to comply with the law.  It's time for the Court to order Inhance to do the right thing," said Sarah Packer, Director of Petrochemicals, Plastics & Climate at CEH.
PEER and CEH sued Inhance in late December 2022 and recently intervened in an earlier suit filed by the Department of Justice (DOJ) against the company in the Eastern District of Pennsylvania. DOJ agrees that Inhance has failed to comply with EPA's 2020 significant new use rule (SNUR) for long-chain PFAS but has disappointingly failed to seek an injunction preventing Inhance from endangering workers and consumers.  
"The PFAS produced by Inhance include PFOA, which major manufacturers phased out eight years ago and EPA recently determined to be a carcinogen with no safe level of exposure in drinking water. Our motion demonstrates that, based on the latest EPA science, the levels of PFOA and other PFAS present in these containers pose a risk of serious harm to a large segment of the US population. Public health demands the injunction we are requesting," said Kyla Bennett, PEER's Director of Science Policy.
Bob Sussman, lead counsel for the groups, said, "We urge EPA and its lawyers at DOJ to join us in asking the Court to stop Inhance's continuing violations of TSCA. Not only does EPA have an interest in enforcing its regulations but it must uphold the Biden Administration's commitment to protecting our citizens from dangerous exposure to PFAS."  
Fluorinated containers are used for household spray cleaners, countertop polish, floor cleaners, furniture wipes, pesticides and herbicides, hose-end sprayer herbicides, paint removers, solvents and other hobby products, foods, and small fuel tanks in recreational boats, lawnmowers and other engine-powered products used by consumers.  
After denying that fluorinated containers contain PFAS, in late December 2022, Inhance finally submitted Significant New Use Notices (SNUNs) to EPA admitting that PFOA and other PFAS are present in these containers and their contents. In extensive comments to the Agency, PEER and CEH as well as over 70 other groups called on EPA to issue an administrative order prohibiting fluorination. The SNUNs are still under review.  
###
PEER / CEH FILED MEMORANDUM IN SUPPORT OF SJ MOTION
PEER / CEH FILED STATEMENT OF UNDISPUTED FACTS