Plastic Free Parks Are Possible!
PEER has teamed up with Beyond Plastics and Green Latinos to submit a proposed rule-making to the Secretary of the Interior Deb Haaland that would direct the National Park Service to: 
Outlaw sales of plastic water bottles at all national parks;

 

Cut plastics discarded in parks by 75%;

 
Ensure that there are adequate sources of free potable water available for park visitors; and

 

Manage our parks to set a "green" example.

 
We have also launched a public sign-on petition to gain further support for this effort.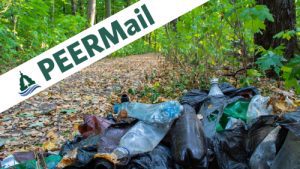 The proposed rule would be a step forward in President Biden's efforts to address climate change and move toward environmental justice. The Energy Information Agency estimates that petrochemicals, including plastics, make up 14 percent of oil use, and are expected to drive half of oil demand growth between now and 2050. In addition, discarded single-use plastic water bottles are swamping our national parks. These plastic discards are the single biggest component of park waste. 
To make matters worse, much of the world's plastic waste ends up in the oceans — eleven million metric tons by latest count, an amount that will triple by 2040 on the current trajectory. Plastic in the ocean harms marine life, damages habitats, and slowly degrades into microscopic particles that enter the food chain, threatening ecosystems that are already under extreme pressure from climate change.  
The National Park Service must act quickly to address the crisis of plastics in our parks. We hope you will help us in this effort by signing the petition here and sharing it with your friends and colleagues. 
---
The Department of Labor has found that the U.S. Navy illegally terminated one of its own lawyers because she stressed the need for additional measures to address radiation and toxic contamination with the potential to impact residents in California. PEER's Paula Dinerstein notes that the Navy's actions contravened its legal obligations and endangered human health and the environment. Read More»
In a lawsuit filed by PEER against the Environmental Protection Agency, a federal district court judge ruled that the public is not entitled to see a health assessment of formaldehyde, one of the most widely used industrial chemicals. This health assessment is long overdue, as it has been over 30 years since the EPA has completed any public assessment of the safe exposure levels for formaldehyde. Read More»