FOR IMMEDIATE RELEASE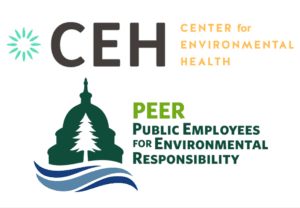 Thursday, January 5, 2023
CONTACT
Sarah Packer (CEH), sarah@ceh.org, (510) 594-9863
Bob Sussman (CEH), bobsussman1@comcast.net, (202) 716-0118
Kyla Bennett (PEER), kbennett@peer.org, (508) 230-9933
---
PFAS in Plastic Containers Should Not Be Confidential
Groups Urge EPA to Inform the Public of the Presence of Unsafe PFAS in Fluorinated Containers
Washington, DC — The U.S. Environmental Protection Agency (EPA) is failing to inform the public of the serious human health threat from per- and polyfluoroalkyl substances (PFAS) present in tens of millions of plastic containers that have been "fluorinated" by Inhance Technologies USA (Inhance), according to the Center for Environmental Health (CEH) and Public Employees for Environmental Responsibility (PEER). In a letter sent to senior EPA officials today, the groups are asking the Agency to fully and publicly disclose the health risks associated with PFAS from fluorinated containers and take immediate action to make all relevant information available to the full extent permitted by law.
Specifically, CEH and PEER are calling on EPA to:
Immediately and fully inform the public of the scope and severity of PFAS contamination of plastic containers fluorinated by Inhance, the specific PFAS involved, and the health threat to workers and consumers from these containers.
Describe how the Agency plans to protect the public from this threat under the Toxic Substances Control Act (TSCA); and
Make publicly available all relevant information and documentation in its possession about the fluorination activities of Inhance and their contribution to PFAS exposure and risk.
For two years, EPA has known that Inhance is violating the Agency's July 2020 significant new use rule (SNUR) for certain long-chain PFAS under TSCA. Yet EPA has been silent about the occurrence of these unlawful activities and their role in unsafe exposure to PFAS by U.S. workers and consumers.
On December 19, 2022, after CEH and PEER gave EPA notice that they intended to file a citizen's suit against Inhance for violating the SNUR, EPA brought its own lawsuit against Inhance. However, EPA's Complaint in that suit is heavily redacted, providing no indication that Inhance is engaged in the fluorination of plastic containers or that PFAS are formed in the fluorination process and failing even to identify the specific SNUR that Inhance is violating.
To get this information into the public domain, the groups have supplemented their letter to senior EPA officials with a comprehensive request under the Freedom of Information Act for all information relating to the formation of PFAS during the fluorination of plastic containers by Inhance and exposure to PFAS during the distribution and end-use of these containers. Because Inhance has attempted to block disclosure, CEH and PEER are calling on EPA to disallow its sweeping and unjustified claims of Confidential Business Information (CBI) to the full extent of its authority under TSCA.
On December 27th, days after EPA's suit, CEH and PEER filed suit to prohibit further PFAS manufacture and distribution of contaminated containers by Inhance.
"Studies show that PFAS from these fluorinated containers leaches into the container contents, thus exposing millions around the globe to PFAS," says PEER Litigation & Policy Attorney Colleen Teubner. "EPA should not use the cloak of confidential business information to hide health and safety dangers from the public."
"EPA has failed to prevent Inhance from hiding its unsafe and unlawful production of PFAS based on excessive trade secret claims," says Sarah Packer, CEH Director of Petrochemicals, Plastics & Climate. "Millions of people are unknowingly being exposed to PFAS as a result of EPA's failure to inform the public of what it knows. The public has the right to know about these toxic hazards, and EPA has an obligation to make this information available."
###
View FOIA request itemizing what data should be released
Look at PEER/CEH lawsuit to stop use of PFAS-laden containers and the EPA suit filed under seal