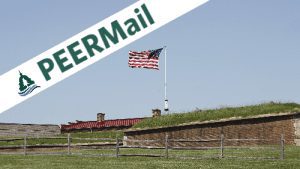 This past month, the Trump administration created more ethical firestorms by intermingling official government duties with the upcoming election.
Whether it was Secretary of State Mike Pompeo's speech to the Republican Party Convention from Jerusalem or Vice President Mike Pence's acceptance speech from Fort McHenry National Monument in Baltimore, the administration is succeeding in destroying the boundaries between official government business and political campaign advocacy. With a majority of Senators now kowtowing to Trump, the administration now knows it can ignore any reprimands that may come its way.
For most public servants, however, this is not the case. The Washington Post recently reported a two-tiered system of consequences for government employees who illegally mixed government employment with partisan politics in violation of the Hatch Act. The Office of Special Counsel, which investigates Hatch Act complaints, has cited at least nine high-level Trump appointees for abusing their government roles to further the President's reelection or disparage his rivals.
With Trump's support, these employees have largely thumbed their noses at the law and suffered no consequences.
Meanwhile, as the Post reports, career employees have faced warning letters, reprimands, suspensions without pay and been fired and debarred from returning to government for violations of the Hatch Act.
With the reigns of government gearing up for an election like no other in our history, PEER is closely monitoring agency actions and advising government employees on how to navigate these treacherous times.
During this election season, our goals are to make sure civil servants are treated fairly and make sure those in government who abuse their power are exposed.
---
The Nevada Outdoor Recreation Association (NORA) is closing its doors and entrusting PEER with its goal of advocating for our great commons of public lands managed by the Bureau of Land Management.  Read more here about the legacy of NORA's co-founder Charles S. Watson, Jr. and how you can support his legacy and our public lands work. read more »
The National Park Service continues to evade Senate confirmation of its top official, according to a newly amended federal suit filed by PEER and Western Watersheds Project. This August, following the abrupt retirement of Deputy Director David Vela who had been the de facto acting NPS Director, Interior Secretary David Bernhardt announced the designation of Margaret Everson "to exercise the delegable authority" of the NPS Director in place of Vela for an indeterminate period. read more »
The Bureau of Land Management says it can find "no records responsive" to a demand for information about who named William Perry Pendley to its top job or why.  PEER has been seeking those documents since July 2019 under the Freedom of Information Act and, after BLM stonewalled, PEER filed suit in November but has yet to receive the answers. read more »
Long-overdue plans to limit noise and disruption caused by air tours over national parks are finally taking off. Under court order from a PEER lawsuit, the Federal Aviation Administration announced the schedule for developing air tour management plans for 23 national parks, which are all to be finalized by May 1, 2022.   read more »