Meeting the House Challenge in the Trenches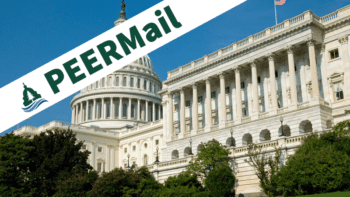 Extreme right-wing control of the U.S. House of Representatives once again puts federal employees working to administer and enforce environmental and public health protections squarely on the front lines of a battle they did not choose.
The new House leadership has made no secret of its plan to target government agencies and their staff with endless document requests and subpoenas in its efforts to weaken the federal government and take down the Biden administration. Among the more disturbing developments out of the new House are:
The establishment of a "Select Subcommittee on the Weaponization of the Federalization of the Federal Government" to investigate Department of Justice investigations.
The growing hostility to the basic mandates of the Environmental Protection Agency, the Department of the Interior, and the Centers for Disease Control and Prevention.
The passage of rules that prohibit government employees from bringing agency lawyers to depositions ordered by the House.
With these changes, we anticipate not only continuing to litigate whistleblower cases, but also offering legal assistance for civil servants caught in the maelstrom created by these House investigations.
For thirty years, PEER has protected conscientious public servants while combatting politicized attacks on our environment and the federal merit system. With your help, PEER will rise to meet this challenge as well.
Scientific Integrity Evasions
The White House Office of Science and Technology Policy (OSTP) released its long awaited "Framework for Federal Scientific Integrity Policy and Practice." In the first of several critiques on the framework, PEER is raising concerns that the policy is vague and lacks truly independent enforcement mechanisms. Read More»
Supersonic Climate Debacle
PEER is asking that NASA conduct a rigorous, independent, and publicly accessible climate impact analysis of its Aeronautics Research Mission Directorate (ARMD) program, which, in partnership with Lockheed Martin, is embracing a new generation of supersonic air transport that may preclude the aviation industry from meeting its carbon neutrality goals. Read More»