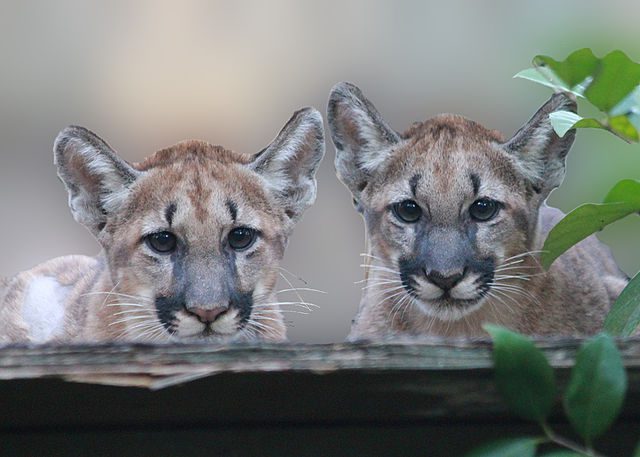 The Florida panther is clinging to survival on a habitat area that represents just five percent of its original range. Once abundant throughout the state, the panther now occupies just a few parcels in southwest Florida in a population that is thought to number around 100 animals.
While the panther's survival is increasingly imperiled by habitat loss, vehicle collisions, and loss of genetic diversity, the U.S. Fish and Wildlife Service (FWS) has yet to designate critical habitat to protect what little viable habitat area remains for the iconic cat. Despite agreement by biologists that the species faces a high likelihood of extinction in the absence of protections for its remaining habitat, FWS continues to approve new roads and other development in the heart of panther country.
In its checkered history of panther conservation, the Florida Fish & Wildlife Conservation Commission has hidden behind numerous excuses to justify its failure to act including flawed science and the position, outlined in its Recovery Plan, that insufficient habitat exists in Florida to allow for recovery, regardless of agency actions. Panther biologists say that the panther can recover in Florida, given the political will to establish and enforce protections. However, that political will seems to take a backseat to the whims of ranchers and developers.
Statistic source material: https://myfwc.com/wildlifehabitats/wildlife/panther/pulse/
Florida Panthers – Deaths and Births by Year
Infographic: For the sixth year in a row, mortality of the highly endangered Florida panther has substantially ...
Florida Panthers Spiral Toward Extinction
Net Loss of More than 100 Cats in Last Five Years as Births Plunge
Florida Panthers Pad Toward Extinction
2018 Another High Lethality Year as Deaths Increasingly Outpace Declining Births
Another Lethal Year for Florida Panthers in 2017
Deaths Again Outstrip Litters with Heavy Toll on Females of Reproductive Age
Florida Panther Deaths Tie Record High in 2016
80% Killed in Collisions – a New All-Time High Rate and Number
Florida Panther Deaths Set Another Record in 2015
70% Killed in Collisions; Nearly One-Quarter Females of Kitten-Bearing Age
Record Florida Panther Mortality in 2014
50% Increase over Prior Year; More Than a Third Females of Kitten-Bearing Age
Four More Florida Panthers Die in November; Two This Week
With 23 Deaths So Far This Year, 2012 Could Become Deadliest on Record
Three Rare Florida Panthers Perish in One Week
With 19 Deaths So Far This Year, 2012 Could Become Deadliest on Record
Two Rare Florida Panther Killed This Week; 11 so Far This Year
Latest Panther-on-Panther Deaths Reflect Shrinking Habitat for Territorial Cats
Florida Panthers Dying at a Record Rate
Conservation Groups Launch Appeal to Win Critical Habitat for Endangered Cat
Official Abetting Florida Eco-Train Wreck Gets Promoted
Fish & Wildlife Service Gives "Litigation Magnet" National Endangered Species Slot
Is the U.S. Fish & Wildlife Service the Next MMS?
Pick to Lead Fish & Wildlife Service Due: Florida Panther Poses First Litmus Test
Florida Panther Habitat Whittled Away With Official Okays
More Than Two Acres Lost for Each "Preserved" as New Projects Hem in Panther
Lawsuit Filed to Win Critical Habitat for the Florida Panther
Groups Sue U.S. Fish and Wildlife Service for Failure to Protect Endangered Panther
Lawsuit to Be Filed Over Delay in Protecting Florida Panther Habitat
Lawsuit to Be Filed Over Delay in Protecting Florida Panther Habitat Washington, DC — A coalition of conservation ...
Bid to Save Vanishing Florida Panther Habitat
Legal Petition Filed With Feds to Protect 3 Million Acres from Development
Fish & Wildlife Service in Florida: Portrait of a Failed Agency
Obama Pick Piecemeals Florida Panther and Other Endangered Species to Extinction
Endangered Species Act Fell Into Disuse Under Nominee
Only One Jeopardy Opinion in Nearly 6,000 Consultations as Staff Told to Refrain
Conservation Groups Call on Park Service to Protect the Florida Panther
Park Service Should Not Have Opened More Routes to Off-Road Vehicles in Big Cypress National Preserve
INTERIOR OFFICIAL RESPONSIBLE FOR SCIENTIFIC FRAUD PROMOTED
Agency Admitted Bad Science on Florida Panther and Reinstated Whistleblower
JOINT STATEMENT OF ANDREW ELLER AND THE U.S. FISH & WILDLIFE SERVICE
Washington, DC — The U.S. Fish & Wildlife Service and Public Employees for Environmental Responsibility ...
FLORIDA FWS BIOLOGISTS ORDERED TO APPROVE ALL DEVELOPMENT
Panther Called a "Zoo Species"— Protecting Wild Habitat Futile
Agency Admits Panther Whistleblower Was Right
Fish & Wildlife Service Persists in Trying to Fire Vindicated Scientist
FISH & WILDLIFE SCIENCE POLLUTED BY FLORIDA POLITICS
Survey Validates Concerns Raised by Panther Whistleblower
FISH & WILDLIFE SERVICE FIRES PANTHER WHISTLEBLOWER
Agency Does Not Dispute Orders to Suppress Scientific Findings
OUTSPOKEN PANTHER SCIENTIST APPEARS WITH NOBEL PRIZEWINNER
Joint Appearance to Speak Out Against Political Pressure on Government Scientists
FEDERAL COURT VINDICATES PANTHER WHISTLEBLOWER
U.S. Fish & Wildlife Service Lacks Scientific Basis for
PANTHER SCIENTISTS PRESSURED TO APPROVE CONSTRUCTION PROJECTS
Scientific Fraud Charges Go to U.S. Fish & Wildlife Service Director
U.S. FISH AND WILDLIFE SERVICE MOVES TO FIRE SCIENTIST WHO REPORTED FRAUD
Agency Acknowledges Flaws in Florida Panther Studies Affecting Major Developments
U.S. FISH & WILDLIFE INDOCTRINATION PROCLAIMS ITS
All Staff Required to Watch Video and
U.S. FISH & WILDLIFE BIOLOGIST CHARGES SCIENTIFIC FRAUD
Florida Panther Habitat and Population Data Skewed to Allow Development