BLM
Needs a Future Far Brighter Than Its Past 
This month, Interior Secretary David Bernhardt christened a new headquarters for the U.S. Bureau of Land Management – three floors of an office building located in Grand Junction, Colorado. This move is notable for a number of reasons, including –
Most of the BLM Headquarters staff declined to relocate from Washington, DC., launching a

tidal

brain drain

at a

time

this agency c

an

least afford

it;

 

 
Despite the name Grand Junction,

it is very hard and expensive to reach, with

no direct flights

to Washington

,

DC,

thus further

marginalizing an agency that today is no more than David Bernhardt's

sock puppet

. 

 
Perhaps, therefore, it is fitting that the new headquarters is named for former BLM Director Robert F. (Bob) Burford, who served under Reagan's notorious Interior Secretary James Watt.  Under Burford, BLM became known as "Bureau of Livestock and Mining." In 1988, the General Accounting Office (since rebranded as the Government Accountability Office) found BLM routinely allowed industry to skirt water conservation rules, writing "It is common knowledge in BLM that management has taken adverse action against staff for trying to implement formal policy."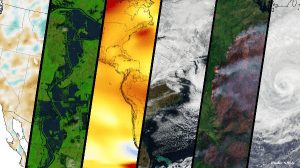 As a rancher, Burford was cited for grazing without a permit on national forest land before he took the helm at BLM, where he skirted ethics requirements by transferring his remaining grazing permits to his family rather than divesting himself. Characteristically, the sign over his desk at BLM read: "Old age and treachery will overcome youth and skill."   
His nickname among staff was "Bourbon-burp Burford," in part due to a widely publicized DUI arrest in which his wife, Ann Gorsuch Burford (recently deposed in a flurry of scandals from her position as EPA Administrator), was also arrested for assaulting sheriff's deputies in a drunken attempt to spring Bob from custody.  
Yet, Burford's more than eight-year stint at BLM's helm is the longest in agency history – a record not in danger of being broken, of late. For example, President Clinton appointed a BLM Director, Jim Baca, who set about reforming the BLM. Baca's actions upset Western interests Clinton needed for other political priorities and Baca was fired after nine months. Following that removal, the BLM directorship remained vacant far more than it was filled. In the 16 subsequent years, under both Bush and Obama, directors came and went while BLM remained largely a bureau of malign neglect. 
Not surprisingly, things have gotten worse under Trump: BLM has not had a director at all, suffering through a series of temporary "acting" directors. The latest being a self-described "Sagebrush Rebel," William Perry Pendley, who has spent most of his career seeking to end federal control, however lax, over federal lands across the West.  
Today, the BLM has devolved into a full-fledged bureaucratic basket case. The quality of federal range lands is in steep decline; the agency is obsessed with issuing as many oil and gas permits as it can despite thousands of abandoned wells and degraded sites; and it remains willfully blind to its role in aggravating climate change with its harmful march of desertification, proliferating wildfire vulnerability, and spread of invasive species.  
Yet, as by far the largest custodian of public lands – more than 247 million acres or one eighth of the country's landmass – BLM has the greatest potential for meaningful ecological reform. 
PEER is working with a network of current and former employees, as well as conservation allies, to chart a new course for BLM. Charting this new course will require leaders in the mold of Jim Baca who can respond in a gender-transcendent way to the call of Sam Walter Foss' 1894 poem "The Coming American":  
"Bring me men to match my mountains." 
---

Jeff Ruch is the Director of PEER's Pacific office, having formerly served 22 years as the Executive Director of PEER.