Interior Secretary David Bernhardt's Autocratic Power Grab
In an obscure announcement on July 22nd about President Trump's border wall obsession, the Secretary of the Interior, David Bernhardt, stated that he was handing 66 acres managed by the Bureau of Land Management (BLM) to the Army.1 The land will be used for infrastructure to support wall construction. This was the second such handover by him for the wall – earlier he gave 560 acres of primarily BLM land to the Army. Mr. Bernhardt's role illustrates an autocratic pattern in which he is exercising power belonging to a long-vacant Interior office and in which the U.S. Congress – particularly the Senate – is cut out of the loop. On top of his history of conflicts of interest as a former energy and agriculture industry attorney/lobbyist, the public should be concerned about Mr. Bernhardt's power grab.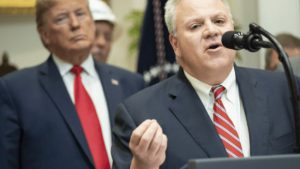 Mr. Bernhardt repeatedly violated the Federal Vacancies Reform Act (FVRA) by delegating power to a series of lower-level political appointees to "exercise the authority of the Director" of its major bureaus, such as BLM and the National Park Service (NPS), without obtaining the Senate's confirmation for them. These appointees, now William Pendley at BLM and David Vela at the NPS, manage almost 350 million acres of our national parks and rangelands, covering nearly one-seventh of the nation's land area. For roughly one year, these two men have managed tens of thousands of Interior staff and overseen the spending of billions of appropriated dollars. Yet, their appointments detoured around the "advice and consent" of the Senate required under Article II, Section 2 of the Constitution, the Appointments Clause, for their positions.
These are not minor infractions, as two Supreme Court decisions instruct us. The Appointments Clause serves as one of the Constitution's important structural pillars, one intended to prevent the "manipulation of official appointments" — an "insidious . . . weapon of eighteenth century despotism." Freytag v. Commissioner.2 The Framers intended it to "curb Executive abuses" by requiring Senate confirmation of all principal officers; it is considered "among the significant structural safeguards of the constitutional scheme." Edmond v. United States.3 But, apparently Messrs. Trump and Bernhardt forgot to read that part of the Constitution. Their approach to Separation of Powers is more about safeguarding the power for themselves.
The Bernhardt delegations and succession orders for Interior's de facto acting Directors have had an alarming effect – they benefit him! His orders state that Mr. Pendley and Mr. Vela are not supposed to actually make any decisions that a Federal regulation or statute assigns exclusively to the confirmed Directors. He further directed that only he, as Secretary, could make such decisions. In other words, the Administration's tactic of avoiding the Senate and using obscure administrative processes to put de facto acting Directors into BLM and the NPS has let Mr. Bernhardt assume key powers that belong to the Directors. In many contexts the dividing line between the powers that Bernhardt has and that Pendley and Vela have is not clear. Guess who gets to decide where that line is drawn?
An example is the Bernhardt announcement regarding re-opening the National Park System despite COVID-19 risks.4 He issued that decision despite having earlier appointed David Vela to exercise the authority of the NPS Director. If the barely noticeable Mr. Vela really was exercising the Director's authority, it would be his signature, not Bernhardt's, on the directives about the National Parks. Vela remains in the shadows – a figurehead on the NPS ship steered by the Secretary.
Several other examples exist of decisions where Bernhardt has "rolled over" the de facto acting Directors of BLM and NPS whom he appointed.5 These examples are especially ironic because their effect is to centralize power in Washington, DC, in Bernhardt. This conflicts with the longstanding policy goal espoused by conservatives, including prior statements by Secretary Bernhardt himself, that decision-making in the Interior Department should be decentralized out to the field.6 In fact, he directed the relocation of the BLM Headquarters from Washington, DC, to Grand Junction, Colorado (not far from his own hometown of Rifle). While drawing more decision power to himself likely boosts his own ego, we know that morale in BLM and NPS staff in the field has sunk in the absence of confirmed Directors.
Few believe that the violations of the requirements under FVRA for the President to name acting Directors of BLM and the NPS are happening without the full knowledge and support of Mr. Bernhardt. Observers know that he and Mr. Trump are close. Bernhardt's media statements about the President lean toward sycophantic "cheerleading" — he never fails to use the adjective "bold."7 Bernhardt directly overrode the objections of many NPS line staff and other officials to open up the Lincoln Memorial in May and the Mount Rushmore National Memorial on July 4 for Trump's campaign-style speeches. If Mr. Bernhardt wanted President Trump to nominate candidates for permanent Directors of the BLM and NPS, it would have happened long before now. Bernhardt appears to enjoy having their power.
The President's recent nomination of William Pendley to be confirmed by the Senate as the official BLM Director is unlikely to get a hearing until late September – if even by then. The nomination was more a gesture than it was serious; strident opposition is expected. Regardless of what happens with Pendley's nomination, trying to confirm a BLM Director in the last half of the last year of the President's four-year term is like fixing a flat tire after driving on it for 100 miles. And while the outspokenly pro-Trump, "Sagebrush Rebellion-ite" Pendley got his nomination, the less-sycophantic, more moderate David Vela was ignored as far as a nomination to be the NPS Director. This presidential term will be the first-ever in the NPS's proud 103-year history for which it had no full Director. Any group or citizen who cares about our National Parks should be livid.
Congress passed laws making clear that it wants whoever runs BLM and the NPS to first be confirmed by the Senate. Mr. Trump and Bernhardt's three and one-half years of steady detours around that requirement, and their non-compliance with FVRA as far as naming acting Directors, must not escape censure. One way is to highlight these abuses when the Senate takes up the Pendley nomination. Another way would be to cut Interior's appropriation for the Office of the Secretary. The autocratic David Bernhardt needs reining in.
---
Litigation Notes
PEER has been very active in advocacy against the FVRA abuses involving Interior's leadership. This lately has taken the form of a DC District Court lawsuit, along with co-plaintiff Western Watersheds Project, challenging the legality of the Pendley and Vela appointments, see complaint. A key claim in that suit applied to William Pendley is that FVRA prohibits him from being the de facto acting BLM Director at the same time that he is the President's nominee to be the full Director. Recently, the State of Montana's government filed a separate case in the Federal Court in Montana against Pendley making the same claim. PEER also is making FVRA claims against David Vela and his predecessor as de facto acting Director of the NPS, P. Daniel Smith, in a lawsuit challenging their approval of electronically powered bicycles (e-bikes) in the National Parks. [ The outcome of each of these cases can help reverse the Interior leadership abuses.
---
Footnotes
Yachnin, J. 2020.

 

BLM hands more land to military; Grijalva 'infuriated'

.

 

E&E News

 

July 22

, at:

https://www.eenews.net/greenwire/stories/1063609933

501 U.S. 868, 883 (1991)
520 U.S. 651, 659 (1997)

Department of the Interior Press Release, 

Secretary Bernhardt's Statement Regarding the Reopening of National Parks

, Apr. 

25

, 

2020

, at: 

https://www.doi.gov/pressreleases/secretary-bernhardts-statement-regarding-reopening-national-parks

 .

See

, e.g.,

 

Bernhardt decisions announced in 

BLM Press Release

, 

"

BLM to strategically implement 11,000 miles of fuel breaks across 223-

million acre

 area in California, Idaho, Nevada, Oregon, Utah and Washington

," Apr. 1, 2020, at: 

https://www.blm.gov/press-release/interior-improves-strategies-combat-wildfires-across-223-million-acres-great-basin

 and 

in

 

NPS Press Releas

e

 

"

National Park Service to Temporarily Suspend Park Entrance Fees

," Mar

. 18, 2020

, at: 

https://www.nps.gov/orgs/1207/national-park-service-to-temporarily-suspend-park-entrance-fees.htm

 .

E.g., 

Coleman, M. 

20

18

.

 

NM could play key role in Interior revamp

.

 

Albuquerque Journal

 July 8

, at:

 

https://www.abqjournal.com/1193976/nm-could-play-key-role-in-interior-revamp.html

 

and 

Smarick, A. 2020

. 

"

Toward Real Decentralization

," 

National Affairs

,

 

number 44, 

at: 

https://nationalaffairs.com/publications/detail/toward-real-decentralization

E.g., Bernhardt interview with

 Guy Benson, Fox News Radio, 

July 8, 2020, at:

 

https://radio.foxnews.com/2020/07/08/interior-secretary-david-bernhardt-on-what-the-trump-administration-is-doing-to-protect-monuments-statues/
---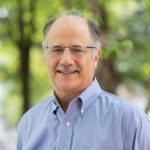 Peter Jenkins is PEER's Senior Counsel.