For Immediate Release: Wednesday, December 11, 2019
Contact: Kirsten Stade (202) 265-7337
Malibu School Toxic PCB Clean-Up Still a Mess
Students and Teachers Still in Rooms Contaminated Well Above Legal Limits
Washington, DC — A court-ordered removal of illegal levels of hazardous chemicals in Malibu public schools that should have been completed by the end of this month drags on with no fixed end date. Despite promises to the contrary, students and teachers still occupy school facilities contaminated with toxic polychlorinated biphenyls (PCBs) well above legal limits, according to documents posted by Public Employees for Environmental Responsibility (PEER) and America Unites for Kids.
In a lawsuit brought by the two groups, a federal court in 2016 ordered the Santa Monica-Malibu Unified School District to remove all PCBs from older buildings at Malibu High School and Juan Cabrillo Elementary School by the end of December 2019 (this month) or stop using the contaminated buildings. After the passage of a $195 million school bond, the District won a five-year extension on the grounds that it would use the bond monies to replace rather than remediate the contaminated buildings over five additional years. Meanwhile –
PCB-laden caulk and other building materials remain in several buildings, and last August when the District identified PCBs above its own safe air limit, instead of informing staff, parents and students, it only posted a hand-written note on a door reading "No one allowed in this office Possible Contamination;"
The District is not on track to meet the 2024 deadline it sought from the court for vacating or demolishing contaminated buildings, rather it plans to continue using four Malibu High School buildings indefinitely – the old gym, the theater/kitchen, the music building and the art building — with only very limited remediation;
The District was ordered by the court to hire (and jointly select with America Unites) a third-party consultant to monitor the court's interim mitigation measures intended to protect students and teachers, yet, almost a year later, no consultant has been hired. As a result, the District continues to delay and withhold disclosure of PCB testing results to the school community;
The District has posted a list of what it claims are the only remaining building materials above legal limits, but has failed to support this claim with test results or any proof that comprehensive testing of potentially PCB-containing building materials was completed.
PCBs are classified as a probable carcinogen and are linked to lower IQ, interference with brain and body development, as well as neurological, endocrine and thyroid disruption, and thyroid cancer—which multiple teachers have reported.
"The District has spent far more taxpayer money fighting, dodging, and delaying the clean-up than actually performing it," stated PEER General Counsel Paula Dinerstein, who is appearing today before the 9th Circuit Court of Appeals in a proceeding to speed up the PCB removal. "We are still in court because students and teachers remain in facilities that violate the Toxic Substances Control Act."
###
View the handwritten sign on contaminated room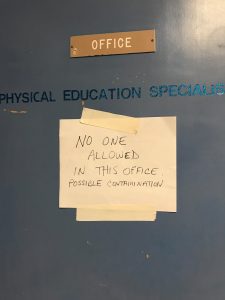 Read the District's claim that limited remediation will complete TSCA compliance with indefinite continued use of four buildings
View the District's list of claimed remaining TSCA violations