This National Park Week Demands a Future Worthy of the NPS Conservation Legacy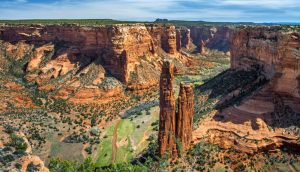 A grizzly bear wading in the ice-cold water of the Yellowstone River. Daybreak after a moonlit hike up Half Dome in Yosemite Valley. A condor soaring over Angels Landing in Zion. Sweeping vistas of icefields cupped by knife-edge peaks in Glacier. All of these experiences are accessible today because of national parks.  
But the future of these iconic locations and the ecological communities that depend on them is in jeopardy. Climate change, habitat destruction, record-high visitation, crumbling infrastructure and a perpetually understaffed National Park Service all threaten the future of national parks. In the midst of all these challenges, the devoted staff of the National Park Service welcome the public every day and safeguard these shared resources for the future. This National Park Week, PEER is celebrating the dedication of National Park Service (NPS) employees by advocating for these public servants and the lands they steward.
Since 1916, the National Park Service has been charged with an essential and intractable task: preserving the nation's most awe-inspiring vistas and iconic wildlife, while keeping the parks "unimpaired for the enjoyment of future generations." More than a century later, pressures within and beyond park boundaries threaten the future sanctity of the parks' natural beauty and ecosystems. 
The twin crises of climate change and biodiversity collapse are felt throughout the nation's 63 national parks and 423 protected sites. Glacier National Park is losing its namesake as warming temperatures cause the ice to recede. Last summer, towering giant sequoias in Sequoia National Park had to be wrapped in foil to survive increasingly catastrophic fires in Western forests. In Everglades National Park, populations of native mammals are plummeting as invasive Burmese pythons swallow up animals like raccoons and opossums. 
These myriad challenges underscore the important role national parks must play in responding to climate chaos and ecological upheaval. Protected NPS forests play a vital role in storing carbon dioxide and purifying drinking water. Preserved habitats both on land and in the ocean serve as biological strongholds for threatened and endangered species. Because of their legacy of conservation, and their crucial role in species preservation and recovery, national parks must be the cornerstones of the Biden administration's 30×30 initiative to protect 30 percent of U.S. land and water by the end of this decade. 
Upholding the conservation mandate of national parks requires strong leadership that resists the urge to commercialize every square inch of the national park system. PEER continues to defend the wilderness qualities of our national parks and push for Wilderness designations to ensure these wildlands are legally protected in perpetuity. We've also won court cases demanding accountability from the NPS when it comes to air tour plans that disrupt wildlife and wilderness experiences. PEER continues to push the Park Service to follow environmental laws when siting and permitting cell phone towers and resist the corporate drive to wire the backcountry. And we've been steadfast in our fight against the headlong rush to open up backcountry trails to disruptive and dangerous e-bikes. All of this work is done out of a respect for these wild places and in honor of the employees who dedicate themselves to our nation's parks. 
Flourishing national parks depend on their devoted staff on the frontlines of natural resource protection and public recreation. For too long, NPS leadership has presided over a broken workplace culture. Employees consistently report the agency isn't doing enough to support victims of harassment and discrimination. A culture that lacks accountability and retaliates against whistleblowers cannot be tolerated. That's why PEER released the National Park Service Voices Report, which had been kept under wraps by the agency. Sunlight is the best disinfectant for this toxic environment. 
As PEER challenges NPS leadership to uphold its mission, we also recognize the desperate need for more support from Congress and the Biden Administration. Over the last decade, and especially during the last two pandemic summers, parks have endured record visitation. Too often, those visiting run into woefully out-of-date facilities and understaffed parks. The Great American Outdoors Act is an important down payment to address the billions of dollars in maintenance backlogs in national parks, but it still doesn't address the need for sufficient annual funding to hire and equitably pay NPS staff. 
Investments in agency staffing are pivotal to upholding the conservation legacy of national parks. Funding, like the billions of dollars languishing in the Biden Administration's stalled Build Back Better bill, is necessary to reinvigorate the NPS's threadbare workforce. The current trajectory of park expansions and overcrowding, without commensurate increases in staffing, is a recipe for disaster. We can't keep asking NPS staff to do more with less. Instead, we need to wean the agency of its dependence on seasonal staffers, while building and expanding a core workforce equipped with the tools to tackle the complex management problems parks face.  
In this challenging moment, PEER stands ready to support our national parks. We'll continue to hold leadership accountable and expose any dysfunction within the NPS. We'll advocate for Wilderness designations and strong conservation goals. And we'll defend wild places from the creeping tendrils of commercialization and overuse. 
But pushing back isn't enough – we must also look forward. The Park Service must engage, inspire and employ a new generation of Park Service leaders to confront the looming climate and biodiversity crises. This National Park Week, and every other week, PEER champions the dedicated public employees who serve the American public and natural world by fighting alongside them for a brighter, healthier future. 
---
Tim Whitehouse is the Executive Director of PEER. Among other things, Tim formerly served as an EPA enforcement attorney.