FOR IMMEDIATE RELEASE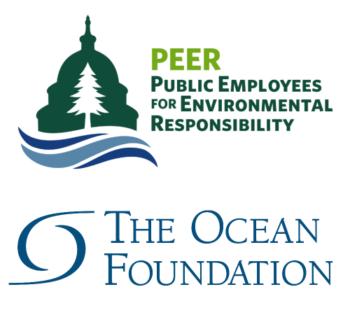 Wednesday, March 15, 2023
CONTACT
Rick Steiner richard.g.steiner@gmail.com (907) 360-4503
Jeff Ruch jruch@peer.org (510) 213-7028 
---
National Strategy to Avoid Whale Ship Strikes Proposed
Increase in Ship Size and Traffic Drive Whales to Extinction in U.S. Waters
Washington, DC — Collisions between whales and ships are devastating whale populations, yet the U.S. lacks a coherent, let alone comprehensive, strategy to avoid ship-strikes. Significantly reducing this carnage would require establishing Whale Safety Zones in U.S. waters, according to an administrative rulemaking petition filed today by Public Employees for Environmental Responsibility (PEER) and The Ocean Foundation. The rulemaking petition is the first to propose a nationwide minimum standard to reduce this risk.
Increasing cargo traffic is being carried by bigger ships that travel at faster speeds through coastal waters that are primary whale habitats. Many of today's ships are so big that they do not know that they have struck a whale. Both the size of ships and cargo volume are both projected to continue spiraling upward in coming years.
"Ship strikes are already a leading cause of whale mortality in U.S. waters and the threat is growing," declared Rick Steiner, a marine ecologist and Chair of PEER's Board of Directors, noting that a big ship creates a "bow null effect" that blocks engine noise by the bow, creating a quiet zone in front of the vessel, leaving a whale unaware of the pending threat. "Simply put, many of our busiest coastal shipping routes are death traps for whales."
At least three large whale species in U.S. waters are on the brink of extinction, with more listed as endangered. These would be some of the planet's first large whale species lost in recorded history.
Even as the number of ship strike victims grow, the true extent of the mortality is underestimated since many of the whale carcasses sink at sea and are never discovered or reported.
In order to counter this rising threat, the rulemaking petition filed today urges the National Oceanic & Atmospheric Administration (NOAA) to create Whale Safety Zones for all large ships entering or leaving U.S. ports or transiting marine sanctuaries and monuments. While in these Whales Safety Zones, these ships must reduce their speed and take other whale avoidance measures that studies show sharply reduces whale mortality when applied.
Unfortunately, these collision avoidance techniques are now mostly voluntary. Studies show that these voluntary programs are widely ignored by shippers, who are constantly seeking to cut shipping time. Without full mandatory compliance, obeying the voluntary restrictions puts compliant shippers at a competitive disadvantage.
"Only mandatory whale safety measures will stem the rising tide of preventable whale deaths," added PEER Executive Director Tim Whitehouse. "NOAA needs to act now if it wants to prevent what will be a cascade of whale extinctions in coming years."
###