BLM's Litmus Test on Whistleblower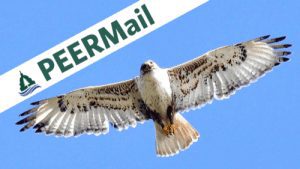 An environmental analyst is facing termination for persisting in raising concerns about the potential for devastating impacts on raptors and other wildlife from a massive Wyoming oil and gas project. The BLM analyst, Walter Loewen, had raised concerns that the project in Converse County, Wyoming would seriously degrade the nesting sites of ferruginous hawks, kestrels, owls, and other raptors.
After those disclosures, Mr. Loewen was removed from all further environmental work on that and any other projects and sidelined into "make work" tasks.  The Wyoming State Office has now proposed removing him from federal service for alleged performance issues on his new tasks, despite his many years of strong performance ratings.
In another wrinkle, the official deciding Mr. Lowen's fate is Duane Spencer, the Associate BLM State Director, who signed off on the agency decisions allowing the excess bird deaths.  PEER has formally asked that Spencer recuse himself from the matter because of his prior history, but he and the agency have rebuffed that request.
BLM is poised to play a critical role in the Biden administration's climate change and conservation agenda. But, after years of mismanagement and retaliation against employees who raised concerns about oil and gas projects, does the BLM have the ability to help the administration deliver on its promises? Walter Lowen's case is shaping up to be a litmus test for BLM's new leadership. We will be with him every step of the way.
---
The entire air modeling staff for the State of Colorado contend that they are now directed to issue illegal permits, ignore violations, and refrain from verifying pollution emissions, according to a complaint filed this week by PEER. These revelations raise serious public health and scientific integrity concerns about work of the Air Division of the Colorado Department of Public Health and Environment. read more»
PEER and five other humane and conservation groups are calling on the Department of Interior to obtain independent animal care accreditation for its three major USGS wildlife disease laboratories in Wisconsin, West Virginia and Washington. PEER is representing USGS whistleblower Eveline Emmenegger, who disclosed repeated breaches of biosafety, which resulted in the releases of high-risk aquatic pathogens into the environment. read more»
Please consider supporting PEER by buying a beautiful North Atlantic right whale T-Shirt with PEER's logo on it. PEER will receive $10 for every T-shirt you buy! Learn more about this critically endangered whale and why this mammal needs to be protected. Order yours today»