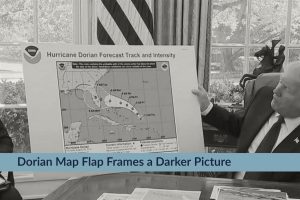 His signature Sharpie pen – the same one he uses to sign his incessant Executive Orders – extended the cone of uncertainty for Hurricane Dorian in a crude bulge on the map to embrace Alabama.  The National Weather Service immediately issued a correction that Alabama was not in the storm's path. In fact, the Pentagon designated Alabama as its "safe haven" for storing its assets to ride out the storm.
Trump was furious at being contradicted and began a signature media campaign to show he was right – but to little avail. Last week, his Commerce Secretary Wilbur Ross reportedly threatened to fire every political employee in the National Oceanic & Atmospheric Administration – the parent agency for the Weather Service – if NOAA did not issue a statement backing Trump up.
In response, NOAA then issued a highly unusual anonymous press release blandly supporting Trump.
That action has sparked a revolt in the hallways of NOAA. Assistant Administrator Craig  McLean, who is also NOAA's lead scientist, sent out an all-employee email declaring:
"My understanding is that this intervention to contradict the forecaster was not based on science but on external factors including reputation and appearance, or simply put, political."
Like his manic effort to induce the National Park Service to inflate his inauguration crowd size, this farce speaks volumes not only about Trump but also the extent of political pressure – naked, undisguised bullying – brought to bear on scientists and other public servants.
It also shines a light on how a normally non-political NOAA is being manipulated. Right now, PEER has a growing docket of NOAA cases, most revolving around political pressure forcing the suppression or alteration of science, including cases involving marine life ranging from anchovies to right whales.
What is clear is that NOAA professional staff have no institutional checks anymore to deflect inappropriate intrusion into decision-making. An indelible lesson of the Trump tenure is that the executive branch cannot be relied upon to police its own accuracy. We need new legal tools.
PEER is the only organization dedicated to rendering direct aid needed for embattled scientists to serve the public. Our mission has never been more vital.
---
PEER Files Suit for Records Related to GMOs and Bee-Killing Chemicals
After the Fish & Wildlife Service reversed its 2015 prohibition against using GMO crops and neonics on refuges, FWS directed all 562 of the nation's refuges to "consider the options" of GMO crops and neonics. Aurelia Skipwith, a former executive with Monsanto used her Deputy position to further the Monsanto/Bayer agenda of lifting the Refuge ban and promoting neonics and GMOs. PEER has filed suit to obtain records related to the decision. Read More >>
---
NHTSA Fails to Act on a Decade of CO Deaths
More than 1,500 people die annually from motor vehicle-related carbon monoxide poisoning, yet the National Highway Traffic Safety Administration (NHTSA) has blocked efforts to require carbon monoxide detectors in cars with keyless ignitions, a common source of CO-induced deaths. Despite urging from PEER and other organizations to act, the Agency never even completed a 2016 review of the dangers of keyless and produced no evidence of any effort to collect data on the issue, let alone evaluate options. Read More >>
---
Telecom is Winning the Battle in the National Parks
Despite rising concerns about impacts on scenery, soundscapes, and serenity, the cellular footprint inside the national park system is spreading, with whole networks of cell towers springing up in some of America's grandest parks.Because of lax oversight and a rush by telecom companies to expand coverage, NPS does not even know how many cell towers have already been installed or how many are in the pipeline, and is failing to collect proper revenue. PEER is seeking a moratorium on approvals for new towers until NPS completes its inventory of current towers and assesses the systemic violations of resource protection laws and policies. Read More >>