Looking Ahead on MLK Day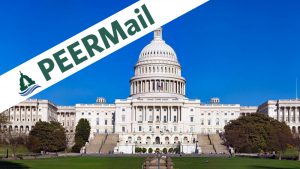 Dr. Martin Luther King said in his famous Christmas Sermon of 1967, "It really boils down to this: that all life is interrelated. We are all caught in an inescapable network of mutuality, tied to a single garment of destiny. Whatever affects one directly, affects all indirectly."  
On Wednesday, President-elect Joe Biden and Vice President-elect Kamala Harris will be sworn into office in front of the US Capitol.  The incoming administration will face extraordinary political challenges and limited time and resources to accomplish its goals. We are reassured that the Presdent-elect and the Vice President-elect recognize the simple and profound truths of Dr. King's words – that progress can only happen with cooperation and a shared vision of a cleaner, healthier and more just country.
Now it is up to the Biden administration and the members of the 117th Congress to guide our country through multiple crises. To help them in this effort, we are supporting a series of steps the new administration must take to address the current environmental, public health, transparency, whistleblower, and scientific integrity challenges. 
More on our plans will be coming out next week. 
It has been a grueling week and a grueling four years. We are thankful for those who stood up for democracy and against the insurrection. We look forward to helping to move the country forward by continuing to ensure accountability in our government.
---
A PEER investigation into the presence of toxic PFAS in pesticides has resulted in US EPA announcing that it found PFAS in the coating of barrels used to ship the pesticide Anvil 10+10. PEER initially discovered the PFAS in Anvil 10+10 and reported it to the Massachusetts Department of the Environment, which reported it to the EPA. PEER's Science director Kyla Bennett notes these shipping containers may be a significant source of PFAS exposure through the entire agricultural sector and that this finding does not rule out the presence of PFAS in pesticides as inert ingredients. Read more » 
PEER litigation challenging the legality of officials leading the National Park Service and Bureau of Land Management continues.  Although Justice lawyers argue that the case "will become moot on January 20, 2021, when a new administration is sworn into office," we'll continue to fight to overturn illegal decisions made by these improperly appointed officials. Read more » 
The U.S. Chemical Safety and Hazard Investigation Board (CSB) has just hired two top-level officials with no industrial safety background. PEER's General Counsel Paula Dinerstein notes that CSB "is not served by a spree of unqualified crony senior executive hires" and that CSB has a backlog of unfinished investigations and only 11 investigators, down from 20 just five years earlier.  PEER will work with the Biden administration to find a way to get rid of high-salaried hangers-on and restore some adult supervision to the CSB. Read more »