Pesticide
 Problems Grow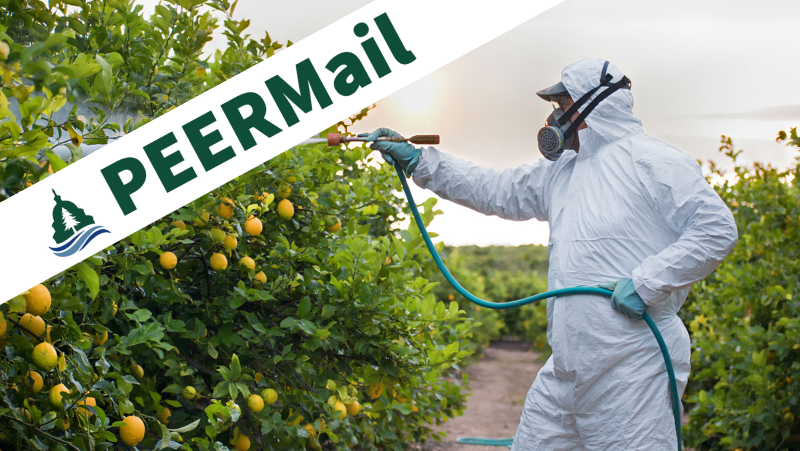 During the past five years, PEER has become a national leader in exposing how actions and inactions by the U.S. Environmental Protection Agency's (EPA) pesticides program are having devastating effects on wildlife, human health, and many rural economies. 
The latest example of this is a discovery that three of seven agricultural pesticides tested by the Center for Biological Diversity (CBD) have high levels of per- and polyfluoroalkyl substances ("PFAS"). Human and wildlife exposure to PFAS are associated with some cancers, developmental damage to infants, and impaired functioning of the liver, kidneys, and immune system.  
CBD and PEER have written to EPA, the California Department of Pesticide Regulation (CDPR) the California Department of Food and Agriculture (CDFA)  asking them to take decisive action to prevent unnecessary PFAS contamination before it occurs. We are imploring the agencies to begin widescale testing of pesticides that are registered in the U.S. to identify common sources of PFAS in the supply chain and take immediate action to rectify them. 
We have also asked CDPR and CDFA to work together to issue a Stop Use Notice for these products until such time that manufacturers can demonstrate that all PFAS have been eliminated from their supply lines. 
Our goal is to get PFAS out of pesticides, secure significant reforms in EPA's pesticides program, and stop toxic pesticides from getting into ecosystems, humans, and wildlife. This is some of the most important work we are doing right now. We appreciate your support of our efforts. 
May a Federal Scientist Do a Media Interview?
PEER documents the difficulties one government scientist and whistleblower has had in getting permission to speak to the press, despite the White House's proclamation that 2023 would be the "Year of Open Science." Read more»
EPA: More Transparency

Is

Needed
EPA's public comment process in its review of toxic PFAS chemicals in plastics is seriously flawed and needs to be restarted, according to PEER and the Center for Environmental Health. The documents posted for public comment are riddled with errors and inconsistencies and heavily redacted. Read More»