Toxic Corruption at EPA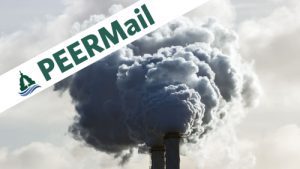 Public health experts have long raised the concern that the Environmental Protection Agency is rushing new chemicals onto the market, at industry's request and with little oversight or concern for the long-term human health and environmental implications.
Now PEER is representing four EPA scientists who have provided evidence to back up these concerns. On behalf of these scientists, PEER has provided detailed information to Congress and EPA's Inspector General detailing examples where managers and career staff in EPA's Office of Chemical Safety and Pollution Prevention tampered with the assessments of dozens of chemicals to:
Delete language identifying potential adverse effects, including developmental toxicity, neurotoxicity, mutagenicity, and/or carcinogenicity;
Significantly revise report conclusions to indicate that there are no toxicity concerns, despite significant data to the contrary; and
Reassign risk assessments to inexperienced employees in order to secure their agreement to remove issues whose inclusion would be protective of human health.
While EPA has promised to investigate the matter, hours after we filed this complaint, someone released the whistleblowers' names broadly within EPA–a troubling move that forced them to speak publicly about their disclosure.
These scientists have received an outpouring of support from inside and outside the agency. As we approach National Whistleblowers Day on July 30, we are reminded how whistleblowers are helping to protect us all and why we must protect them. We will keep you posted on our important work in this area.
Thank you for your support of PEER and the work we do.
---
Federal agencies have huge amounts of discretion when withholding science from the public and forbidding agency scientists from speaking to the public. PEER has written to President Biden's Scientific Integrity Task Force asking the Task Force to focus on government-wide policies to achieve scientific integrity and transparency. Read More»
PEER has been heavily involved in supporting the efforts of firefighters to remove toxic PFAS chemicals from the turnout gear they wear. Unfortunately, our efforts are running into a roadblock, as chemical companies and turnout gear manufacturers heavily dominate the committee that sets the standards for turnout gear. Read More»
Citing a PEER-led coalition challenging the legality of electric bikes, the National Park Service ordered all park units to "reconsider" past approvals of e-bikes. Specifically, the National Park Service will reconsider whether, where, and under what conditions e-bikes should be allowed. PEER's Peter Jenkins says this new approach is still fatally flawed legally, and the Park Service should go back to the drawing board on e-bike regulations. Read More»