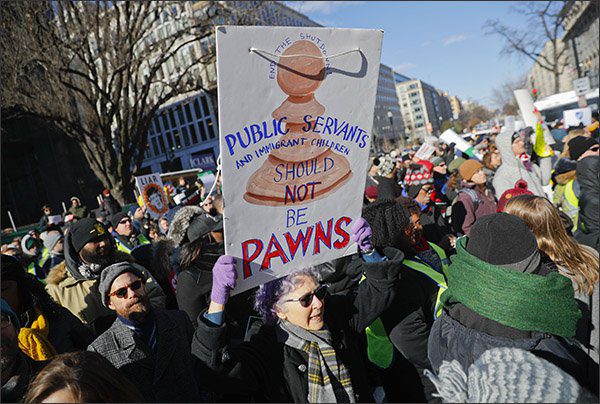 After three government shutdowns during the Trump years, we have the first such shutdown mid-way through Biden's term. During a shutdown, a federal agency lacks appropriated funds to operate and must shut down those activities which are not "excepted" by Office of Management and Budget (OMB) standards. 
In every shutdown, America's civil servants are left twisting in the wind. Some are told to stay home; some to work without pay; and, in a modern twist, some are told to go home, then to come back to work without pay when the agency reclassifies them as essential, then finally told that they would be paid normally again with funds from unspecified sources. As the most recent shutdown has shown repeatedly, the line between what an agency can and cannot have workers do without appropriations is very blurry and subject to change. 
PEER aims to provide one-stop shopping for affected government workers and would appreciate receiving links to additional information that may be useful to post. 
---
Read the OBM Guidelines 
The Office of Management and Budget has published contingency plans for agencies across the federal government in the event of a lapse in appropriates and a helpful FAQ for agencies that arise during a lapse in appropriations. Read More at OMB »
Be Wary of Third-Party Offers
Be wary of guidance offered by third parties who may have an interest one way or another in how they are portraying the shutdown. This shutdown has seen a growing trend of federal employees turning to sites like GoFundMe, which may violate ethics rules against soliciting gifts. Many federal employees will not have the resources to consult an attorney, so don't take any drastic actions based on media reports about what others are doing or informal, uncritical advice. 
Document Everything
If you have been asked to keep working, keep track of everything you have been asked to work on and why during the shutdown. Personal notes (NOT on your government computer!) of what you are being asked or directed to do by supervisors and departmental or agency leadership will  be immensely helpful in the event there is an Inspector General, GAO, or congressional inquiry into the agency's decision to have staff work on projects that don't meet the general definition of essential. 
Know Your Rights
If you feel that you have been asked to do anything inconsistent with the Act or other laws, or have been retaliated against, you may want to consult with a federal employee union, obtain outside legal counsel, or contact a group which represents public employees like PEER.
Report Wrongdoing
You can report wrongdoing to the resources normally available, including your Inspector General and the Office of Special Counsel. Bear in mind that those offices face many of the same de-funding challenges and may not be able to help until well after the shutdown is over.
Normal Rules Apply
Follow the normal rules. Federal ethics restrictions still apply under the shutdown. Most agencies have issued shutdown guidance for the duration of the shutdown which was consulted in preparing this guide. 
Clear the Way for Supplementary Employment
Before seeking outside employment, make sure it does not run afoul of the ethics rules. Many agencies with large numbers of unpaid employees have specifically designated ethics employees to remain at their posts to help their furloughed coworkers avoid running afoul of ethics rules. Some have issued guidance which identifies certain kinds of work that can be done without seeking ethics approval. If you are uncertain, attempt to seek prior approval, check your agency general counsel's office website, or search for official agency statements during the shutdown using the phrase "Outside Activity."
File for Unemployment Where Allowed
For seeking unemployment insurance benefits, some agencies have provided that a furloughed employee may seek employment without advanced authorization and can provide to the unemployment office any necessary evidence that they are seeking employment. For DC-area furloughed employees, however, Virginia, Maryland and the District of Columbia have agreed that non-excepted employees who are filing for unemployment are not subject to the requirement to look for work in order to qualify for unemployment insurance benefits.