By now, you have probably have heard about the Bureau of Land Management's (BLM) decision to fire Craig Hoover, a long-time, highly respected range management veteran in Nevada. Mr. Hoover got on the wrong side of his management for reporting illegal grazing in the Ely, Nevada area. In one of the flimsiest reasoning we have ever seen for firing someone, BLM relied on a four-hour delay in Mr. Hoover's locating one permittee's permit paperwork and on misplacing his ID badge for about five minutes inside the Field Office's breakroom.
PEER is representing Mr. Hoover, charging that this discharge was illegal retaliation in violation of the Whistleblower Protection Act. After the infamous Bundy family-standoff, BLM has increased professional pressure not to inflame ranchers, and Mr. Hoover has fallen victim for doing his job.  A 2017 PEER survey of Western BLM staff revealed that 70% of BLM respondents feel the Bundy episodes have made their jobs "more dangerous" with large percentages citing "threats to our safety due to resource management issues."
Meanwhile, PEER has posted figures showing BLM has fewer rangers than it had five years earlier. At the same time, the number of criminal environmental cases coming out of BLM and other Interior agencies has fallen by half since 2016 to a more than 20-year low and last year saw the lowest number of new prosecutions since 1995.
With an estimated 70 million recreational visits this year, each BLM law enforcement ranger is now tasked with safeguarding some 35,000 recreational visitors on average, annually, over an area approaching the size of Delaware.
BLM rangers undertake search and rescue operations and investigate and deter a wide range of resource offenses, including wildland arson, hazardous materials dumping, archaeological artifact theft, among other matters.  Without more support for law enforcement and the escalating capital needs of BLM and other land management agencies, the corrosion happening inside of BLM will continue unchecked.
---
EPA's Stunning Charade
U.S. EPA's Inspector General is now investigating a stunning charade by EPA of its basic oversight functions. EPA Region 5 only allowed its staff to read excerpts to Minnesota from its formal comments on PolyMet Mining's planned $1 billion NorthMet copper-nickel mine in northern Minnesota. The written comments were never sent on to the state and recently came to light as the result of a PEER lawsuit. The mine would destroy over 900 acres of wetlands and create a permanent pollution source for toxins like mercury to Lake Superior.
---
Abysmal is an Understatement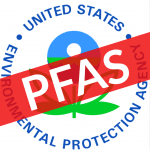 The Food and Drug Administration has confirmed research showing the presence of PFAS chemicals in food products, including meat, fish, vegetables and chocolate cake. The FDA confirmed the research only after environmental groups released it to the public. Meanwhile, PEER submitted comments to U.S. EPA on its draft interim plan to clean up PFAS groundwater contamination – a plan we found to be something worse than abysmal.
---
Pothole for the Sage Grouse Plan
The Department of the Interior committed major violations when it approved significant Management Plan changes weakening protections for the sage grouse across six western states. This is because the official who dismissed numerous citizen protests filed against the management plan had no authority to do so. Citing this legal deficiency, PEER is demanding that Interior Secretary David Bernhardt withdraw the six plan amendments.
---
Welcome the PEER Summer Law Clerks!
Rebecca Ringler is a rising second year law student at George Washington University Law School.  Rebecca comes to PEER with a background in geology and experience working as a Park Ranger and energy analyst.  This summer, she will be working on energy, clean water protection, and FOIA litigation.
Andrew Costello is a rising second year law student at George Washington University Law School with a focus on administrative law and litigation. He comes to PEER with professional experience in consulting and an academic background in political science and economics. Andrew will be working on issues regarding constitutionality, chemicals, and FOIA litigation.
Oren Kadosh is a rising third year at Brooklyn Law School. He has experience working on behalf of low-income communities on issues of consumer debt, housing, and criminal defense. At PEER, Oren will be working on combating toxic chemicals, defending clean water, FOIA litigation, and protecting endangered species