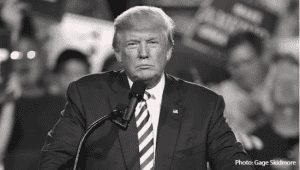 The Friday night sacking of the State Department's Inspector General (IG) should send a shiver of fear down the spine of every IG, ethics officer, and oversight functionary remaining in federal service as Trump's relentless attack on oversight continues with impunity.
Steve Linick is the fourth IG dismissed by President Trump since his impeachment. Some were ousted in Trump's post-acquittal purge. Another removal, the acting Health & Human Services IG, came days after she issued a survey about COVID-related equipment shortages at hundreds of hospitals. Since the report undermined the false image that the administration had everything about the emerging pandemic "under control." Trump dismissed it as a "fake dossier" before he dismissed her.
The role of Secretary of State Mike Pompeo in removing State's IG is troubling, in part because that office was investigating a whistleblower complaint that taxpayers footed the bill for Pompeo's wife to fly with him on both foreign and domestic trips; he had his staff perform personal errands for him; and his repeated flights back to his home state of Kansas had little to do with America's foreign policy.
This latest eruption occurs as Ryan Zinke resurfaces to claim that he resigned as Interior Secretary in 2018 because of harassment from a "politicized" IG working in cahoots with "radical environmentalists."
Yeah, right.
Like Pompeo, Zinke frequently traveled with his wife on tax-paid sight-seeing trips. One typical outing involved Zinke commandeering a Park Service ship and crew to pick up his wife and her aunt, as well as other guests he deemed "technical experts" to tour the Channel Islands and discuss Zinke's hairbrained scheme to reestablish cattle ranches and big-game hunting on the islands called America's Galapagos due to their unique, isolated native wildlife.
These firings, however, are about far more than petty travel abuses by political appointees acting like high public office entitles them to spend like they just won the lottery.
It turns the real reason Linick was fired may have been his inquiry into Pompeo pursuing massive arms sales to Saudi Arabia without the required congressional approval. These weapons are being used to kill thousands of Yemenis in that country's endless civil war.
It is not clear we will learn the actual reason from our President whose explanation to reporters, after saying he did not know Linick, was:
"It happens to be very political whether you like it or not. And many of these people were Obama appointments. So, I just got rid of him."
These developments bode ill for the Inspector General as an accountability mechanism. In the current administration, each IG will have to cast a profile in courage before opening probes or issuing reports that cause political unease.
This means that whistleblowers need to think twice before relying upon any IG promises of independence or protection. It also increases the need for whistleblowers to obtain support from watchdog organizations, such as PEER, to map a pathway to survival.
Putting these abuses on the record is part of PEER's job. The Trump inner circle may be able to quash critical IG reports, but they cannot erase the indelible Google legacy chronicling their misdeeds.
---

Jeff Ruch is the Director of PEER's Pacific office, having formerly served 22 years as the Executive Director of PEER.