Trump's Dangerous Salute to Toadyism at Mt. Rushmore
In ancient Rome, leaders provided bread and circuses to appease the masses and serve as a distraction from real problems. Today, America has no shortage of real problems. This week, Trump will stage two spectacles to distract us and while both events involve fireworks,  only one could potentially risk both wildfires and public health.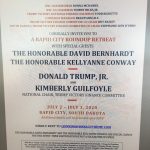 On July 3, President Trump will attend a firework show in Mount Rushmore National Park. The day before, the Trump-Pence campaign is hosting a "Rapid City Roundup Retreat" (retreat is apparently a euphemism for fundraiser; tickets start at $250) featuring Interior Secretary David Bernhardt (be still my heart!), Kellyanne Conway, Donald Trump, Jr., and his gal-pal, Kimberly Guilfoyle. Be honest, with whom else would you rather retreat?
Notably, Mount Rushmore had suspended fireworks years ago after pyrotechnics repeatedly sparked wildfires. But President Trump dismissed that danger in his typically thoughtful way: "What can burn? It's stone."
So, on May 6, 2019, Secretary Bernhardt signed a Memorandum of Agreement (MOA) with South Dakota Governor Kristi Noem, which declared:
"South Dakota and the Department of the Interior have committed to an agreement to exercise their full authorities under State and Federal law to work to return fireworks to the Memorial in a safe and responsible manner on July 3, July 4, or July 5, beginning in the year 2020."
A slight problem, however. Federal law requires an environmental analysis before final approval. So, the National Park Service dutifully whipped up a plausible Environmental Assessment which found a number of adverse effects, such as –
Contamination of ground and surface water with toxins, especially perchlorate, a carcinogenic component of firework and explosive propellants;
Debris from exploding shells that can never be completely picked up, leaving unexploded shells, wadding, plastic, ash, and rocket shards in very steep, rocky terrain; and
Fireworks are "a major threat to the sculpture", not only from scaffolding and smoke discoloration but from the risk of an explosion or other mishap.
The big issue, however, is the fire danger to surrounding forest and grasslands. Before they were suspended, the last 11 firework shows ignited 20 fires in the middle of wildfire season. Mt. Rushmore's former fire management officer succinctly put it this way:
"Shooting fireworks over a ponderosa pine forest, or any flammable vegetation, is ill advised and should not be done. Period."
In fact, without aid from incendiary devices, the area had a wildfire just last week. Moreover, in the event of a major conflagration, there may be problems evacuating thousands of people. Though, in that event, presumably Trump could be flown out, since there is no bunker at the monument.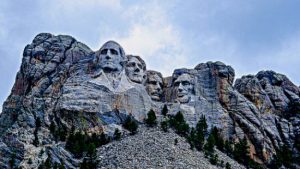 Notwithstanding all these adverse effects, the Park Service approved the event with a… (Surprise) "Finding of No Significant Impact."
One alternative the Park Service refused to consider was a laser light show, which was held in 2002. But that idea was dismissed because it "fails to meet the need for taking action"; i.e., Trump wants explosions.
Another factor not considered was COVID-19. No social distancing or masks will be required because the White House wants the 7.500 celebrants jammed together for a photo op: Smile and say, "Make America Infected Again."
So, come hell or high water, this show will go on. That's because Trump has a thing about Mount Rushmore, as Gov. Roem divulged, Trump told her with a straight face that one day he hopes to join the quarter of presidential greats on the monument.
On its own, the Park Service had quite reasonably decided that shooting off fireworks over brush or forests is a very bad idea. Had Trump not given the order, this event surely would not happen.
PEER is an organization dedicated to the proposition that public servants should be able to speak truth to power and say no when the public interest or plain commonsense dictates. We clearly have our work cut out for us.
P.S. The Rushmore show will likely cost the Park Service and taxpayers about a million dollars. The next day, July 4th, Trump will stage another elaborate "Salute to America" with fireworks, military flyovers, and other events, at a cost approaching $20 million. We could save a lot of trouble and perhaps deliver the same entertainment value by taking all that cash, setting it on fire and broadcasting the bonfire live. Happy 4th.
---

Jeff Ruch is the Director of PEER's Pacific office, having formerly served 22 years as the Executive Director of PEER.