U.S. Park Police Chief Teresa Chambers Announces Retirement
First Female Park Police Chief Marks 12 Years at Helm & 35 Years as Police Officer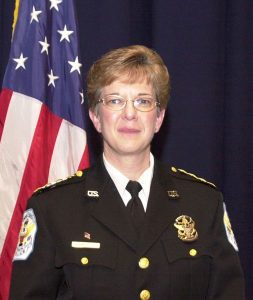 Washington, DC — U.S. Park Police Chief Teresa Chambers today announced her retirement to be effective on the date of her 35th anniversary as a sworn police officer. The first female leader of the oldest uniformed federal constabulary, Chief Chambers ends an accomplished and precedent-setting law enforcement career.
"It is time for me to accept new challenges," said Chief Chambers, one of the longest tenured U.S. Park Police Chiefs in memory, who fought a long legal battle that started on December 5, 2003, to win restoration to her position. "It was important that I leave on my terms and at a time of my choosing."
Thirty-five years ago, on December 5, 1978, Chief Chambers was sworn in as a Prince George's County (Maryland) police officer after serving more than two years as a police cadet. She served with the Prince George's County Police Department for more than twenty years and rose to the rank of major. She then became chief of the Durham Police Department (North Carolina). A graduate of the FBI National Academy and the FBI's prestigious National Executive Institute, she also earned a Master's Degree in applied behavioral science from Johns Hopkins University.
In February 2002, following a national search, she was named Chief of the U.S. Park Police, one of the nation's most complex and high-profile law enforcement jobs. The approximately 600-officer force is responsible for providing the full array of law enforcement services and for safeguarding monuments and other assets in the Washington, D.C., San Francisco, and New York City areas. Among its duties, the U.S. Park Police also provides protection for the President and visiting dignitaries. In additions to a SWAT team, it has a marine and aviation unit, a criminal investigations branch, as well as prominent horse-mounted, K-9, and motorcycle units.
Under Chief Chambers' leadership, the U.S. Park Police handled an array of unique challenges and events, such as –
The line-of-duty deaths of Officer Hakim Farthing and Sergeant Michael Boehm.
The dedication of the Martin Luther King Memorial;
The several-month-long Occupy DC demonstrations in the fall of 2011 through early 2012;
The 2013 Presidential Inauguration;
The San Francisco 2013 America's Cup races.
The reopening of the Statue of Liberty and related screening sites following severe damage from Super Storm Sandy;
The 50th Anniversary of the March on Washington; and
The Navy Yard shootings earlier this year; and
Numerous monument openings, state funerals, memorials and other high-security events.
One of the proudest moments of Chief Chambers' career occurred earlier this year when she was invited by the Military District of Washington to lay a wreath at the Tomb of the Unknown Soldier, a privilege usually afforded only to those in the military and visiting foreign dignitaries.
Chief Chambers' tenure was interrupted on December 5, 2003, when, just days after giving an interview with the Washington Post confirming information they already had regarding low staffing levels, her supervisors ordered her stripped of her badge, gun, and police authority. This triggered a protracted legal battle ultimately proving that all actions taken against Chief Chambers were groundless or illegal, culminating in an order restoring her as Chief of the U.S. Park Police. Her fight also earned her the nickname of "The Honest Chief."
"December 5th had always been an important and happy anniversary during the first 25 years of my career," Chief Chambers added. "That changed in 2003; but this year, when I proudly step away from my police career and into retirement, December 5th will once again be a day of positive reflection and joy."
Another result of her more than seven-year legal battle to win restoration was stronger legal protections for whistleblowers. "The stand Chief Chambers took has helped others sound the alarm to better protect the public," stated Public Employees for Environmental Responsibility (PEER) Senior Counsel Paula Dinerstein who led the Chambers legal team. "Teresa Chambers' example has inspired countless others to risk honesty in the public interest."
###
Visit the Honest Chief website
See the decision ordering Teresa Chambers restored as Chief of the U.S. Park Police