PFAS Waste Generation and Disposal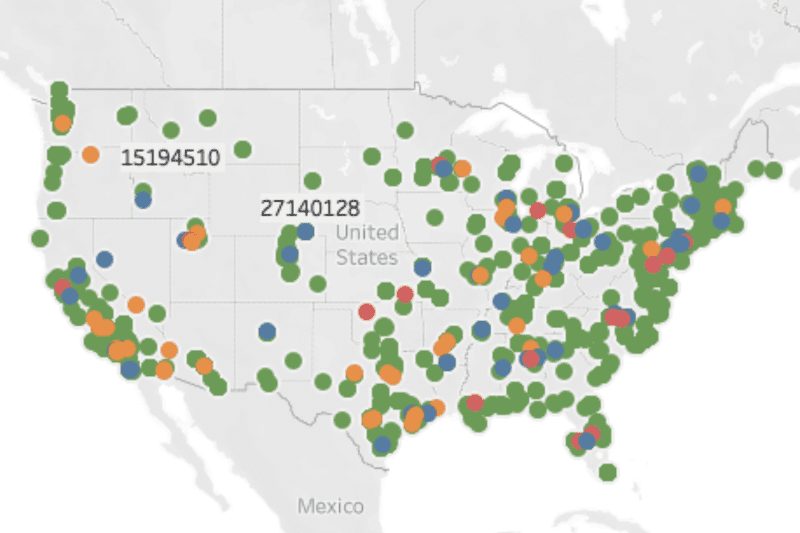 January 2022 – Through a Freedom of Information Act request, PEER received data from EPA on PFAS transfers identified in hazardous waste e-manifests and state waste code searches. This data and the map PEER produced has information on the generation, storage, and disposal of almost 14 million kilograms of waste contaminated with PFAS between July 2018 and August 2021.
Over 120,000 Facilities "May Be Handling" PFAS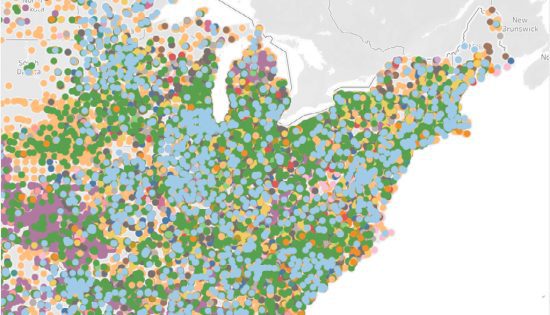 October 2021 – After several Freedom of Information Act requests and a lawsuit, PEER received an EPA data set with information on some 120,000 industrial facilities that "may be handling" PFAS – with that information, we produced our own map of these facilities.
Forever Chemicals Everywhere
PEER works to protect public health and wildlife from per- and polyfluoroalkyl substances (PFAS) contamination. Unfortunately, the absence of enforceable federal health and environmental standards for PFAS poses a significant and growing threat to our health, water, and soil. A key cause for concern is that these so-called "forever chemicals" do not break down in the environment, many of which are toxic, and some bio-accumulate in the food chain — and in us.
PFAS are used as fire retardants and repellents; in consumer products, such as furniture, take-out containers, and non-stick cookware; and have many other applications. Human exposure to PFAS is associated with cancer, birth defects, developmental damage to infants, and impaired functioning of the liver, kidneys, and immune system.
Yet, an estimated 200 million Americans are drinking water contaminated with PFAS, and PFAS have also been found in grocery store meats, milk, seafood, bottled water, as well as in wild fish and game. Studies have also found PFAS in the bloodstream of 99% of Americans.
Although the U.S. Environmental Protection Agency (EPA) knows of about 13,000 types of PFAS, it has only proposed drinking water limits on sixPFAS in drinking water and two PFAS under the Superfund hazardous waste cleanup program.  Much more needs to be done.
PEER is urging EPA to regulate PFAS as a class of chemicals and to classify waste contaminated with PFAS as a hazardous waste under the Resource Conservation and Recovery Act (RCRA), so that it can be more safely managed during generation, transportation, and disposal. In addition, PEER continues to expose how EPA violates its own scientific integrity norms and guidance in approving PFAS chemicals for use. We also work vigorously to release to the public information on PFAS that EPA tries to keep hidden from the public.
PFAS in Fluorinated Containers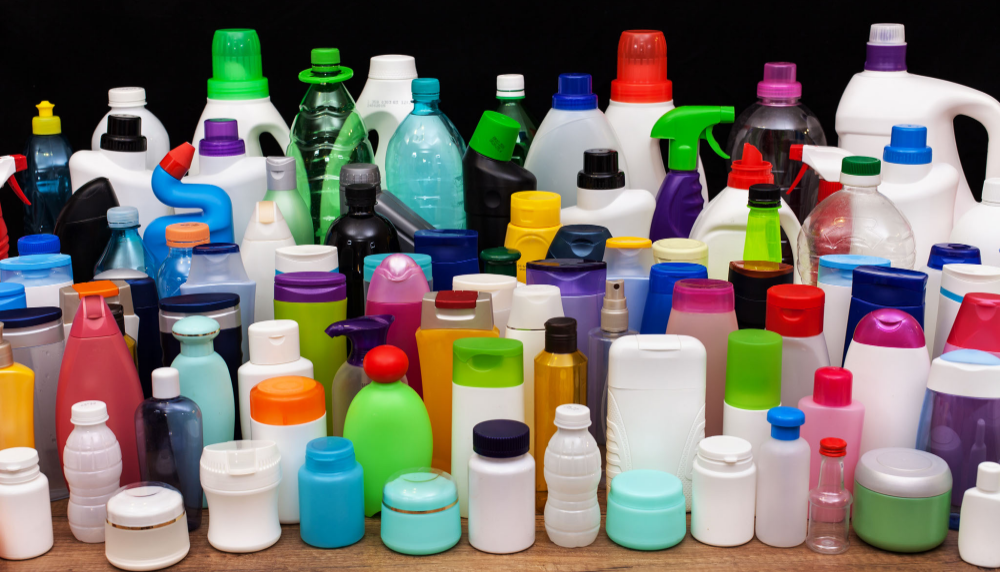 To address the growing threat of PFAS from fluorinated containers, PEER has been engaged in ongoing litigation against Inhance Technologies. Fluorinated containers are found in everything from household to industrial products the the fluorination process is responsible for the creation of PFAS chemicals that can leach into the products from the containers.
Read the latest: PEER and CEH Ask Court to Immediately Stop Unlawful PFAS Formation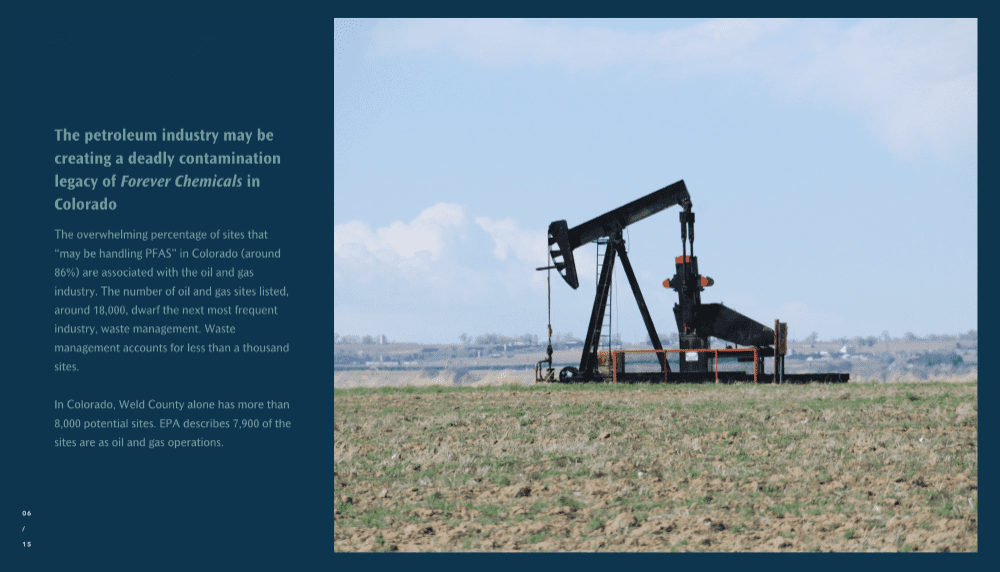 Toxic Chemicals in Your Backyard
Environmental Protection Agency Data: Does it Point to Colorado as the PFAS Capital of the U.S.?
PEERMail | Jumping the Gun in East Palestine
The explosion of a train carrying toxic chemicals in East Palestine, Ohio, reminds us of the government's ...
COMMENTARY | EPA Asks for Comment on PFAS Data It Won't Release
EPA is asking the public to comment on fluorination of plastics but keeping important materials, including health ...
Groups Call on EPA to Ban Plastic Fluorination that Creates PFAS
EPA Must Release Withheld Health and Safety Studies
Off-the-Charts PFAS in Maryland Biosolid Fertilizers
Call for Montgomery County Ban on Biosolids to Stem Water Contamination
PFAS in Plastic Containers Should Not Be Confidential
Groups Urge EPA to Inform the Public of the Presence of Unsafe PFAS in Fluorinated Containers
PEERMail | We Are Suing to Prevent Further PFAS Contamination
Handling or using fluorinated containers could be a significant pathway for unsafe human exposure to PFOA and other PFAS.
Tens of Millions of Plastic Containers Treated with Fluorine Gas Leach Toxic PFAS Chemicals into Art and Cleaning Supplies, Food, and Other Household Products
Nonprofit Organizations File Suit Against Inhance Technologies to Stop Violations of U.S. EPA Regulations
COMMENTARY | The Hidden Dangers of Biosolids
Biosolids are often marketed as "all-natural" but we don't think about the pollutants that are transferred to ...
Substantial PFAS Contamination Found in Pesticides in Colorado
Threat to Food Chain Justifies Colorado Ban of All Pesticides Containing PFAS
Los Angeles' Artificial Turf Plan Misguided
PFAS Found in Turf Dangerous for Children
Substantial PFAS Contamination Found in Pesticides
Threat to Food Chain Justifies Ban of All Pesticides Containing PFAS
Food Supply Chain Imperiled by PFAS-Laden Barrels
EPA Confirms PFAS in Fluorinated Containers Leach into Contents
COMMENTARY | The Worst Kind of Backroom Deal
It is time to work to stop the Manchin-Schumer side deal to the Inflation Reduction Act (IRA).
EPA's Belated PFAS Pesticide Ingredient Ban Does Little
Banning a Dozen Inert Ingredients Does Not Stem PFAS Agricultural Spread
STATEMENT | EPA's PFOA and PFOS Hazardous Substances Designation Under CERCLA Proposal
Today's actions by the EPA do nothing to stem the tide of future Superfund sites caused by toxic PFAS contamination
REPORT | Toxic PFAS Chemicals Measured in Nashville Fertilizer – 08-09-2022 (PDF) 
DESCRIPTION: PEER and Sierra Club Tennessee measured concentrations of PFAS or "forever chemicals," in three bags ...
Testing Reveals High Levels of PFAS in Tennessee Fertilizer
Music City Gold is a home fertilizer made with Nashville sewage waste
COMMENTARY | PFAS Contamination Study Yields Frightening Results
Environmental contamination of PFAS has exceeded a new planetary boundary or environmental limits within which ...
EPA Flunks PFAS Chemistry Test
New Advisories Ignore Precursors That Transform into Most Toxic Fluorinated Chemicals
EPA Takes First Baby Steps on PFAS
Nonregulatory Health Advisories on Just Four of Thousands of PFAS