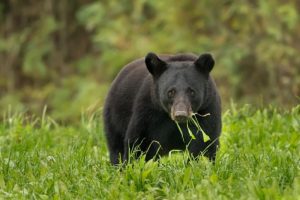 Survival of the Louisiana black bear requires that it regain protection under the U.S. Endangered Species Act. The lawsuit cites mounting threats to the remaining small populations for which existing safeguards are inadequate.
The Louisiana black bear is one of 16 subspecies of the American black bear. It is often referred to as "Teddy's Bear," because President Theodore Roosevelt once famously refused to shoot one that had been tied to a tree, saying it would not be sporting. Today, the Louisiana black bear has lost 99% of its historic population and more than 97% of its historic range.
The bear was listed as threatened under the Endangered Species Act back in 1992, but the U.S. Fish & Wildlife Service (FWS) declared it recovered in 2016 and removed its designation of critical habitat made only six years prior. The suit contends this decision was based on false assumptions and shoddy science, such as relying upon recovery corridors that do not connect true native populations. The suit also argues the recovery plan relied on by FWS in its delisting decision puts the bear in greater jeopardy, by ignoring:
Steadily increasing loss of bottomland forest and other critical habitat due to climate change;
Uncontrolled and rising human-caused mortality, from vehicular collisions, poaching and other causes; and 
The severe threat of hybridization with a non-native bear population introduced for sport-hunting.
BLACK BEAR NEWS FROM PEER
Alaska Misuses Federal Wildlife Aid on Killing Predators
Penalize Alaska for Diverting Conservation Dollars to Intensive Management
Lawsuit Seeks Protections for Louisiana Black Bears  
Fewer than 500 "Teddy Bears" May Exist as Recovery Efforts Falter
National Park Hunting And Fishing Restrictions Under Fire
Rules to Stem Invasive Species, Lead Poisoning, and Gun Accidents at Risk
Suit to Restore Louisiana Black Bear Federal Protections
Iconic "Teddy's Bear" in Continued Jeopardy; Small Remnants Far from Recovery
Legal Move to Save the Louisiana Black Bear
Notice of Impending Suit to Restore Federal Endangered Species Act Protection
Bear Mauling Does Not Deter Park Ok of New Trail Run
Valles Caldera Minimizes Safety and Wildlife Impacts in Greenlighting Another Race
Growing Grizzly Habituation Threatens Public Safety & Species Recovery
Yellowstone Ranger Decries Return to Garbage Bear Syndrome